Sam Bailey was the rightful winner on The X Factor as newly released voting statistics show she won the public vote nearly every single week.
Former prison officer
Sam won the recording contract prize and chance to support Beyonce on tour
when she amassed more than one million votes to beat Scottish teenager Nicholas McDonald into second place.
And the only two weeks when Sam didn't win were those won by Nicholas!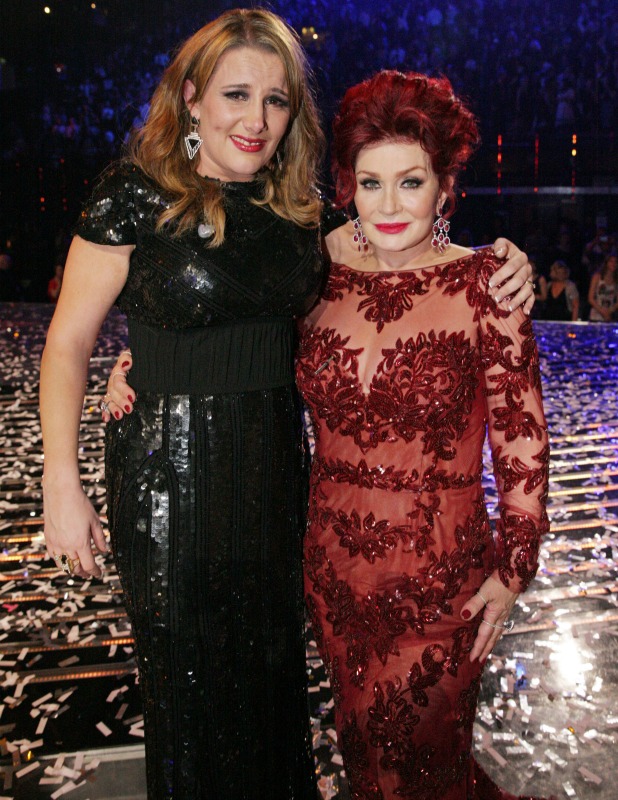 All four judges -
Sharon Osbourne, Gary Barlow, Nicole Scherzinger and Louis Walsh - had correctly predicted Sam as the eventual winner
during week one. They had written their prediction on a piece of paper which was sealed in an envelope until after the finale. It marked the first time all four judges had been right with their guess.
Caroline Flack and Matt Richardson revealed the statistics on
The Xtra Factor
after the winner was crowned. They also pointed out how Luke Friend had gone from ninth in the first show to finishing in third place.
Sam will release the Demi Lovato ballad 'Skyscraper' as her winner's single.
Check out the full voting statistics for 2013 below:
Week 1Flash Vote Saturday
Sam Bailey 23.4%
Nicholas McDonald 23.3%
Rough Copy 18.4%
Abi Alton 9.2%
Hannah Barrett 5.3%
Tamera Foster 4.9%
Kingsland Road 3.7%
Sam Callahan 3.5%
Luke Friend 3.4%
Miss Dynamix 1.8%
Lorna Simpson 1.6%
Shelley Smith 1.5%
Overall Vote Sunday
Nicholas McDonald 23.5%
Sam Bailey 23.3%
Rough Copy 16.4%
Abi Alton 9.0%
Hannah Barrett 5.2%
Sam Callahan 5.1%
Tamera Foster 5.1%
Kingsland Road 4.1%
Luke Friend 3.5%
Miss Dynamix 2.2%
Lorna Simpson 1.7%
Shelley Smith 0.9% (Votes from flash vote only)
Week 2
Flash Vote Saturday
Nicholas McDonald 28.1%
Sam Bailey 16.8%
Hannah Barrett 12.7%
Tamera Foster 9.4%
Rough Copy 8.6%
Abi Alton 6.1%
Luke Friend 5.9%
Sam Callahan 5.1%
Shelley Smith 3.7%
Kingsland Road 3.6%
Overall Vote Sunday
Nicholas McDonald 27.1%
Sam Bailey 17.4%
Hannah Barrett 10.4%
Rough Copy 10.2%
Tamera Foster 9.2%
Abi Alton 6.9%
Sam Callahan 6.6%
Luke Friend 6.0%
Shelley Smith 4.3%
Kingsland Road 1.9% (Votes from flash vote only)
Week 3
Flash Vote Saturday
Sam Bailey 27.0%
Nicholas McDonald 25.3%
Luke Friend 7.9%
Tamera Foster 7.7%
Abi Alton 6.6%
Kingsland Road 6.5%
Hannah Barrett 6.2%
Rough Copy 6.2%
Sam Callahan 4.8%
Miss Dynamix 1.8%
Overall Vote Sunday
Sam Bailey 27.0%
Nicholas McDonald 24.8%
Luke Friend 7.5%
Tamera Foster 7.3%
Abi Alton 7.1%
Rough Copy 6.7%
Kingsland Road 6.6%
Sam Callahan 6.0%
Hannah Barrett 5.9%
Miss Dynamix 1.1% (Votes from flash vote only)
Week 4
Sam Bailey 31.1%
Nicholas McDonald 18.2%
Hannah Barrett 12.0%
Sam Callahan 7.6%
Rough Copy 7.5%
Luke Friend 7.0%
Abi Alton 6.7%
Kingsland Road 5.2%
Tamera Foster 4.7%
Week 5
Sam Bailey 28.4%
Nicholas McDonald 20.2%
Rough Copy 11.1%
Tamera Foster 10.0%
Luke Friend 9.0%
Sam Callahan 8.0%
Hannah Barrett 7.1%
Abi Alton 6.2%
Week 6
Nicholas McDonald 31.4%
Sam Bailey 26.5%
Hannah Barrett 9.9%
Rough Copy 8.7%
Tamera Foster 8.4%
Luke Friend 8.0%
Sam Callahan 7.1%
Week 7
Sam Bailey 36.0%
Nicholas McDonald 23.9%
Luke Friend 13.0%
Tamera Foster 9.3%
Hannah Barrett 9.1%
Rough Copy 8.7%
Week 8
Sam Bailey 27.4%
Nicholas McDonald 25.1%
Rough Copy 19.7%
Luke Friend 19.3%
Tamera Foster 8.5%
Week 9
Sam Bailey 29.6%
Nicholas McDonald 28.2%
Luke Friend 26.7%
Rough Copy 15.5%
Week 10
Freeze
Sam Bailey 38.2%
Nicholas McDonald 32.1%
Luke Friend 29.7%
Final
Sam Bailey 53.4%
Nicholas McDonald 36.3%
Luke Friend 10.3%
The X Factor
final in pictures:
Copyright: Rex Features Tom Dymond / Thames