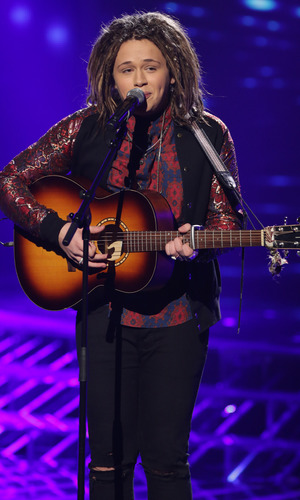 X Factor finalist Luke Friend is gearing up for the final show this weekend after securing a place alongside Sam Bailey and Nicholas McDonald during Sunday night's semi-finals.
With just days until the final showdown, 17-year-old Luke is preparing to go back to Devon for his homecoming, where he'll play a gig and reunite with his family and friends. Speaking exclusively to
Reveal
, Luke talks about his songs for the final, his relationship with judge Louis Walsh and why he no longer thinks he's the underdog of the competition.
How are you feeling after being in the bottom two with Rough Copy on Sunday night's results show?
It's devastating to be in the bottom two, especially when you're in the final four, but there's only four people in it and someone had to go. It was hard but it made me stronger.
How do you do prepare yourself for the sing-off?
You need to put your all into the sing-off if you land in the bottom. You need to do something that little bit different to make sure people understand why you want to be in the competition. I really want to win this, just as much, if not more, than anyone else. Especially with the path that I've been on, where I've been in the bottom two a few times, I want to prove people wrong.
It's your homecoming tomorrow, how are you feeling about it?
I'm literally too excited for my homecoming. I don't know all of what is being lined up yet but I'm playing a gig in Exeter, which should be pretty fun. Before that I'll be going to one of my favourite cafes to meet up with my friends.
You're performing Fun's anthem, 'We Are Young' and One Direction's hit song, 'What Makes You Beautiful' in the finale. Why have you picked those songs?
'What Makes You Beautiful' is my favourite song that I've performed on the live shows so far. I first sang it in week seven. I love 'We Are Young' too, but I don't think I'll be playing the guitar with that one because I want to move around on the stage more.
What are your plans for the rest of the week?
Well, tomorrow is my homecoming and then I'll also find out who I'll be duetting with. I don't know who it is but the rumours sound pretty cool. I've heard it's either Jessie J or Ellie Goulding, so it would be amazing if it is one of them because they're awesome. Obviously, I'll be busy rehearsing too. The final is going to be amazing.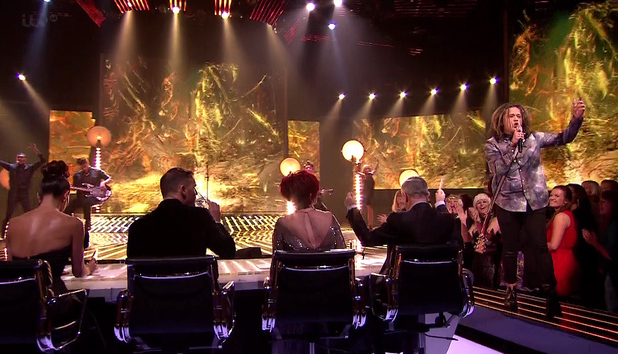 How has Louis Walsh been as your mentor?
Louis has been awesome. He rings us whenever he can and always sees how we are getting on. He's a top bloke.
You've been called the underdog quite a lot by the judges throughout the competition. Do you agree with them?
I like the whole vibe of the word underdog, in the sense that I'm surprising people, but it is a bit strange when you get called an underdog at the semi-final stage. Maybe I'm not, maybe people do generally think that I could win this. It's a lovely realisation that there are people out there who believe in you and love your music. The reaction I got from Snow Patrol's 'Run' was very good.
Who has been your most famous celebrity backing so far?
Adele was amazing. To get a tweet from her and to get her acceptance in a way was honestly amazing. She's one of the best and biggest singers in the industry right now and to get that tweet just makes me think that I am credible enough to get into the charts.
Once the finals are done and the tour is wrapped up, what are your plans for the future?
I just want to get into recording studio. I don't want to rush, but I want to get in as fast as I can and to get my music out there for people to see if they like it. I want to experiment with different things too. It's exciting, I'm always up for trying new things.
Out of the top 12 contestants this year, who did you think would go all the way?
Definitely Sam Bailey. All the way through, I always thought that she would reach the finals.
Sam has been the bookies' favourite to win. Do you think the show is hers to lose?
It's still anyone's game because in the final, people who have never voted before, will start voting. That's what makes it so exciting, no one will know who will go, or who will win.
How would you sum up your X Factor journey?
I know I've had a bit of a bumpy one, but I think it's been a great journey. In a way, it's made me a lot stronger to deal with things, especially of all the pressure from being in the bottom two. It's the most pressurised thing ever but that was great for me.
The X Factor finale airs on Saturday 14 December at 8pm on ITV and concludes on Sunday 15 December at 7.30pm.
Got an iPad or iPhone? Reveal Mag has been especially designed to fit!
Watch Luke perform 'Run' in the video below: