The X Factor's latest casualty, Rough Copy, have defended judge Sharon Osborne for taking the public vote to deadlock in last night's results show.
Gary Barlow's group fell into the bottom two alongside Louis Walsh's act Luke Friend, and both had to sing for survival in a bid to secure a place in next week's finale alongside Sam Bailey and Nicholas McDonald.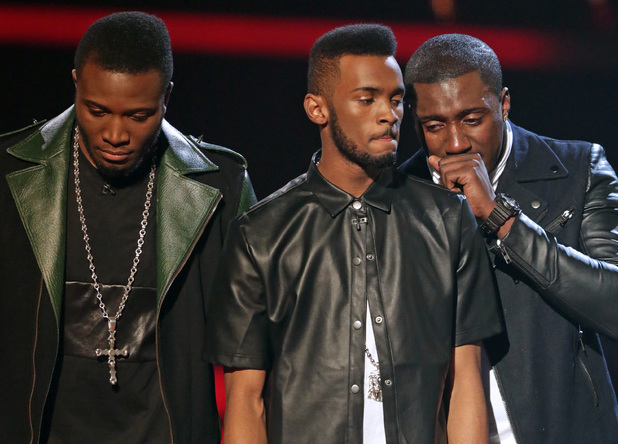 With the judges split, the decision got taken to deadlock, and bandmates Sterling Ramsey, Kazeem Ajobe and Joey Thomas learned that they had received the lowest amount of votes and would therefore be bowing out of the competition.
"As a judge it's not easy sitting there having to judge people's careers," Kazeem told
Reveal
. "Sharon had to literally make a decision on someone's life in five seconds. Morally, she did the right thing by taking it to deadlock because it was left down to the public to make the ultimate decision."
"I don't think Sharon wanted to be left with the weight of deciding," explained Joey. "A lot of people said that she should have decided because she is a judge and it's her job, but when you're put into a decision like that, it's hard.
"When you're in that studio, you can feel the heat. I understand what she did. It is what it is really, and you can't change it."
Rough Copy
lasted nine weeks in the competition, and although they're gutted not have made it to the finals, they're hopeful of a bright future.
"It's a bittersweet moment," said Kazeem. "Obviously we're happy for Luke that he has reached the final but it's bitter for us because we wanted to get to the finals. But we think we have made our mark as a group on
The X Factor
."
"
The X Factor
itself is a massive platform, and then doing the tour is like the second part, so it's just working and using that to our advantage," continued Joey.
Meanwhile, Sterling said that the group are looking hoping to land a record deal: "We're going to be in the studio writing, doing music and just hoping to conquer the world! Now we've got the platform, we just want to use it and hopefully get signed by a record label. Fingers crossed," he said.
The boys were extremely close to their mentor, Take That frontman Gary, and have now described him as their best friend.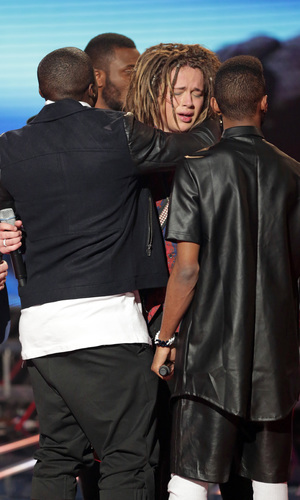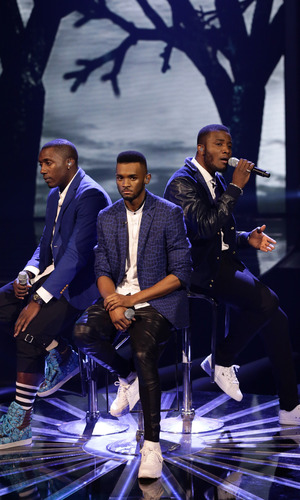 "Gary was just a regular guy," said Joey. "He's a professional at the end of the day. What I personally loved about him is that he was just like us, we know when to have fun and we know when to knuckle down and do the serious business.
"He went from being our mentor to being our best friend. One thing that I will always respect him for, is that he said we can contact him whenever we need him. It's an amazing feeling of someone of that calibre to say that to you."
Kazeem also thanked Nicole Scherzinger, who has championed the boys from the very start of the competition. "Nicole's been a great support," he said.
"She's a great person and she's helped us throughout this whole process. Even Louis and Sharon have given us great advice both onstage and backstage."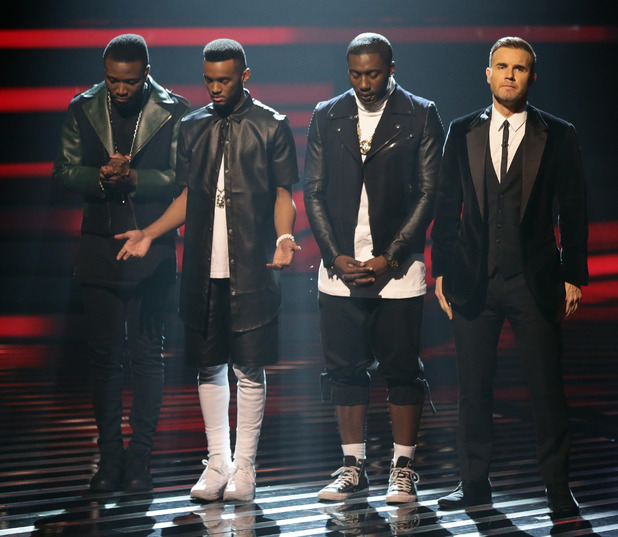 Aside from the judges, the boys have had plenty of celebrity backing and huge support from fans on Twitter. "It's so humbling to have all the support," continued Kazeem. "It feels good because we've been doing this for so long now and to have that recognition on all social media outlets is great. We feel blessed."
Throughout the competition, Kazeem, Joey and Sterling were often compared to American R&B vocal group Boyz II Men. Rough Copy said they feel "honoured" to be compared to them. "It's just amazing. They're legends and that means a lot, so thanks to everyone who has faith in us," they said.
Now with Luke, Nicholas and Sam in the final, the boys can't choose who they want to win. "I want all three of them to do well," said Joey. "We've been on this whole journey together, and we've carried the baton so far and now we pass it over for them to do the last leg. Whoever wins, wins, and everyone deserves to win because everyone has worked hard."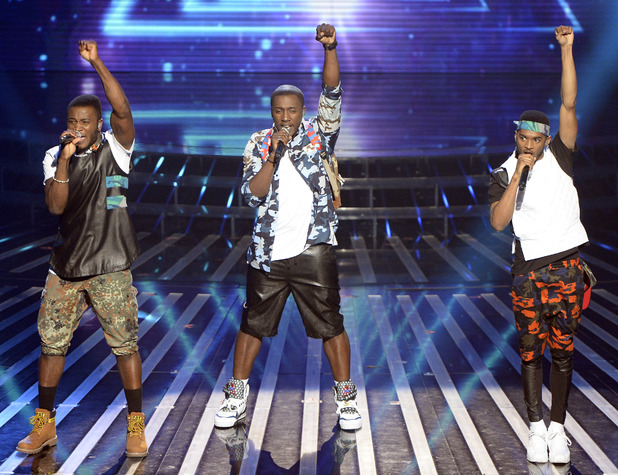 Now, Rough Copy are looking forward to the
X Factor
tour, which kicks off in February. "There's a big gap in the market for a group like us, so it's our time to utilise that and take advantage of it," said Kazeem.
"I've enjoyed every minute of it," added Sterling. "I just look back and think that I can't believe we have made it this far. It's just a blessing. We've enjoyed every performance and if anything, I wish I could have gone back and made it even bigger, just to go all out!
"We just love what we do, and we love to show people that we love what we do."
While Joey described their
X Factor
experience as "hard work", Kazeem likened it to "industry bootcamp." Speaking of their favourite performance from the competition, Joey said: "Our favourite performance was when we sang 'September' by Earth, Wind and Fire in week four. It's one of those songs you can just enjoy, dance on stage and just have a good time. It was the strongest vibe."
The X Factor finale airs on Saturday 14 December at 8pm on ITV and concludes on Sunday 15 December at 7.30pm.
Got an iPad or iPhone? Reveal Mag has been especially designed to fit!
Watch Rough Copy's favourite performance of 'September' below: