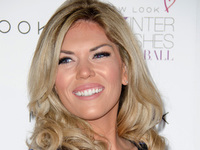 TOWIE's Frankie Essex is blogging every episode of I'm A Celebrity... Get Me Out Of Here! exclusively for Reveal. She'll be giving her frank opinion on her brother Joey Essex and his fellow campmates as they tackle Bush Tucker Trials and live together in the Australian jungle...
Episode aired Sunday 1 December
So the three Camp Saviours headed back to camp and, despite them saving several people from the public vote, some of the campmates were still not pleased to see Amy back - especially Matthew who said he hoped he wouldn't have to spend very much more time with her. I understand Amy is not really Matthew's sort of person but he seems to be really goading for her for no reason. Annabelle was miffed that she wasn't saved after Amy said that she thought Annabelle wanted a holiday with her daughter and thought she'd be happy to possibly get voted out. She thinks Amy is playing a game to win. Well they all want to win – they wouldn't be doing the show otherwise. Let's just be 12 losers. Super. Plus if Amy wanted to win, she would have convinced Kian and Joey to pick the weaker campmates to 'save' like Annabelle so the stronger ones had the chance to go first. Then she would be left with the weakest campmates to compete against. And she hasn't done that. So I'm not sure why everyone thinks she has an ulterior motive to be honest.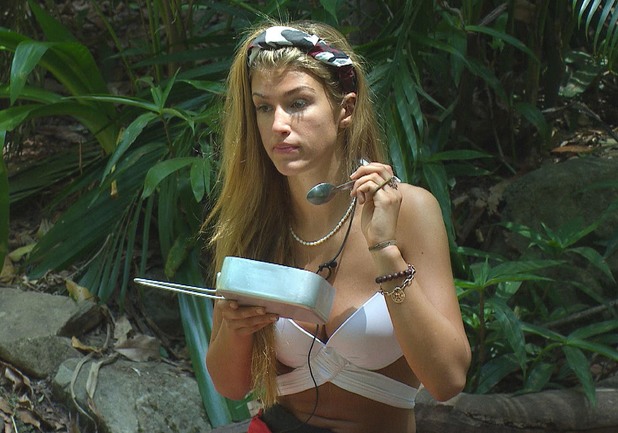 Now don't get me wrong, I like Amy, I think there's no need for a lot of the nastiness in camp towards her. But I did agree with the others about her hiding her concealer even after the camp had been told to give up their contraband items a few days ago. She thought that the other girls in camp, who she had offered to share the concealer with, were being nasty grassing her up. She couldn't grasp that she should have been honest and given it up along with everything else the other day. She did the right thing in the end and gave it up but not until Alfonso spent a good ten minutes convincing her to do so.
As much as Matthew has grated on me the last few days, his words of support for Annabelle were really nice. She worked herself right up over the impending Bushtucker Trial, although I think partly it was because she knew she wouldn't earn the immunity from it and thought she would end up being voted to leave because she wouldn't do very well. All the campmates seemed desperate for the immunity and there was a real competitive feel in the air. They were all locked in individual crates and had to use a magnet to drag up 5 keys through a maze to open 5 padlocks. The first one to do so won immunity and each of them would win one and a half stars for camp if they completed it within the time frame.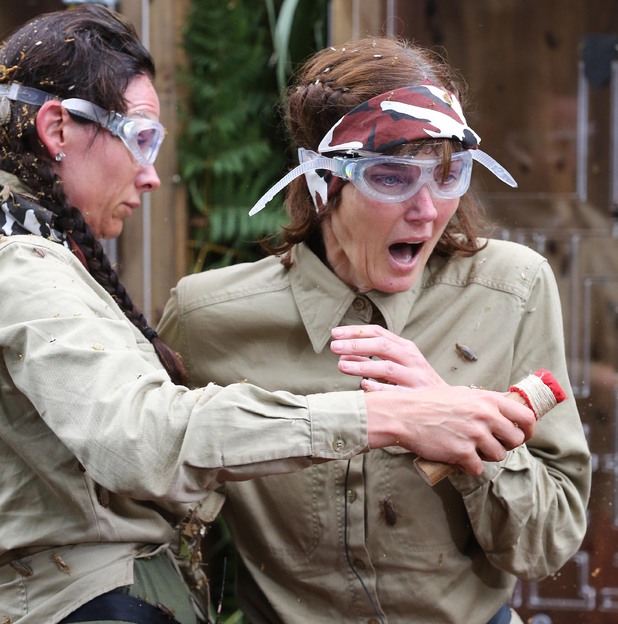 Annabelle was screaming before she'd even got in the crate when the door hit her slightly on the arm. I was screaming, 'OMG Annabelle get a grip woman!' at the TV! Everyone else was doing really well ignoring all the bugs falling on them. Annabelle was shaking like a leaf and was acting like a crazy woman. Matthew calmly worked out the maze route beforehand and Steve didn't even undo his padlocks - he left the keys in them to undo later to save time. Matthew won due to his calm attitude towards the game and won immunity despite being the least bothered by it. Alfonso was next and that was it. It seemed hard as the magnets wouldn't work properly. Annabelle had no chance of getting her stars let's face it! So a measly 3 meals for camp – finally a night where they're going to go hungry – that hasn't happened yet!
Steve and Lucy then headed down to do the Dingo Dollar Challenge. They basically had to put another maze together which was designed as a circuit board. Steve saw the dollars in the middle of the floor and went to pick them up and was immediately swooped up in a net full of leaves! Totally wasn't expecting that, it was so funny! It didn't take them long to get the hang of it and they were heading off to see Kiosk Keith to get the question which stood between them having baked beans, digestive biscuits or nada. What percentage of woman flirt with another guy to make their partner jealous? The camp went for the lower percentage and got it right and headed back to camp with digestive biscuits! Lucy and Steve told them they'd lost and hid the biscuits and sneakily got them out later! Everyone went mad! Joey was well pleased about his biscuit! I don't think I've ever seen him so happy about a biscuit!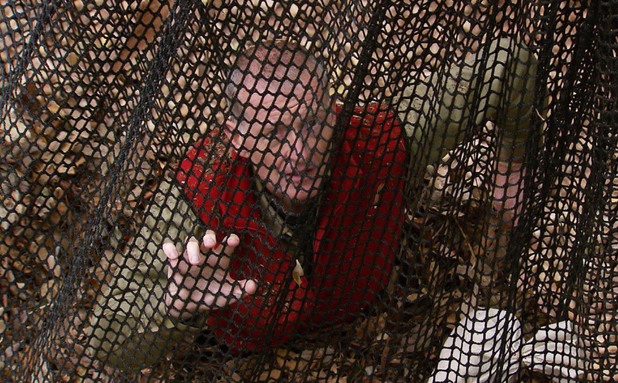 Dinner was served – well – 3 stars worth of food. As Kian cooked for the group, Amy sat and looked a bit despondent. Alfonso and David chatted about Amy having a lack of confidence but I really don't think that's the case – she's very confident. Amy is withdrawing a bit because she knows she isn't liked by many of the camp and is constantly swiped at for no apparent reason. The camp all had a heart-to-heart after dinner and Amy actually got a few compliments from people - even Annabelle who said she always looks amazing. Lucy wasn't as complimentary – she still dug Amy out! But in a roundabout sort of way!
Ant and Dec delivered the news to camp that was the first person to be evicted from the camp. She seemed OK with it as she chatted to Ant and Dec saying how hard life was in the camp. It will be interesting to see who goes tonight and if it's someone who was immune yesterday. If so maybe Annabelle wouldn't have gone if it hadn't been for the immunity. Then again I thought she would be the first out. Until tonight....
Do you agree with Frankie? Tell us below, as the best comment from across the website each week wins £50!
£2.49/month – that's all is costs for 4 issues of the REVEAL early edition. Gossip too good to wait for! Subscribe today!