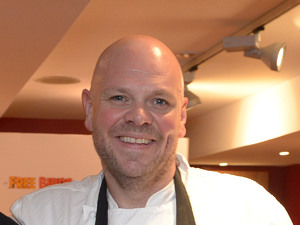 If you're not a fan of turkey, fear not! Celebrity chef Tom Kerridge - from Great British Menu, Saturday Kitchen and Tom Kerridge's Proper Pub Food - has come up with a great alternative.Tom, who has created a turkey-free menu to promote the new Hollywood animation, Free Birds, tells us: "Christmas dinner isn't just about turkey. I love game and Venison is a really great alternative. Last year, we had a real mixture of meats at our house on Christmas day and it went down a treat."Here, the 2 Michelin starred chef shares his recipes for the perfect turkey-free Christmas dinner...ROAST LOIN OF VENISON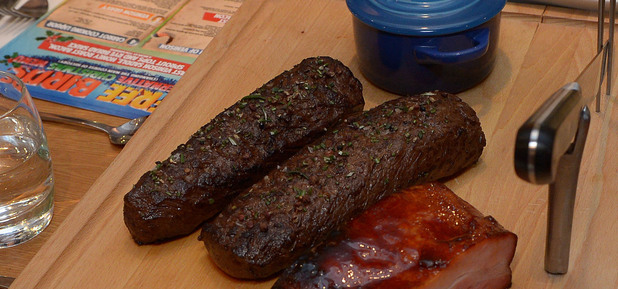 Ingredients:


1 x 600g venison loin trimmed


50g butter


Salt and Szechuan pepper to taste


Method


In a heavy based pan pour in a little vegetable oil and heat till lightly smoking.


Season the loin with salt and Szechuan pepper.


Then carefully place into the hot pan, add a good 50g of butter.


This should foam and start to colour the loin.


With a tablespoon baste and turn the loin every two minutes, repeat three times.


Remove from the heat onto a resting tray, rest for five minutes.


Carve and serve, sprinkle with chopped rosemary.


Prep time
10 minutes
Cook time
12 minutes
Nutrition information
Serves 4
HONEY ROAST STREAKY BACON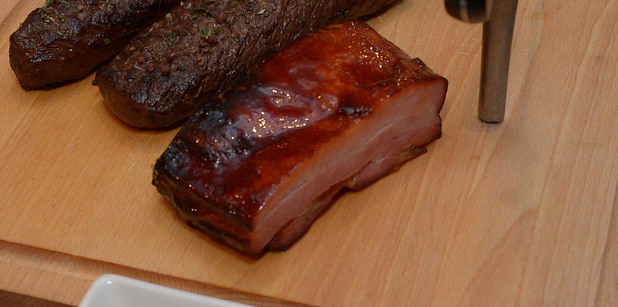 Whole bacon is a great alternative to a joint of meat and is very easy to cook. If you don't eat it all warm, it makes ace sandwiches!
Ingredients


800g whole piece smoked streaky bacon, skinless


200g runny honey


Method


Preheat the oven to 180°C.


Put the piece of bacon onto a baking tray and cover with the runny honey.


Place into the oven and set a timer for 10 minutes.


After 10 minutes baste the bacon with the honey and put it back in the oven and reset the timer for another 10 minutes.


Repeat the basting and put back into the oven.


Set the timer for 5 minutes and repeat the process.


The longer you cook it for, the more chance you have of burning it so remember to use the timer. I have learnt this from experience!


Keep cooking the bacon until the honey is thick and has glazed the bacon all over. It will take about 45-50 minutes.


Remove from the oven, take out of the tray and leave to rest on a chopping board.


Prep time
10 minutes
Cook time
1hr 30mins
Nutrition information
Serves 4
Free Birds is out in cinemas today