It's fair to say that Tom Kerridge is one of Britain's greatest chefs. He's got his own TV show, Tom Kerridge's Proper Pub Food, as well as being a judge on Great British Menu and a regular on Saturday Kitchen.
If that's not enough, his pub, The Hand And Flowers, is the first pub to be awarded 2 prestigious Michelin stars. The celebrity chef has now shared his top Christmas cooking tips with us below. So get that apron on and prepare to wow your family this festive season!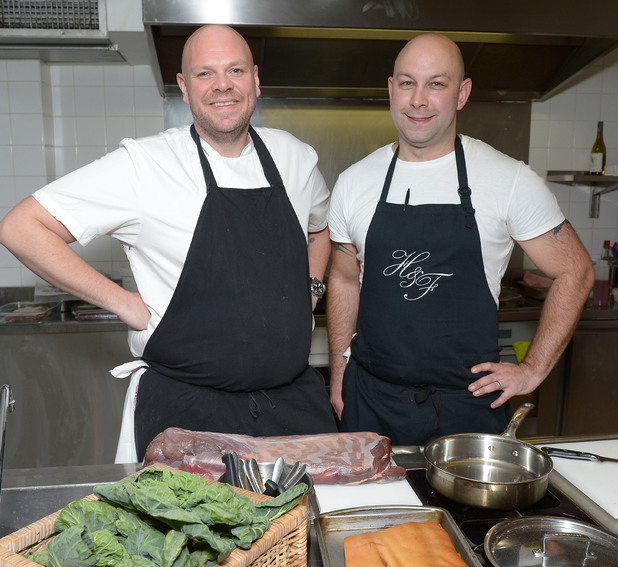 Turkey isn't compulsory: Not everyone's a fan of turkey and it's perfectly acceptable to cook a different meat on Christmas day. I love venison - and a roasted venison is a delicious alternative.


Don't be a salt snob: I think sea salt is fantastic to add taste and texture as a last-minute addition to a meal, but it's expensive and you don't always need to need to use it for the rest of your cooking. When I put salt on my meat, I use table salt - and lots of it because it still adds great flavour and also give you that great grainy texture that's good on meat.


Wine should taste like wine: There are a few 'cheffy' things that's I've never understood. And one of them is why you'd use an expensive bottle of wine, then boil it up so that it reduces and you don't get the taste of the wine. At my pub, The Hand And Flowers, we always add the wine at the end - that way you get to taste it.


Always use clean oil: Have you ever noticed when you've gone to a restaurant or a pub and the chips taste of fish? Or they just don't taste quite right. That's often because the oil is dirty. They've used the same oil for the chips that they used for the fish and it's not changed often enough.


Pay attention to detail: Sometimes it's the small things in a meal that make all the difference. We always scrub our carrots with a scourer - it rounds them off and makes them look pretty. It sounds silly, but it's these small things that, put together, really do make a meal stand out.


To be a good chef, you have to be a good shopper: The ingredients you use are very important - and you need to know where to buy the right things. I'm mates with my meat guy, my fish guy and my veg guy. It's like any business, you have to build up relationships to make sure you get the best things.


Enjoy the cooking process: With something like Christmas dinner, it's important to take your time. That way you make sure things get done properly.


Brown is lush, black is b*ggered: There's a fine line between caramelising something and burning it. When it's brown, it's lovely and caramelised, but as soon as it's black you know it's burnt. It's important to keep an eye on things - but don't be afraid of caramelising because that really gives the food a lovely taste.


Go for brussels sprout tops: Instead of brussels sprouts, try cooking the leaves from the top of the plant. You can buy these from greengrocers. They are great cooked in butter with some chestnuts and bacon.


Got an iPad or iPhone? Reveal Mag has been especially designed to fit!
Tom Kerridge is sharing his cooking tips to promote Free Birds - Hollywood's latest animated blockbuster. Free Birds is out in cinemas now!