EastEnders, Corrie, Emmerdale, Hollyoaks: we take a look at tonight's top soap stories…
EastEnders, BBC1, 8pm
It's the night of Alfie's stag do, but he's not really in a party mood. Ian manages to convince him to go ahead with the bash in The Vic, while Roxy and her hens head over to R&R.
When talk at Alfie's stag turns to exes, he immediately starts thinking about Kat and a toast to Roxy makes him very edgy, so he heads outside for some fresh air.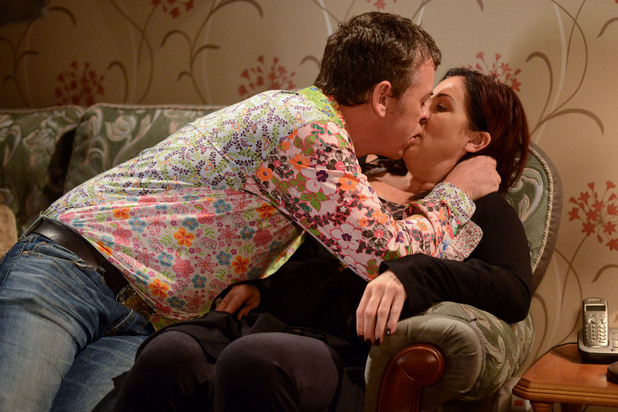 Later, Kat is surprised to see Alfie on her doorstep and he tells her he still has feelings for her, before leaning in for a kiss.
Feeling torn, Kat eventually pulls away and decides to do the right thing, telling him to go back to Roxy. Kat then announces to Bianca she's leaving Walford for good…
Coronation Street, ITV, 7.30pm & 8.30pm
When Tracy gives Faye and Grace the keys to number 1 and asks them to walk the dog along with Simon and Amy, the girls take the opportunity to run wild in the house.
With Simon and Amy increasingly uncomfortable with their behaviour, he tries to leave, but Grace blocks his path – what does she have in store for Simon?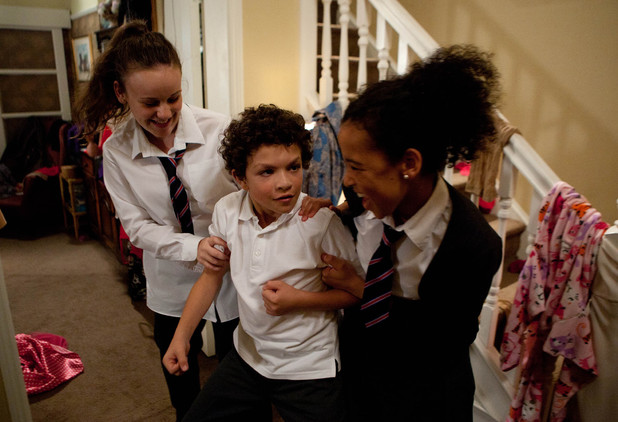 Later, he tells Leanne that Faye pinned him down while Grace dressed him up and smeared him in make-up. A fuming Leanne marches straight round to Anna's, but will Faye 'fess up?
Emmerdale, ITV, 7pm
Charity wants revenge and insists the Dingles evict Rachel and Archie.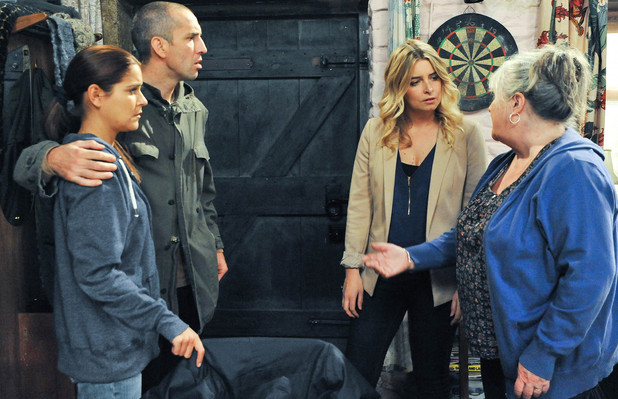 Zak and Lisa aren't happy with being told what to do and refuse to make Rachel and her boy homeless.
Charity's even more incensed and vows to Debbie she will get revenge on everybody – not just her cheating husband, but the woman who had his love child too. What is Charity capable of?
Hollyoaks, C4, 6.30pm
Wanting to get Ruby back for humiliating him at The Folly, Robbie gets hold of a saucy snap of her.
He uploads it to Lindsey and Joe's wedding slide show and exposes her cheeky shot to the whole Dog.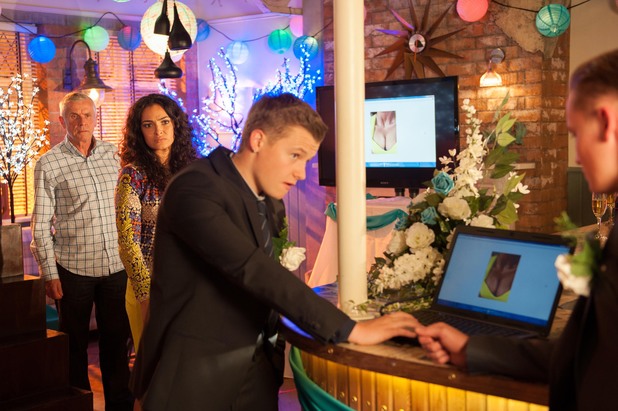 When Ruby sees it she's horrified, and Jack's fuming too, they demand he take it down, but he's nonchalant and tells her it's already all over the internet.
Turning to Ziggy for comfort she's hurt when he doesn't think it's a big deal, but will he be able to win her back round?
Not got an ipad? Download Reveal to your tablet from Google Play or Amazon Kindle – find out more
. Check out how fab it is in the promo below!