After cheating near-certain death Katniss and Peeta return for Catching Fire, the second instalment of Suzanne Collins' The Hunger Games trilogy.
Reveal's Esme Banfield took a sneak peek at the action packed, heart racing highly-anticipated follow up. Oscar winner
Jennifer Lawrence
is back in the role of heroine Katniss Everdeen, much to the delight of
Hunger Games
fans.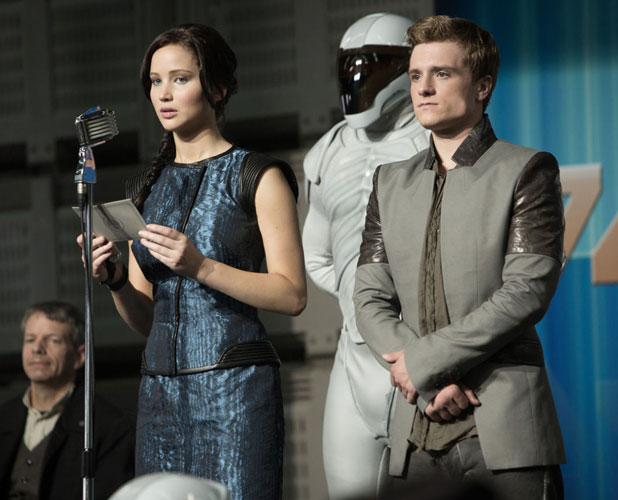 As victors of the 74th Annual Hunger Games, Katniss and Peeta (Josh Hutcherson) have returned to their normal lives in District 12, or so they think. Katniss is back in the wild hunting with her childhood sweetheart and all-round hunk Gale (Liam Hemsworth) but, as with everything in Panem, things are not as they seem.
Our victors are soon whisked away on a Victory Tour, visiting all the remaining districts and thanking them for the sacrifices of their tributes. However, they also witness murmurs of an uprising and President Snow (Donald Sutherland) is quick to warn Katniss what will happen if she becomes the symbol of the imminent revolution.
Soon, Katniss and Peeta are pulled back into the ill-fated arena for the 75th Hunger Games, along with previous victors from other districts to once more fight for their lives.
Fans will be pleased to see favourites from the first film returning, such as flamboyant Effie Trinket (Elizabeth Banks), lovable drunk Haymitch (Woody Harrelson) and Cinna (Lenny Kravitz), the designer behind Katniss' iconic Girl on Fire dress from the first film.
They're joined by some new faces in the form of Sam Claflin as Finnick Odair and Jena Malone as Johanna Mason, competing with Katniss and Peeta in the new arena.
Fast-paced and jammed full of action,
Catching Fire
continues the success of the first film and capitalises on Jennifer Lawrence's superstar status. The arena is visually amazing, overwhelming and sometimes frightening, but the film is always exciting and well worth the wait, with an ending that will leave you open-mouthed and hungry for more.
If you're a fan of the books, you will not be disappointed by the film. The overall setting – from the bleakness of the oppressed Districts to the lavishness of the Capitol – perfectly brings to life the vast expanses of your imagination. Jennifer Lawrence perfectly embodies Katniss' strong personality and determination in another great performance and Liam Hemsworth provides a suitable amount of eye-candy as Gale.
Although the film is often violent and sometimes shocking, viewers will be enthralled from start to finish – the only problem with the film is the year-long wait for the next instalment!
By Esme Banfield
Watch a trailer for
Catching Fire
below: