Miley Cyrus has turned in plenty of headline grabbing performances in recent months but surprisingly she chose a toned-down, fully clothed performance on tonight's X Factor.
The 20-year-old wore a gold floor-length gown for a heartfelt rendition of her smash single 'Wrecking Ball' during the Sunday night (17 November) results show.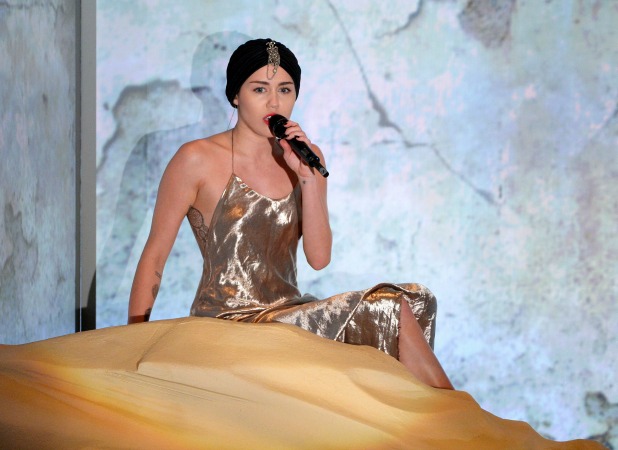 Okay, so she didn't look like she was wearing a bra under the dress but it certainly wasn't as revealing as some of her most recent stage outfits (or that 'Wrecking Ball' video)...
Miley began her performance sitting on top of what appeared to be a large rock/sand dune inside a glass box. Images flashed up on the screen behind her as she belted out the track. She walked down the rock / sand dune and finished her performance in front of the judges, who gave her a standing ovation.
No nudity, no twerking, no producing cigarettes from her handbag...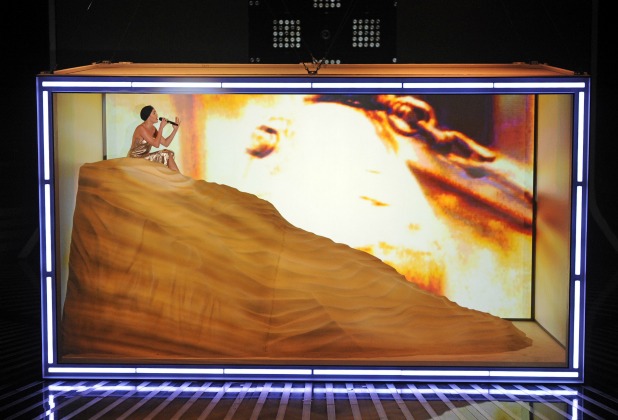 Chatting to Dermot O'Leary afterwards, she said: "I will be here [in the UK] next year in the spring on my 'Bangerz' tour. I can't wait to see all my fans and be here for a very long time."
While plenty of
X Factor
viewers took to Twitter to say how much they loved the performance, a fair few joked that they were "disappointed" by the lack of controversy.
One joked: "No twerking tonight, no smoking on stage, what's up Miley?" Another said: "So impressed and a bit disappointed Miley Cyrus didn't strip off on X Factor tonight. Was waiting for something outrageous."
Well, Miley certainly does know how to continually surprise us!
Following her spotlight stealing performances at the MTV Video Music Awards and this month's MTV EMAs there had been rumours floating around that
X Factor
bosses had requested a more toned down than normal performance from Miley, although they never confirmed this.
Miley is currently promoting her new album
Bangerz
which features the singles 'Wrecking Ball' and 'We Can't Stop'.
The other guest performer during the results show was judge Gary Barlow (so not really a guest then!), who performed new single 'Let Me Go', which is available now.
X Factor
continues Saturday on ITV.
Miley Cyrus' hair transformation over the years in pictures:
Copyright: Rex Features Gregory Pace / BEI