Reveal's editor-in-chief Jane Ennis explores the hidden treasures of the beautiful Lake District…
As soon as we boarded the ferry at Lake Windermere, we knew we were entering a different world. As we gazed across the sparkling water of England's largest lake lying tranquil in the autumn sun, London seemed a lifetime away. For this land is ruled by water: falling from the sky, filling lakes and tarns, coursing down rivers and rushing underground- you are never far away from it.
And all this water which, in icy form, carved out the geology of the Lake District millions of years ago, still pumps through its every vein, forging an area of great beauty and marvellous contrasts. Verdant pastures, pretty villages and millpond-still waters vie with glowering shale-strewn beacons, wild moors and angry waterfalls. And it is this that makes The Lakes a delight for every type of holidaymaker. A place where, in the space of a ten minutes, you can see backpacking hardmen running or cycling the fells, wet-suited school children hiking along river bottoms and old ladies eating cream cakes and cooing over Beatrix Potter.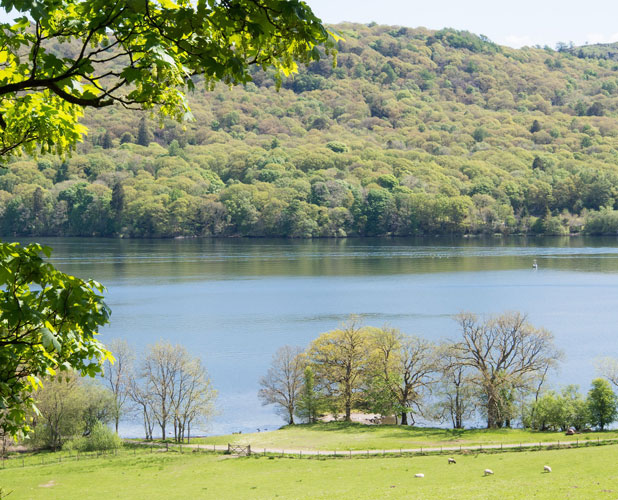 Our HQ for our first ever visit to the Lake District was
Graythwaite Cottages
. Set in the grounds of the 5,000 acre Graythwaite Estate on the western shores of lake Windermere. the 20 stone-built cottages that form this holiday complex can sleep between two and ten guests. Each has its own character, but all are furnished to a high standard. Gordon and I stayed at the very pretty 'Forge Cottage,' Situated in the main courtyard, it could accommodate four people in one double and two single bedrooms. A well fitted kitchen, central heating, a log burning open fireplace a dining and lounge area with television, and doors to a private patio area made it an excellent choice for visiting the lakes in the autumn as time spent indoors would present no hardship. The rate for a group of four staying here for a week at the beginning of October was a very reasonable £503 when you consider it includes access to an indoor swimming pool, a fitness room and children's play area and a fishing lake stocked with trout.
The kitchen was very well equipped with everything needed to whip up a gourmet meal, but we lazily ordered some ready meals in advance from
Cumbria Way Foods
. The tasty frozen meals were waiting for us at reception when we arrived and we were glad of them as the nearest tiny supermarket was quite a drive away and its refrigerators were broken, so we would have been hard pressed to buy fresh food for any kind of meal.
No sooner had we unpacked than we went for our first walk around the Graythwaite fishing lake where I discovered my ordinary trainers were not waterproof enough for this new land where the earth squelches under foot at every step.
The next morning we drove four miles to Hawkshead where I was kitted out with the right shoes and we both bought Nordic walking poles. I have never used one before, but they are great for balance and taking the strain off joints.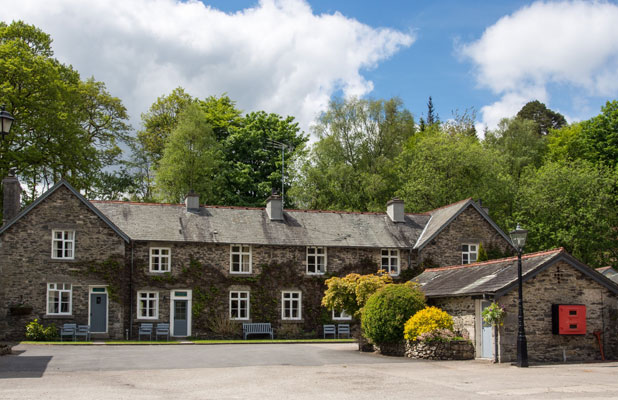 Hawkshead itself is a picture-perfect Lake District village with cob cottages, narrow alleyways opening on to tiny squares, and cobbled streets. Autumn is a perfect time of year to visit it as in summer it can be crowded with coach loads of tourists. Traffic is banned from the centre so it is a great place for wandering. You can see the tiny grammar school where Lakeland poet William Wordsworth and his brother John were pupils. And in the centre of the village is the Beatrix Potter Gallery where her sketches of flowers and animals are on show with details of her lifelong campaign to protect the Lakes from redevelopment. As well as some quite pricey gourmet gastro pubs, the village is home to the Sun Tea Rooms. The enormous 20inch diameter sponge cakes in the window are as delicious as they look.
Leaving Hawkshead via the car park that evening, the sky was blackened by a massive flock of squawking rooks flying home to roost and reminding us that nature has the whip hand here- even in the twee-est of villages.
As well as being a great place for exploring Lake Windermere. Graythwaite is a not far away from Coniston Water, known by most as the place where Donald Campbell met his death attempting to set a new world speed water record. His mistake was not to allow the wake from his previous run to subside and his boat flipped at an estimated 328mph killing him instantly. For those who prefer to travel at a more leisurely speed, the 1920s Coniston launches are still running – these days powered by solar panels.
The following day, we went on a fell walk – which for many is what the Lake District is all about. As we looked up at the glowering slopes of The Old Man of Coniston we knew a scramble up its flanks was not going to be an easy. Following a map route, we walked across fields of sheep and over brooks tumbling through steep gorges and across shale pathways where we could feel the water rushing underground beneath our feet We went through a valley where copper had been mined, the tiny hillside entrances to the shafts looking far from welcoming. The walk was an unrelentingly steep slog but every turn revealed another breath-taking view (if you had any breath left to take!) The higher we climbed, the wilder the moorland became until eventually nature presents her rawest face - with not a waist coated rabbit in sight!
On our way back, we came across a group of pheasants. A timely reminder that the hunting season was about to start with a subsequent rise in accommodation prices.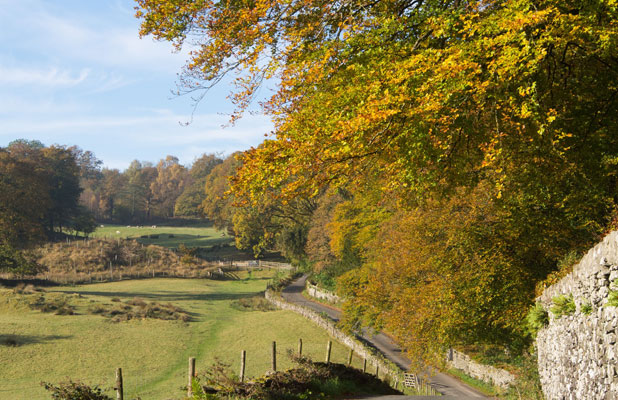 Our stay was just two nights – nowhere near enough time to do all the wonderful things on offer in this region. We could have taken a ride on the
Haverthwaite Steam Railway
and then switched from train to boat for a scenic cruise up Lake Windermere with drop-offs at Bowness or picturesque Ambleside with its cafés and outdoor clothing and craft shops.
We could have gone to
"Into The Wild Lake District"
at their woodland base on the Graythwaite Estate, for bush craft lessons, herb walks or a willow-working course
YMCA National Centre
's woodland and lakeshore location is a five-minute drive from Graythwaite where family activities include aerial zip wires and swings, canoeing, kayaking, archery and climbing.
Grizedale forest
is a short drive away, with dedicated walking and mountain biking routes.
Esthwaite Water fishery
is 3 miles from Graythwaite. A natural 280-acre water with deep basins and shallow bays. You can hire a boat and equipment and spend a day pike, coarse or fly-fishing. It's for experienced anglers and beginners, and fly-fishing tuition is provided.
The one I shall be doing when I return (and I will return) is
Sheep Dog Experience
where I can learn to handle a fully trained boarder collie. Gordon has his heart set on mountain biking. Whether you bring your own bike or hire one, it is one of the most popular Lake District pursuits and is sure to work off the calories from a cream cake or two.
Got an iPad or iPhone? Reveal Mag is specially designed to fit!