It's a big life-change to move from the city to the country, but in tonight's Grand Designs we catch up with former Reveal editor Michael Butcher and his partner Phil Palmer who went the whole hog and became farmers too!
Previously confirmed loft-livers in the heart of Soho, the guys fell in love with Christmas Farm near Newbury and decided to up sticks, quit their urban media jobs and take up farming in the country.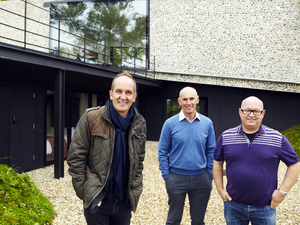 Reveal
waved goodbye to Michael in late-2009 as he prepared to swap a life of celebrities and showbiz for one of chickens and sheep!
With an agricultural tie on the land, Michael and Phil had no choice but to become farmers, and they faced other challenges too – they wanted to get rid of the uninspiring faux-alpine timber chalet.
Not wanting a regular brick farmhouse, they're determined to bring a bit of city glamour to the countryside and build a 21st century farmhouse like the area has never seen, with an open-plan party pad upstairs and a functional farming space below.
How will they get on? And will presenter Kevin McCloud be impressed?
Grand Designs, C4, 8pm