Two years after quitting
Coronation Street
, Rovers Return barmaid Liz McDonald is back and actress
Beverley Callard
is enjoying getting stuck in.
But she admits that it was a big decision to return to the cobbles after her battle with depression and, despite being a
Corrie
legend, she was wracked with first day nerves...
Were you nervous coming back to Corrie?
It was terrifying. I've been there nearly 25 years and on my first day back I was driving in on the Tuesday morning and I actually felt sick. I thought, 'I can't believe this'. It was like the first day back at school after the holidays. Then I took a big deep breath and walked in. And I kept thinking, 'How does Liz actually speak? Exactly what accent did I do?' Then as soon as I worked with Simon Gregson again, half an hour later it truly was as if I'd never been away.
Does it feel different being back on set this time?
Nothing's changed in the way we film it. The atmosphere has changed; it's very relaxed, even though they're heavy schedules. The producer Stuart Blackburn has created a very happy company. A lot of the time, you maybe don't see the producers a great deal, but he comes down and has a cigarette outside the green room, or comes in and has a quick cup of tea. It's just nice that he's a part of it and everyone feels more cared for, which means a lot. And you can say to him, 'I'm telling you that scene was wrong, I'm not saying that because Liz wouldn't'. Or, 'I love these scenes', and you can just have a chat with him. That's really important because I feel that while the writers agonise to get the words on the page, our job is to agonise to make those words into a real person who is as believable as possible… despite the miniskirts and hair extensions!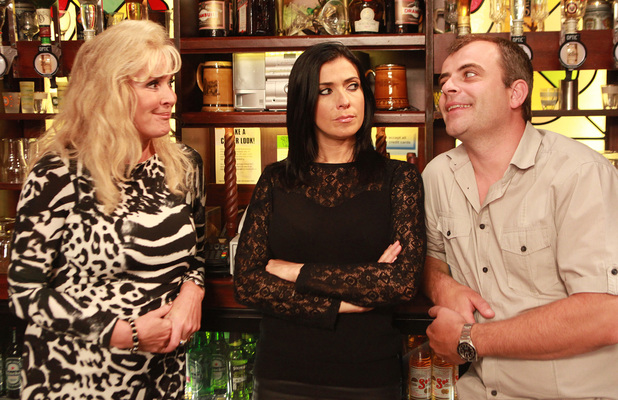 Who's your main competition in the glamour puss stakes on set?
First of all I'm working with two of the most beautiful women in the country. I've got Kym Marsh on one side and Michelle Keegan on the other! It's quite good though because there's no competition with Liz because they're like my daughters, so it's good in a way. I don't think Liz would see them as competition. She loves other women. Because most of her life she was with Jim and the two boys, she loves having the females coming into it. Although Liz loves a fight.
Are there any fights coming up?
Yeah there's at least two. They're great fun to film although they sometimes go on a long time, especially if it's in the Rovers, because there are so many different shots they've got to get. Liz would always be straight in there because she is that Army wife.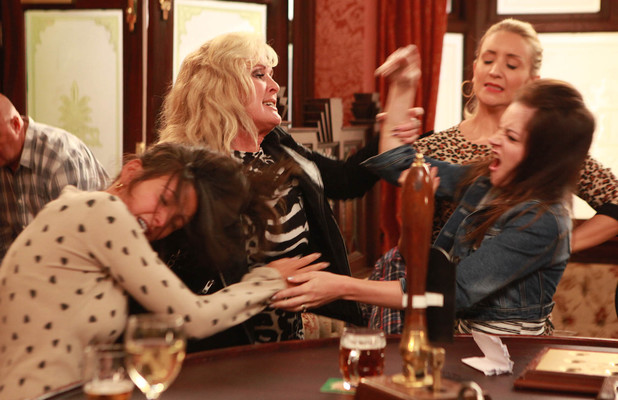 How does it feel to be one of Corrie's truly iconic characters?
It's just a massive honour. I've always loved the show, my grandma watched it from the very first episode. I left because, as you know, I was poorly, and you can't dip in and out of it. If you're in it you have to give it your all. Sometimes I give it more than my all; I read the whole episodes from start to finish and think, 'Right, they're in that scene before, so if they're going to play it that way, we'll try and play it this way.' Sometimes I care too much and I've got to try not to. It's not because I'm a goody goody, I'm a worrier and a perfectionist. I know all of next week's lines already and it's not even the weekend yet. But the thing is you pay a price for that as well, so I've got to try and relax more about it. But it is an honour and I didn't expect to be asked to go back again.
How did your return come about?
The producer Stuart came over to the opera house when I was playing there. He snuck into my dressing room at 3 o'clock in the afternoon so no press would know and we were talking about it for ages. It's a lot to think about because it does take over your entire life. But if you love it, you don't mind that, although your family has to not mind it as well.
How long will Liz be here this time around?
Oh she's here for a few years, definitely. She really hopes Michelle and Steve are going to get married. She likes Michelle because she's an upfront girl and personally we love working together as well, Kym and I.
Are you good friends?
Too good friends – we can't look at each other without laughing! Now me and Michelle Keegan are getting just as bad, we're terrible. I think I might be the common denominator!