Viewers will see Sharon Osbourne enlist the help of Robbie Williams to whittle down her acts in this weekend's episode of The X Factor.
Robbie, 39, will surprise Sharon's Over 25s category in her Los Angeles home as the hopefuls try to land a coveted place in the final 12.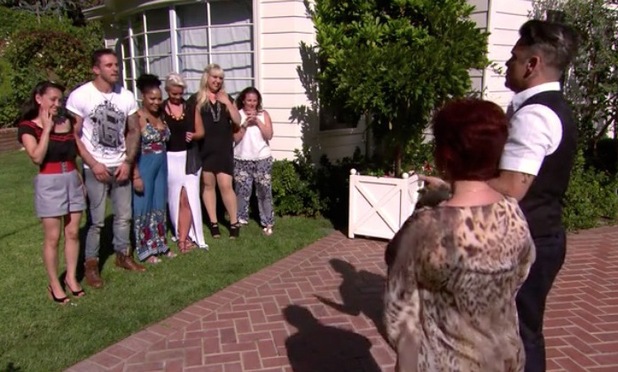 In a preview of Saturday's episode (5 October), Sharon introduces Robbie as "the most incredible performer and writer" to her six hopefuls.
The Take That star, who helps Sharon select the final three singers to take forward to the live shows, says: "I can only imagine the nerves. You've got to calm that, you've got to be in charge of it and you've got to come through and bring the goods."
Robbie even joked that anyone who didn't "bring the goods" would be chucked into the swimming pool as punishment! (Watch a clip of Robbie with Sharon at the judges' houses below):
Robbie's appearance definitely came as a suprise, as hopeful Sam Bailey gushed: "Oh my God, I have the hugest crush on Robbie Williams, I have ever since I was about 15."
Meanwhile, Shelley Smith said: "I nearly passed out, I'm not going to lie, he's so handsome."
While Sharon whisked the Overs to LA, fellow judge Gary Barlow took the Groups to New York, Nicole Scherzinger took the Girls to Antigua, while Louis Walsh flew the Boys out to San Tropez.
The X Factor continues on Saturday 5 October at 8pm on ITV1.
Check out some pictures from this weekend's judges' houses below:
Copyright: ITV