JLS star Oritsé Williams has praised his girlfriend AJ Azari's dancing skills on Stepping Out, saying she has "outshone" him on the live shows!
Oritsé and AJ have proved to be the leading couple on the celebrity dance contest after impressing the judges with their tap dance and salsa in the past two weeks.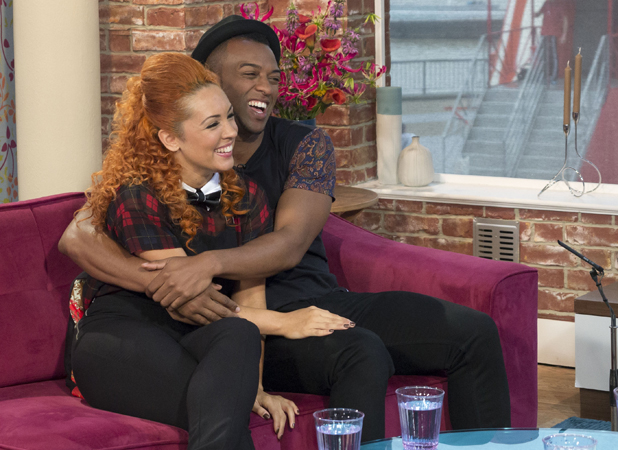 The couple, who were all smiles as they posed for photos outside the ITV studios earlier today, will be dancing the quick step this week.
Showing off their flair for fashion, singer Oritsé looked smart in all black, with a patterned sleeved t-shirt. Meanwhile, AJ - who has been dubbed the 'British Beyoncé' on the show - was bang on trend in a fitted black jump suit, which she wore over a tartan shirt and bow tie.
Speaking to Eamonn Holmes and Ruth Langsford on ITV's
This Morning
, Oritsé said: "The British Beyoncé I know, it was trending on Twitter on Saturday night. I'm with the British Beyonce - I'm happy about that!"
"AJ has been putting me in the shade and Jason Gardiner said she was phenomenal. When we did our solo parts, it was like she outshone me, it was like I wasn't there! I might as well be backstage."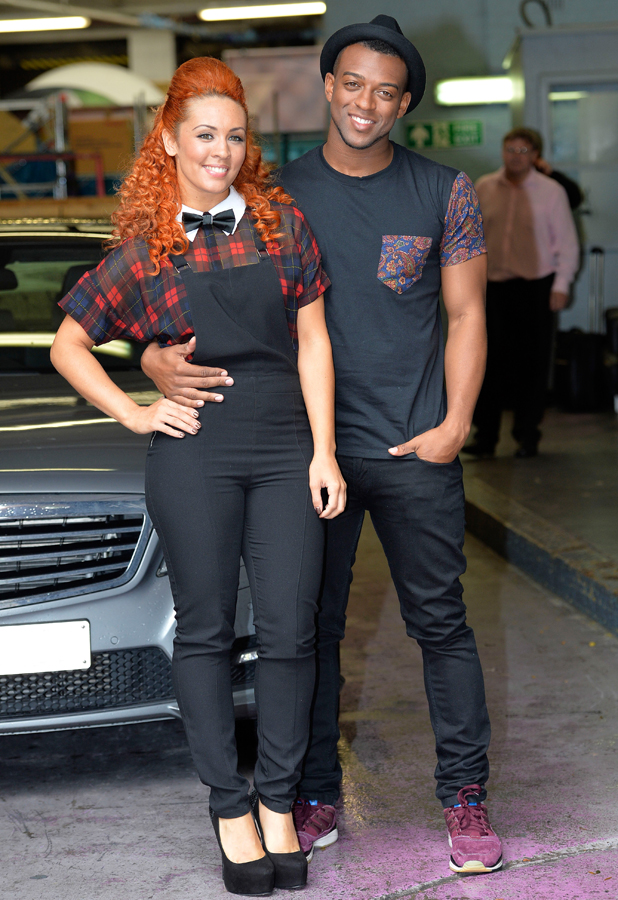 The couple are, however, extremely nervous for this week's live shows and admitted that the stress of performing led to their first argument during rehearsals this week.
"We didn't argue until this show," said AJ. "We have the dreaded quick step this week. We're just finding it really, really tough, hence the tears and tantrums and storming out."
Oritsé added: "Because we had a few changes song-wise and choreography-wise, we're literally about three days behind on our rehearsals, so it's very difficult and that's why it's been so high pressured."
"This show has brought out all sides of us. Being on
Stepping Out
tests your relationship. You have to perform on Saturday night in front of millions of viewers and you have to do it together and if one of you go wrong, it could destroy the whole show."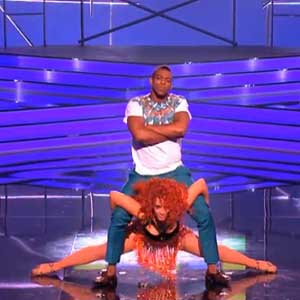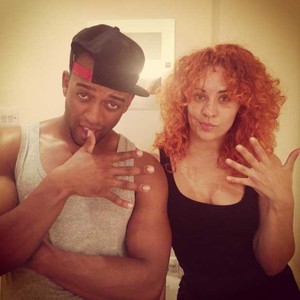 Last week,
Alexandra Burke and Oritsé's band mate JB Gill showed their support for the couple,
cheering them on from the studio audience.
And it turns out that Oritsé signed up for the show without telling AJ first! "I like to be spontaneous," he said. "Our relationship is very exciting, I like to always exceed her expectations."
We don't think AJ minded too much though. "I thought he was joking at first," she added. "Dancing is always something I've wanted to try with him, even if it's just a Friday night salsa class, so it's quite romantic actually."
Catch Oritsé and AJ dance on
Stepping Out
on Saturday 14 September on ITV at 6.30pm.
Watch Oritsé and AJ perform their salsa from last week below: