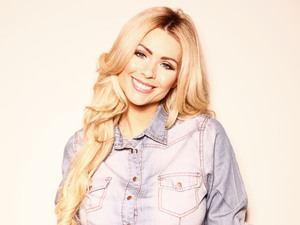 Nicola McLean blogs Celebrity Big Brother exclusively for Reveal.
I'm gutted to see
CBB
finish and am so sad that this is my second to last blog. I really don't know what I'm going to do without the crazy housemates entertaining me. If my husband Tom Williams is reading this, it's time to up your game #datenight!
This has got to be one of the funniest things that has ever happened on
Celebrity Big Brother
. Carol was talking in her sleep and saying clear as anything that Vicky is the most annoying housemate and that everyone needs to vote her out. I was literally crying with laughter. Louie relished in being able to tell Carol exactly what she said too. Carol on the other hand was SO embarrassed. She walked into the bedroom and declared: "I want to apologise for what I said in my sleep but I am not sure if you care."
Lauren hit the nail on the head when she said both Carol and Vicky are just strong women and that's why they don't get on. Big Brother sent Carol to jail for talking about nominations…in her sleep. I don't know how you can reprimanded for talking about something in your sleep. Also, it's the final on Friday so there are no nominations. I guess Big Brother just wanted to put her in jail. Carol was absolutely furious and Louie was in hysterics, telling her that even in her sleep she gets herself into trouble.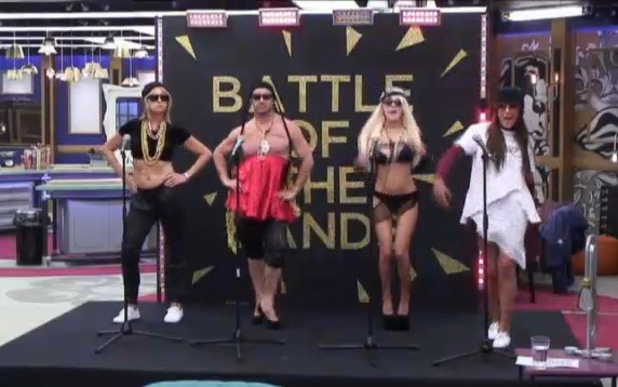 There was a battle of the bands in last night's task. Malv4 - aka Abz, Lauren, Vicky and Mario - were in one band and Carol, Louie, Courtney and Charlotte were in the other called The Jumble. This task is exactly what we needed in
CBB
as it was getting a bit too bitchy. It was so funny seeing them make up songs and seeing Lauren trying to master the dance steps while being completely uncoordinated.
The housemates then gathered on the sofas to find out who had won. They announced The Jumbles had won and, I have to say, I loved the production team for playing Leona Lewis 'A Moment Like This' and doing an
X Factor
-style montage of them jumping around like they had won a £1 million recording contract!
After that, it was eviction time and Louie and Courtney left. Housemates seemed really shocked that it was Louie, but Carol said she was happy as they didn't have to see his miserable face anymore. Carol really doesn't care and I quite like it. I have changed my opinion about 10 times over this series, which is exactly what you want from a
CBB
housemate.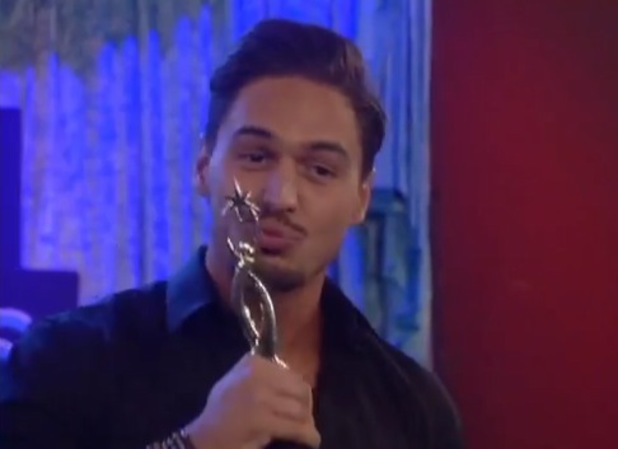 Next up, Big Brother gave the housemates some awards chosen by the public and they held a mini ceremony. The 'Funniest Housemate' went to Charlotte and there is no denying she Is very funny. She is outrageous but also very sweet. 'Sexiest Housemate' went to Mario. I think most women have enjoyed him this series and I have, but I wish he would stop smoking. It was a bit unnecessary when he raised his award and said: "In your face Lucy" (a reference to his ex-girlfriend Lucy Mecklenburgh).
'Villain Of The House' went to Carol. Her speech had me in stitches. She said that if the housemates weren't such grumpy, boring b*stards then she wouldn't have needed to be a villain. I think Carol has a really good sense of humour, which is nice as some older women don't #nonamesmentioned. The most 'Entertaining Housemate' went to Charlotte, who lived up to that title and flashed her boobs and her bum. She even moved her knickers to make a thong. Mario looked mortified while Carol was crying with laughter.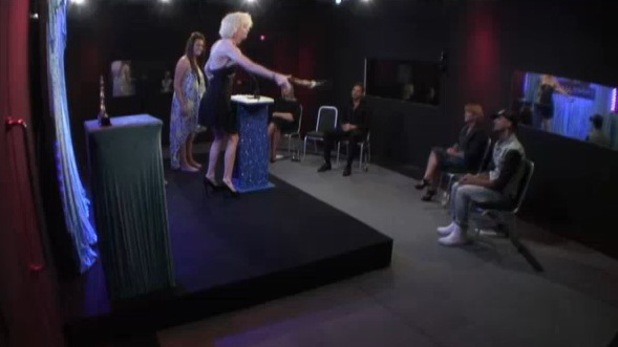 The 'Biggest Game Player' went to Lauren. Her face was like thunder and she looked really upset. She couldn't even crack a smile or laugh to make light of it. Lauren threw the award at Abz who luckily managed to catch it, as she gave no warning. She said she wants to burn it but added that she can't as her father likes to keep all awards. I would love to know what's in that trophy cabinet...
After the awards, Lauren sat alone in the kitchen looking very depressed and Carol - being as sympathetic as ever - said: "You just have to get over it, it's the first bit of negativity you've had in here." Lauren just couldn't get over it though and went into the Diary Room to vent. I think Lauren will think the public won't like her, so imagine if she wins tomorrow? There will be tears and screams of happiness.
With the final so close, who wins was on the housemates' minds. Charlotte said she wants Abz to win. Carol shot that idea straight down and said he hadn't been entertaining and had done nothing to win. I really have to say that I have no idea who will crowned the winner of Celebrity Big Brother but I shall be watching. Who wins? You decide…
Do you agree with Nicola's views? Tell us below, as the best comment from across the website each week wins £50!