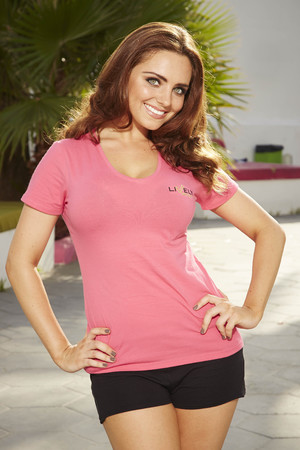 The Magaluf Weekender's Jaime-Leigh Paley has admitted that she has a crush on Anna 'AK' Kelle from MTV's The Valleys.
Feisty Jaime-Leigh -
who has openly discussed her bisexuality in the past
- is set to return to our television screens this month as the Magaluf based reality show begins its second series. But that hasn't stopped her from checking out the competition.
In fact, the bubbly brunette is a huge fan of the Welsh reality series,
The Valleys
, and particularly likes mentor and boss AK.
Jaime-Leigh told
Reveal
: "I love
The Valleys
, I think that's hilarious. I have a massive thing for AK, I'm in love with her. She's just amazing!"
However, if there was any other television show that Jaime-Leigh would like to appear on, it would be a close call between
Celebrity Juice
and
I'm A Celebrity... Get me Out Of Here!
"If I could do anything it would be
Celebrity Juice
or
I'm A Celebrity
," she said. "But I'm not a celeb so I can't do that stuff. Fingers crossed maybe one day!"
Well, that idea might not be too far-fetched. Since
The Magaluf Weekender
launched in January, it received a great deal of support and drew in an audience of one million viewers, which encouraged producers to bring it back for a second series this September.
Jaime-Leigh, Jordan Davies, Imogen Townley and flirtatious new boy Tobi Jasicki are all back to provide more fun-loving mischief and mayhem as eager holiday-makers hit the non-stop party resort of Magaluf in Majorca.
We caught up with 22-year-old Jaime-Leigh to get all the gossip...
Did you always want to film a second series of The Magaluf Weekender?
"Yeah I think I always wanted to give it another go. The first time around I'd just broken up with my ex and it wasn't the best time for me, but now I'm in a lot happier, bubbly place."
Does that mean we will be seeing a different side to you now?
"Yeah, they will definitely see a happier me. I think I'm a bit more tolerant of people this time around! I've tried to keep myself calm."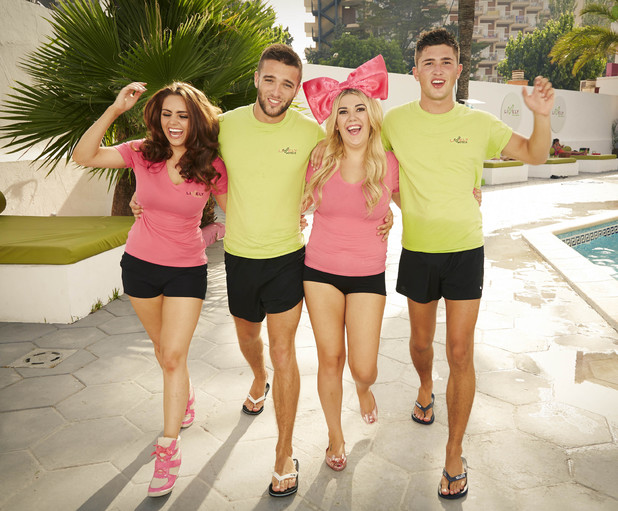 So will this series be even crazier than the last?
"Oh yeah definitely. Not only with us, the team, but with the guests as well. It's constant Magaluf mentalness! It's just nakedness, boozing, people acting like animals – everything you can imagine it to be and more."
What else is different about this series?
"There's cameras in our bedrooms so you get to see a lot more private time with the reps and a lot more of our intimate moments. The team's changed too, as there's a new rep Tobi that has joined. So there's a different dynamic within the team."
How was it having cameras in your rooms?
"It was really hard. You do forget the cameras are there, but at first you're thinking about all the little things that you do. Me and Imogen are not the most domesticated, especially before we are going out. We literally tear our room up. Imogen is the worst. She's trashing the room, clothes are going everywhere - it's pretty funny."
What was it like having Tobi join the team?
"Tobi is the daddy of the group. He's actually not the oldest, he's a baby (20 years old). But it's clear that I'm mummy, he's daddy and Imogen and Jordan are the typical little sh*ts. But we love them! It was nice for me to have someone on my wavelength."
And we've heard that you and Tobi have a bit of a romance?
"Just to look at him, he's tall, muscular and handsome, so that was a start. But at the beginning I was saying it was never going to happen between us. I had no interest in him whatsoever, even though he was good looking. I think we rubbed each other up the wrong way. Imogen was genuinely worried she was in for a hard summer with us both because there was a lot of conflict. We were never nice to each other, but then one day we were sat chatting and laughing and he kissed me and that was it really!"
So could it turn into something more?
"You'll have to wait and see!"
What about Jordan and Imogen's on-off relationship?
"It's the same kind of thing this series. Their typical behaviour. Jordan is still being a playboy. That's not changed."
How did you find filming without head rep Brett Hamilton this time?
"He's obviously missed. For me, it was hard at first because he was the closest person to me and he was more of a friend to me than Tobi is. Brett was like my rock, we would sing Cher songs to each other. It was sad to not have him there, but at the same time it was refreshing to have someone else join us."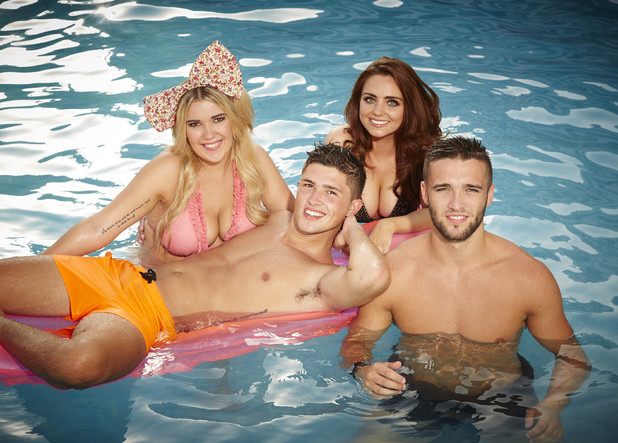 With Brett not coming back, who will be enforcing the rules now?
"One of us four reps is chosen to enforce the rules for the entire series instead. It was scary because it changed the whole experience. It was hard to make the adjustment, but once it had happened we just got on with it. It was crazy though."
Earlier this year we saw you have a holiday romance with single mum Chian. Will you be falling for any girls on this series?
"Well I am bisexual and always will be. But because of Tobi I am with a guy for the majority of this series. Although, just because I'm with a guy it doesn't mean I don't like girls anymore!
You butted heads with Imogen a lot last series, how is your relationship with her now?
"We got on much better this time. Imogen has grown up a lot over the past year and with me being in a different place, I'm a lot happier. She's still Imogen at the end of the day and we are completely different people, so there are times when it's like 'Oh my God get away from me'. But the majority of the time we got on well and we became really good friends.
Do your family watch the show?
"My whole family watches the show and they see everything that I do. I've never done anything that I'm ashamed of. My family is very proud. Everybody knew that I was bisexual before, but when the series aired I had to approach the issue with my nan, which was kind of awkward. She thought it was fine. I think she has one of my lingerie shoots in her locker at work, so it's not like she's embarrassed in any way!"
The Magaluf Weekender returns to ITV2 on Tuesday 17 September at 9pm.
Are you looking forward to the upcoming series? Let us know below, as the best comment each week wins £50!