EastEnders, Emmerdale, Hollyoaks: we take a look at tonight's top soap stories…
EastEnders, BBC1, 7.30pm
Ronnie's in shock to see Kat waiting for her at the prison gates and starts to walk away when Kat fails to tell her where Roxy is.
Kat follows her and talks about Tommy, realising she has never completely forgiven Ronnie. Ron insists she never meant to hurt Kat and asks again where Roxy is, feeling desperate and alone.
Kat persuades Ronnie to go for coffee with her and explains Roxy is now engaged to Alfie and that's why she hasn't shown up.
Ronnie goes to leave, but overcome with emotion and knowing Ron has nowhere to go, Kat invites her to stay with her. Will Ronnie agree?
Emmerdale, ITV, 7pm
Adam is still missing and Moira is in a complete state, knowing this looks bad for him.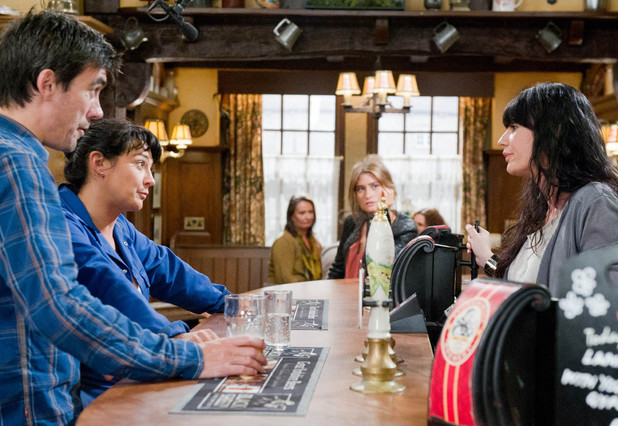 Heading to the Woolpack, she asks Chas if she's heard from Aaron and if he knows where Adam is, but she's annoyed when Chas says she doesn't want Aaron involved in the whole saga.
Moira's furious and bites back at Chas that anyone can get away with murder these days – leaving Debbie, who's listening in, feeling more and more guilty.
Hollyoaks, C4, 6.30pm
Danny promises to make Robbie pay for the way he treated John Paul and puts him in detention.
He then plants his wallet in Robbie's bag and threatens to report him for theft – playing him at his own game.
But Robbie's quicker than that and soon hits the jackpot when he sees something that will help his own blackmail plot against his teachers…