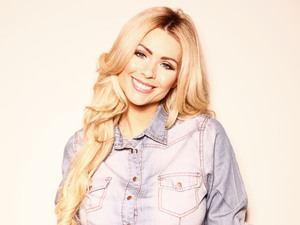 Nicola McLean blogs Celebrity Big Brother exclusively for Reveal.
After a stressful day of bursting my alloy wheel and everything going wrong, I could not wait to pop open a bottle of Prosecco and watch
Celebrity Big Brother
to take my mind off things.
Sophie woke up in a better mood after having a slight meltdown the night before. I thought it was hilarious when Mario tried to cheer her up by saying he'd wanted to get out of bed for 15 minutes but couldn't because of his morning glory. But it was even funnier when Vicky asked him: "Is it because you are lying next to me?" It was also amusing when Lauren confronted Abz for nominating her when he didn't. Lauren is in her own little world - it's brilliant. The night before she called Louie an "ar*ehole" and a "hypocrite" for nominating her when he didn't. She is such good entertainment!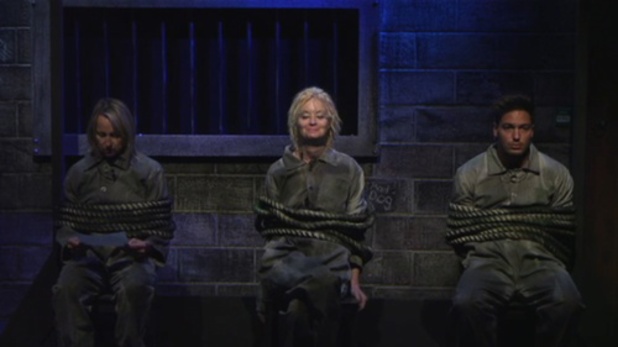 Mario, Carol and Lauren got called to the Diary Room and asked if they "valued their freedom". Big Brother then explained that their part in the shopping task this week is to help play a trick on the other housemates. They have to pretend they have been captured by a fake character called Mr Big. The housemates will think they are living in a dungeon, when in fact they will be living in luxury and watching the house. I don't like the fact Lauren has been put in a secret house again. I think it shows Big Brother really wants her to win and it's not fair on the other housemates. Carol said she's worried about Bruce having no food, which I must agree with. He is very aggressive anyway so this may send him over the edge, as men love their food! All of the housemates were laughing their heads off when they found out they were in a prison...
The phone in the main house went off and Mr Big explained they had to gather up all the food in the house and surrender it to him. I have to say, it was funny seeing them all running around and putting all the food In the store room. Bruce even gave up the ice. I mean pleaseee, it's ice - ha ha! Then he started taking the crumbs out of the bread bin. What the hell?! Mario and Carol were shocked that Dustin had hidden some peanut butter from the rest of the housemates and think he isn't that nice after all. But is Carol forgetting she hid wine in the bread bin a few days ago? #potkettleblack. I never hid food for myself in there, but I did hide things for other housemates. For example, Frankie Cocozza eats everything with ketchup so I hid it for him. Carol and Lauren went on to discuss how they think they've been put in the secret house together because Lauren annoys Carol. I must agree, but that's the games
CBB
play on you!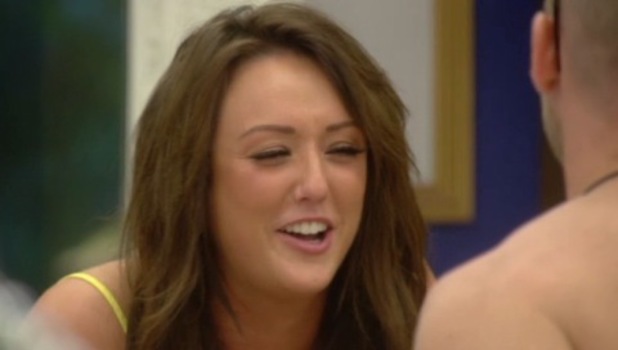 Mr Big decided to give the people in the main house lunch and told them that they had to eat it. It consisted of boiled chicken feet and salty seaweed slop. The housemates were gagging just looking at it and, to be fair, I would have been too. Saying that, I ate worse in the jungle! Dustin and Courtney wouldn't even touch it, but Louie got stuck right in. Come on guys, it's a game - get involved! At the same time, the prisoners got to order luxury food for lunch. It was so funny! Bruce and Charlotte were nearly sick after eating their food and Sophie took it one step further and actually puked. Carol, meanwhile, moaned at everyone for not eating it. I would love to see her giving it a go... I'm worried for Mario, as he's in the secret house with Carol. She is so bitchy and I don't want to see him getting involved - but he has. They keep calling Dustin "Not Mr Nice Guy" but, to be fair, on the outside world we haven't seen
anything
of Dustin, let alone a nasty side!
Courtney was asked to give up all her clothes to see her husband Doug, who was being held hostage. She did it and had to wear dirty overalls to go and see him! It was so sweet when they showed him on the screen and he said he missed and loved her so much. What a lovely man! I never thought I would see Courtney in a hair net and overalls. We saw Carol saying "just get on with it" when Courtney was changing. Gosh, she really is this year's "Mrs Nasty"! When she got in the room, it was so sweet and showed how genuine Courtney and Doug are about each other. It was funny that she was worried about Doug seeing her in the overalls. I sympathise with her, I mean, I gave birth with a full face of make-up!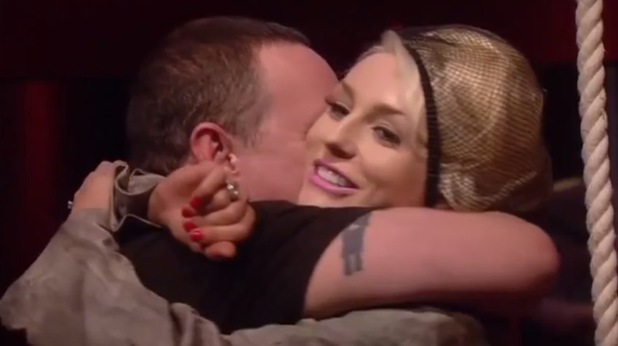 I loved
Saved By The Bell
, so seeing Dustin dressed up as his character Screech and singing the theme tune was amazing!! All of the housemates seemed to love it, but Louie didn't look impressed. I don't think he likes it when other people are performing. Bruce and Sophie hit the nail on the head and realised they are the prisoners and not Mario, Lauren and Carol. It's so hard in there, as everyone thinks the worst, but of course they were right this time. The housemates are all struggling with no food and Carol is watching them and moaning: "It's one day without any food, anyone would think they are being starved to death." She says this while tucking into luxury food. I think Big Brother should put Carol in the main house and let her endure eating disgusting food and drinking tap water - and having no wine!
The last task of the day was for Louie to wear a leotard and dance across broken glass. The housemates - including Louie - didn't know it was painless sugar glass, so I give him his due for doing it. It definitely took some guts. When Louie did it, the housemates looked so shocked! Of course, Carol said: "Stop showing off and prancing around!" CAROL, STOP! I thought Louie was one of her best friends in there and now she's digging at him. Does she ever stop?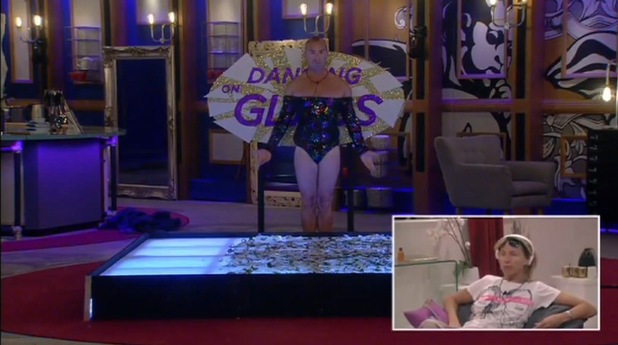 Courtney hated wearing the overalls and I thought it was sweet of Sophie to say that she looked like Marilyn Monroe in them. But of course, cue to Carol bitching about her... Everyone seems to be struggling after hearing people's nominations and Courtney is no exception. I like the way she confronted Abz about calling her superficial, as she is definitely not that. I feel she may wear 'out there' clothes, but it's part of being a character and even she admitted that. Lauren and Carol are really struggling to get on and I really feel for Lauren, as she is scatty and she doesn't mean to spill things or forget to flush the toilet.
Bruce and Vicky seem to have had enough in there and had a moan about the other housemates. No one is forcing you to be there, you are doing it for the pay cheque so just try to enjoy it, guys! I heard a rumour that a lot of the housemates might be just doing it for the money this year. Yes, the money is nice, but it's
Celebrity Big Brother
and it's a privilege to be offered the chance! It was very sweet of Mario telling Lauren that she will do well from the show and that people will really get to see the real her. He called her a modern day Peter Pan, which I have to agree with. Lauren's heart is in the right place and I think we are all getting that. The last scene was Carol telling Big Brother that herself, Mario and Lauren have endured more than the housemates - who have had to eat awful food and drink tap water, as well as doing horrible tasks, while she's eating Tuna Nicoise salad with her feet up and while enjoying luxury treats. I mean, please Carol, just stop now. PLEASE!
Do you agree with Nicola's thoughts? Tell us below, as the best comment from across the website each week wins £50!