Courtney Stodden's husband Doug Hutchison has been kidnapped – by Celebrity Big Brother!
The teenager's actor husband, 53, took part in this week's prisoner task, which saw him taken hostage by a mysterious villain called Mr Big.
Courtney and the other housemates watched via a TV screen as Doug spoke to Courtney from his prison: "Hello sweetheart, I miss and love you so much. This Mr Big is a pretty nefarious character. I don't know what he has in mind. You do what you need to do honey and we'll be together soon. I love you."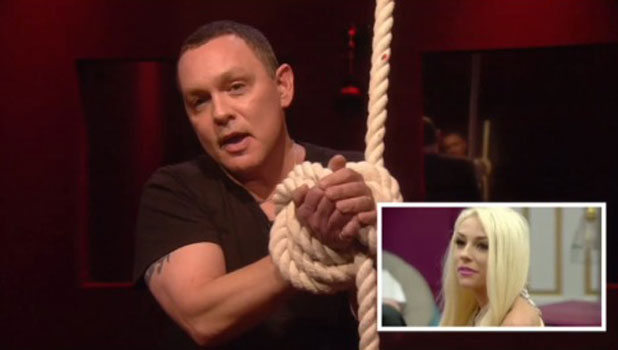 In order to spend time with him, 19-year-old Courtney was told to give up all her belongings in the house including her clothing and precious stuffed bunny.
She agreed instantly – swapping her glam clothes for a pair of dirty overalls.
As a result, Courtney was able to spend a little bit of time with
The Green Mile
star Doug in Mr Big's lair - and we saw what happened on last night's show.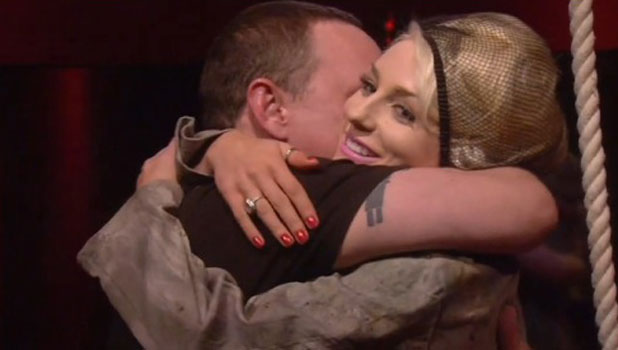 Clearly, Doug is thrilled to be reunited with his wife, saying: "I'm watching you constantly. Every waking hour on TV and internet. It feels so good to hold you. I'm falling more in love with you every time I watch you. You're just an angel."
Courtney admitted to Doug that being on the show wasn't also easy.
"I can tell," he replied. "But you're showing your heart of gold and your strength and I'm so proud of you. You're doing so good."
Watch Courtney's reunion with Doug below:
Doug was kidnapped as part of a prisoner task which saw Mario Falcone, Carol McGiffin and Lauren Harries called to the Diary Room and told they had to pretend to be held prisoner by the fake Mr Big and get the housemates to complete a list of demands.
Courtney giving up her possessions was one of the tasks.
The teenager is facing eviction on Wednesday night after being nominated on Sunday evening. Courtney is nominated alongside Bruce Jones, Lauren Harries, Louie Spence and Sophie Anderton.
Celebrity Big Brother
continues tonight on Channel 5.
Courtney Stodden's most outrageous moments in pictures:
Copyright: WENN Josiah True