Five housemates have again been nominated for eviction on Celebrity Big Brother.
Courtney Stodden
, Louie Spence, Lauren Harries, Bruce Jones and Sophie Anderton will all face the public vote ahead of the third eviction on Wednesday night (4 September).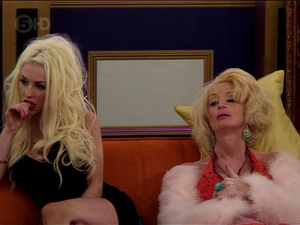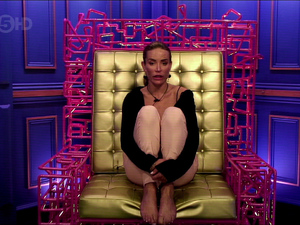 Nominations took place on Sunday night – and, just to make things awkward, they were aired to the housemates so everybody now knows who nominated who and why. Eek.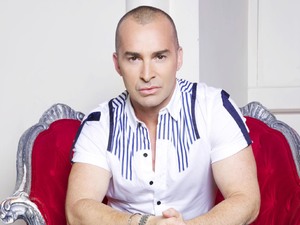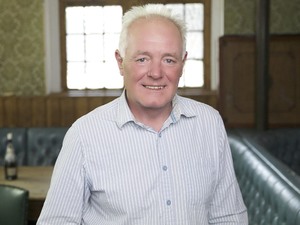 The nominations break down was:
Courtney:
Carol: Everyone farts but she does not stop, she needs to be more ladylike
Charlotte: I can't stand living with her as she is farting on purpose and it is unclassy; I don't like it
Mario:
Bruce: He looks down on people like Charlotte and me, he should know better
Lauren: She likes to be centre of attention and everyone feels on edge. She's really messy and unhygienic
Vicky:
Courtney: She is very sweet but I am sick of seeing her tush, feels like I'm in a porn film
Charlotte: She doesn't behave in a respectful manner
Louie:
Bruce: He has had a couple of angry outbursts. I thought the incident with Charlotte and Courtney when he shouted at them to shut up was over the top
Sophie: She just creates drama out of nothing, I think she lied about not having Botox when her face does not move
Sophie:
Courtney: She does not pull her weight around the house and is getting drunk easily
Bruce: As much as I love him, his temper is lost too easily, at the end of the day, a man should not shout at a woman
Lauren:
Louie: Gets too moody, he is very entertaining but when he is moody he is a dark person
Mario: I feel he converses a lot more with other housemates but not me, I wonder if he is embarrassed to be in my company
Dustin:
Louie: I find him frustrating
Lauren: Lack of consideration to others' personal space and property, a lot of tension that comes along with her, I like her but it is time to go
Charlotte:
Bruce: Aggressive manner, always turns his nose up when anyone is having fun
Abz: Does not socialise with me, I feel if he was to go I would not even notice
Carol:
Sophie: She is so bossy and treats the whole place like a catwalk
Bruce: He is on the edge, he shouts in an angry way that makes me scared
Abz:
Courtney: She is superficial and likes her things more than an actual person
Sophie: She hears but she does not listen
Bruce:
Lauren: She is just an accident waiting to happen
Louie: He is arrogant
After the nominations were made, the housemates were gathered together in the living room, where the nominations were played to them on the TV. Awkward!
Courtney, Bruce and Louie reacted to the news they were nominated with cheers. Louie said: "Thank you guys, I really appreciate it."
Lauren reacted with silence, while Sophie appeared confused by Carol's claim she is "bossy". As for Louie's remark about her Botox comments, she replied: "Who cares?"
Courtney then took Lauren to one side and said she wouldn't leave. Courtney urged her to communicate with the public and Lauren admitted she didn't want to go. She was later seen looking tearful as she stared at a family photo.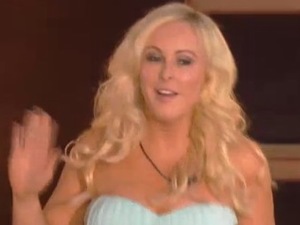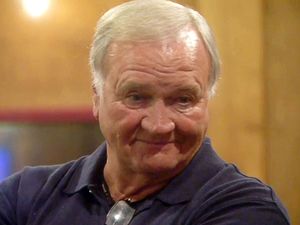 Two celebrities have been evicted so far:
Dublin Wives
star Danielle Marr was first to go, followed by Ron Atkinson on Friday evening (30 August).
Chatting with host Emma Willis after his eviction, Ron said he was happy to leave, joking a few housemates would probably have swapped places with him!
"When you're in there, there is a lot going on. At times boredom is the biggest factor and time drags on," he said. "I went on with an open mind, There was been a lot of downtime just hanging out, thinking what's going on, but there have been some good times. I had one of the best laughs I've ever had in my life when Bruce got slapped about by the fish!"
As for who he wanted to be evicted next, he said he wouldn't choose Lauren as she provides "value", instead he'd go for Sophie.
"Because I think she's done her time and it's starting to strain a little bit."
Celebrity Big Brother airs every night on Channel 5
.
Celebrity Big Brother's summer 2013 housemates in pictures:
Copyright: Channel 5