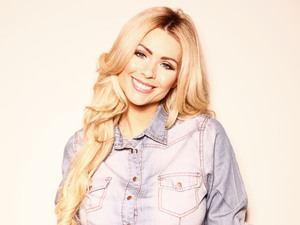 Nicola McLean blogs Celebrity Big Brother exclusively for Reveal.
Last night was the second eviction and I spent the whole day looking forward to it. I had heard there were fireworks in the house on Thursday and I love a bit of celebrity drama so 9 o'clock couldn't have come any quicker for me.
Big Brother got tough after Bruce, Courtney, Ron, Dustin, Vicky and Lauren broke the rules talking about nominations. When I was in the CBB house you were allowed to talk about nominations and I am not sure if that is better or worse. BB took all the food away leaving the housemates living on basic rations. I think the house will struggle with this and it could cause some friction.
We saw of this last night when Sophie and Lauren were in the kitchen having a row over butter. Let's not forget the most famous row in
Celebrity Big Brother
history started over a chicken stock cube…anything can set you off in there.
The group got a task to win a slumber party for Courtney's 19th birthday. Bruce had to tell his life story whilst slapping his face with his a wet fish. He seemed to get very into this and was going like a lunatic. Things like this are the reason we all tune into
Celebrity Big Brother
. The highlight of my night was Courtney singing the American national anthem whilst crying. She reminded me of a Miss World applicant.
Mario had to get into a lime green mankini and slow dance with Courtney. He looked mortified bless him but I am sure he made every woman and gay man's night #bubblebum. They won the task meaning Courtney got her slumber party. She had to pick her fave housemate to join her and she picked Dustin. Lauren seemed FUMING and kept on repeating "your best friend in the house" as they had been calling each other that for a few nights. Big Brother thought she would pick Lauren as did the public so it was a shock when she didn't but it definitely made good viewing.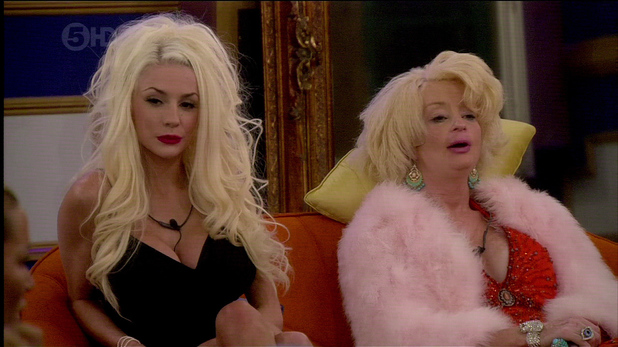 In this episode I felt it came to light that maybe Courtney isn't that comfortable with their friendship. I think it's left Courtney feeling quite alienated from the group. It's such a shame as
Big Brother
is ultimately a social experiment and Lauren perhaps suffocating Courtney isn't allowing her to be as sociable as she should be. Anyway moving onto the slumber party…Courtney and Dustin were hilarious drinking and eating whilst wearing sexy lingerie. I can imagine this is what it's like in Courtney LA home most Friday nights.
Courtney over did it and ended up being sick into a bucket with Dustin holding her hair back with Charlotte egging her on! It was Mario to the rescue with a bucket once again! Courtney got put to bed and things took quite a weird turn. Lauren clearly trying to be a good friend went against medical rules and Big Brother's rules and appeared to put two pills into Courtney's mouth while whispering "just swallow them you will be fine".
When the house challenged her she said they were stomach pills. The most interesting part of this was that Courtney didn't swallow them and called Mario to come in and take the pills from her. Courtney clearly didn't feel comfortable with this. Pill-gate took a turn for the worse when Carol resumed her role as chief stirrer winding Lauren up, resulting in Lauren confronting Sophie. Sophie being a recovering drug addict thought that Lauren had behaved really badly, going as far as suggesting what she had done was illegal. Lauren called Sophie an interfering cow. I love a good
Big Brother
row and this one didn't disappoint: as Lauren got more and more worked up, Sophie remained cool, calm and collected telling Lauren to go and tell someone who wants to listen (Big Brother). As Lauren walked away Sophie quietly said "Well I just got told".
The crowd were chanting "get Sophie out" but I can't understand this as I don't see her doing anything wrong in the house. I know Sophie very well and I have really tried being unbiased while writing my blog for the past week or so but I think she is doing really well. Now let's move on to Bruce having a freak out. Lauren decided to lock herself on the toilet and Big Brother was worried so called her to the diary room and she didn't go. With this, Bruce saw red and started screaming at her to go. We haven't seen this side of him before and it wasn't a side I liked seeing.
I have a real problem with aggressive men and if I was in the house I would have confronted him about it. Lauren was really crying, she seemed so alone and Louis was lovely to her. He said and did all the right things. I was glad she had someone as I wanted to go in there and give her a cuddle. I think this whole thing wouldn't have escalated if Carol hadn't stirred. I am quite shocked at Carol as she stood there egging Lauren on, saying someone needed to tell Sophie but why didn't she? Instead she convinced the most vulnerable housemate to. I think Carol is playing a game.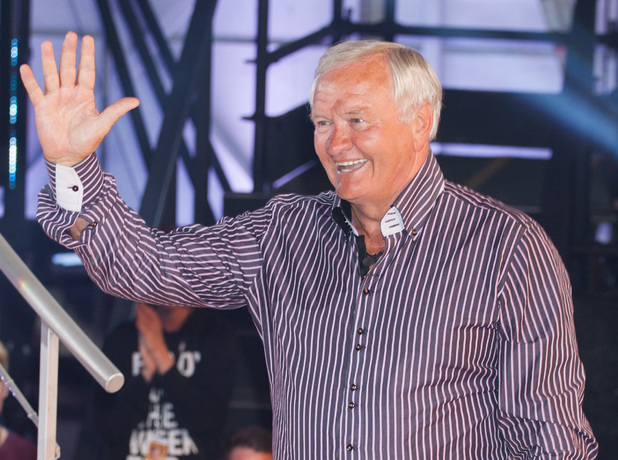 So last night Ron got evicted. I loved Ron but I am glad it was him and not one of the more entertaining characters but he was genuinely pleased to leave. The crowd cheered and I didn't hear any boos and he looked like he had won the premier league. In his interview he said that he was relieved to go. He said Mario and Charlotte were good kids and that Carol was a loose cannon. I can't wait to see the drama unfold tonight as after a week they are all comfortable with each other and the true characters are going to start showing.
Nicola x
Do you agree with Nicola's thoughts? Tell us below, as the best comment from across the website each week wins £50!