The X Factor 2013 is back with a bang and the search is on to find the UK's next biggest superstar, but who will be crowned the winner of this year's tenth series?Reveal
caught up with some of the hopefuls backstage as they nervously waited to perform in the second round of auditions at London's Wembley Arena. Not only did they have to sing in front of the judges -
Gary Barlow
, Sharon Osbourne, Nicole Scherzinger and Louis Walsh - but they also had to impress a 4,000-strong crowd.
First up are Lucie, Sophie and Daniele, who make up girl group The Dolly Rockers.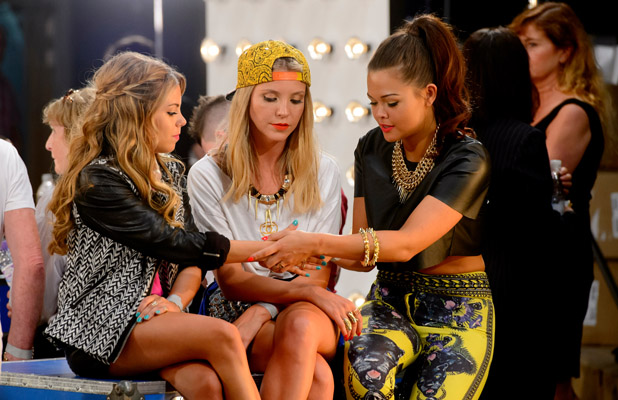 Is this your first audition for the X Factor?
No, we appeared on the show in 2006 and we were really young, about sixteen years old. We had a different line-up at the time, we got to the judges' houses but we just weren't ready at all.
Now we're back with a new member and we finally feel ready. We've been together for three years, working on our vocals, dancing, and doing gigs and stuff. We finally just thought let's go on it and see if they like us.
What's your musical style?
We do pop but we like to keep it edgy, so our lyrics are tongue-in-cheek and they're about going on holiday together, nights out and just about us really.
When you did your first audition in the room, did you perform your own songs?
We did Beyoncé and one of our own. They liked our first song and they said our vocals and harmonies were good but the second they really got into. They thought it was really cool.
Who did you find to be the scariest judge?
Sharon scared me a little bit, but Gary said no to us so I'm going to have to say Gary. Sharon is just very blunt.
What did Sharon say to you?
Our feedback was that our harmonies sounded great, but there were no dance moves because we were so stiff and nervous. We didn't expect to have nerves like that. We've done a few gigs recently but it's completely different when you have a panel in front of you that you really admire and respect, so we just froze.
What would you do if the judges suggested that only one of you should go through as a solo artist?
That would never happen. We've been together for three years. We cannot be split. We do everything together, this is our friendship group and so we can't be split. It's us or nothing.
What if they suggested you add another girl?
We've thought about that and I think we'd go for it because they're only suggesting what they think will make us better.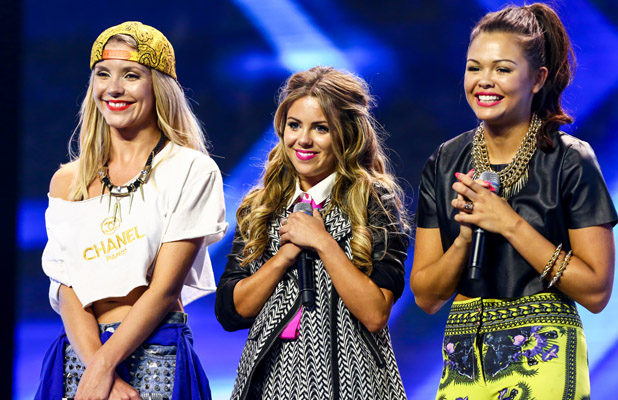 Can you compare yourself to anyone in the charts at the moment?
There isn't a girl band like us and we think there's a huge gap for us. Little Mix is doing really well but there aren't many girl bands out there. Girls Aloud are finished and many others have too, so we think there's room for us now.
Who would you like to collaborate with?
Well we love Katy Perry, Taylor Swift and Macklemore would be amazing. A lot of our songs are very high energy and we sometimes incorporate a reggae rock vibe so Sean Paul would also be cool.
Who would you like to be your mentor?
Nicole, most definitely! She would be amazing for the whole girl power thing as well. Nicole has been in a girl band too so she can tell us if we're out of time and everything. She's been so passionate with her other candidates before. Also I like Sharon because she's very fierce and that's really what we stand for. I think she would bring the best out of us.
Have Dolly Rockers done enough to secure a coveted place at bootcamp? Watch
The X Factor
when it returns to our screens this weekend! Dermot O'Leary will host the main show, while Caroline Flack and newcomer Matt Richardson will co-host the ITV2 spinoff series,
The Xtra Factor
.
The X Factor returns on ITV1 on Saturday 31 August at 8pm. The next episode will be broadcast on Sunday 1 September, also at 8pm.