Rita Ora did us proud this weekend, when the adopted Brit wore one of the most beautiful outfits at the MTV Video Music Awards 2013.
The Serbian-born singer, 22 - who was raised in the UK from the age of one - wore a stunning blue gown which brought a touch of old school glamour to the edgy event.
In a sequined silver and blue top with plunging neckline, Rita showed off her straightened, sleek bob and enviable figure - but it was the dress's long train that really stole the show.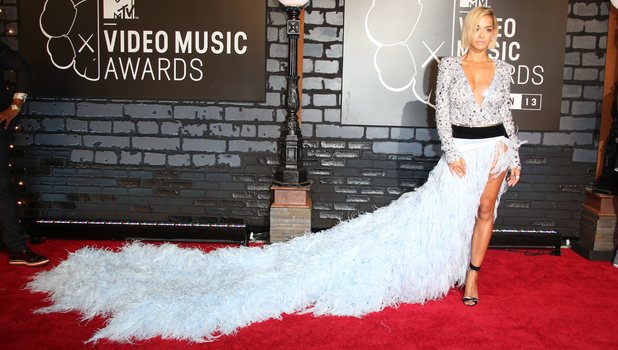 The 'Radioactive' singer did not perform on the night, but let fans know she'd had a good time during the evening by tweeting: "Tonight was fun. With my train :)."
Unlike previous years when Lady Gaga has arrived at the famous award ceremony in a meat dress or alien egg, she choose to stay elegant in a long, black dress with dark wig.
But far from being boring, Lady Gaga stripped off to a shell bra and flowered knickers to perform her new single 'Applause' as the opening act at New York's Barclays Centre.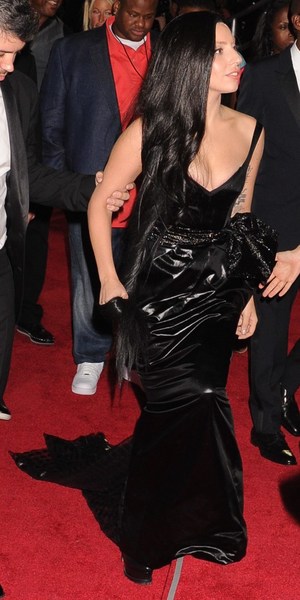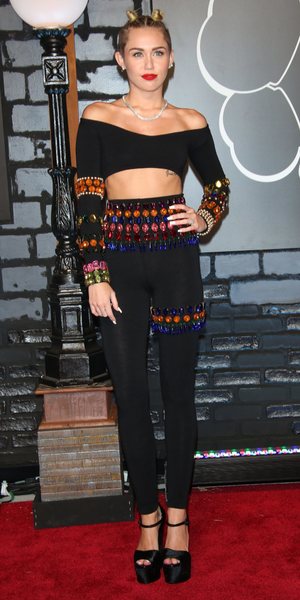 Risqué Miley Cyrus also saved her eye-popping outfit for the stage (where she performed a raunchy duet with Robin Thicke in nude PVC underwear) and arrived at the awards ceremony in black leggings and crop top, embellished with coloured gems.
Selena Gomez and Taylor Swift both chose elegant dresses which flashed a hint of flesh. Selena's unusual navy blue dress showed a hint of boob but remained classy. Meanwhile, Taylor flaunted her extremely tiny waist in a black long dress with plunging neckline.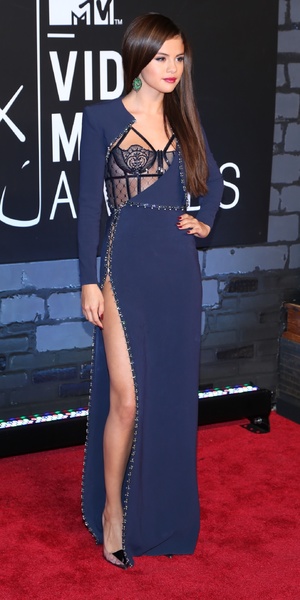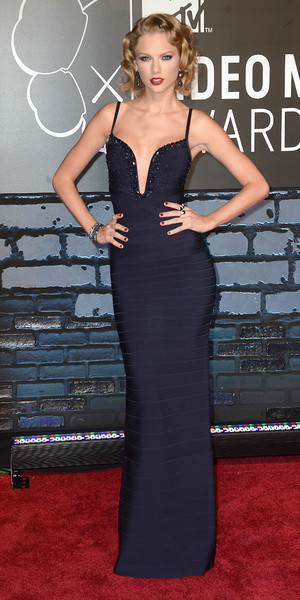 Highlights from the ceremony itself included
Justin Timberlake reuniting with *NSync
onstage for the first time in a decade, and
Katy Perry's first public performance
of new single 'Roar' from underneath the famous Brooklyn Bridge.
Do you like Rita Ora's blue dress? Tell us what you think in the comment box...
Watch the video for
Rita Ora
's 'R.I.P. ft. Tinie Tempah' below: