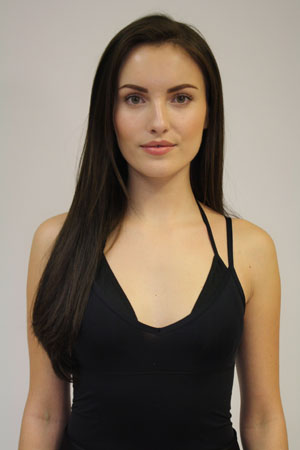 The pressure was taken to a whole new level on Britian & Ireland's Next Top Model this week, as the girls were promised a trip to Barbados if they made it through to the next stage of the competition.
After a nerve-wracking charity catwalk - in which the hopefuls had to strut their stuff down a dining table - and a campaign shoot for Revlon's red lipstick, it was clear that judges Dannii Minogue, Elle Macpherson and Tyson Beckford had their work cut out for them when deciding who to send home.
However, although 22-year-old
Holly Carpenter
managed to produce a stunning final picture, it wasn't enough to keep her in the competition and she was the latest girl to be eliminated.
Reveal
caught up with the former Miss Ireland to find out what she really thought of fellow hopeful Angel, what her dream photo shoot would be and how her boyfriend felt when he saw her getting up close and topless with some hunky male models!
We're sad to see you go Holly! How did it feel to be sent home?
"It was really intense being in the bottom two. I wasn't too surprised to leave, it was my fourth time in the bottom four so I knew that it was probably going to be me. But it was still horrible to hear Elle call out my name, especially when everyone was flying off to Barbados."
It seemed like going to Barbados was more important than the competition itself this week?!
"Yeah, most of the time everyone is thinking about how much they would love to win, but the minute Barbados was mentioned, everyone wanted to make sure they got through that episode. It was a bit of a miserable episode to leave on, being on a flight back to Dublin instead. It was bittersweet because I was proud of the picture I did in the Revlon shoot and all the judges loved it, so I left on a high and I was looking forward to seeing my family and friends. I was glad that I came seventh though, so I can't really complain."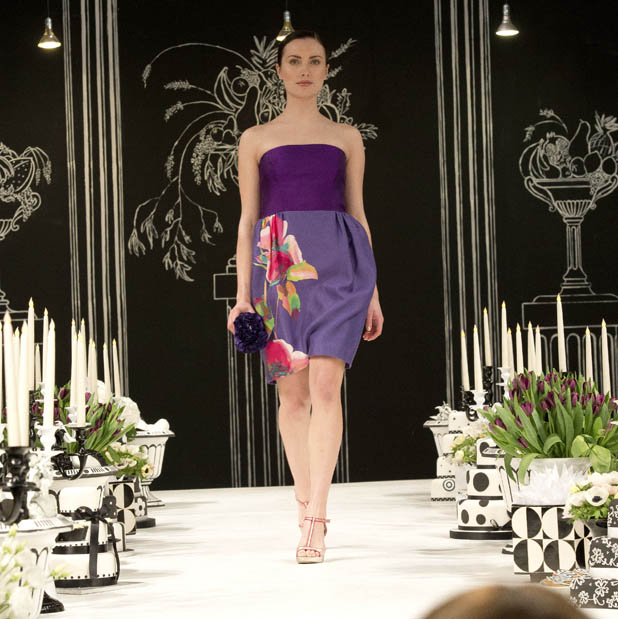 Do you think anyone deserved to go home instead of you or was there anyone who didn't want it as badly as you did?
"I felt like I still had more to give and I knew that my Revlon picture was good, but I think at this stage of the competition, they're looking at people's overall books and I think they felt my look wasn't versatile enough. It would be hard to pick someone to send home instead of me, so I think my time was pretty much up."
What was the toughest shoot you had to do during your time on BINTM?
"I think the topless shoot on the beach because it was freezing and we had limited time. I was trying to concentrate on my body position and also my face and then trying to look like I had chemistry with the male model and trying to cover my nipples, so it was all too much! I didn't produce a great picture in the end, which I was annoyed about.
"I found it harder than the completely nude shoot because then it was just me on my own, so I could focus on myself. Working with the male model was a lot more difficult."
Emily worried about what her boyfriend would think when she did the topless shoot. Did you feel anxious about your boyfriend knowing you'd posed topless too?
"Yeah, I had that in the back of my mind and I was cringing at the thought of my boyfriend watching that episode of the show. I think it got to me too, which it shouldn't have. In the end, I watched the episode with him. Obviously he didn't really like seeing me like that and he'd rather I didn't run around topless with male models, but that's the competition and I wasn't going to go home just because my boyfriend wasn't going to be happy. I think the judges weren't impressed when Emily reacted like that anyway, so I kept my feelings quiet. But I was definitely thinking about it!"
Your boyfriend Cian Healy plays rugby, so would you say that you're a WAG?
"It's kind of different in Ireland. Sometimes I get that label, but I wouldn't say it's the same as the UK. But I guess the whole 'Miss Ireland and the rugby player' thing makes it look a bit like that!"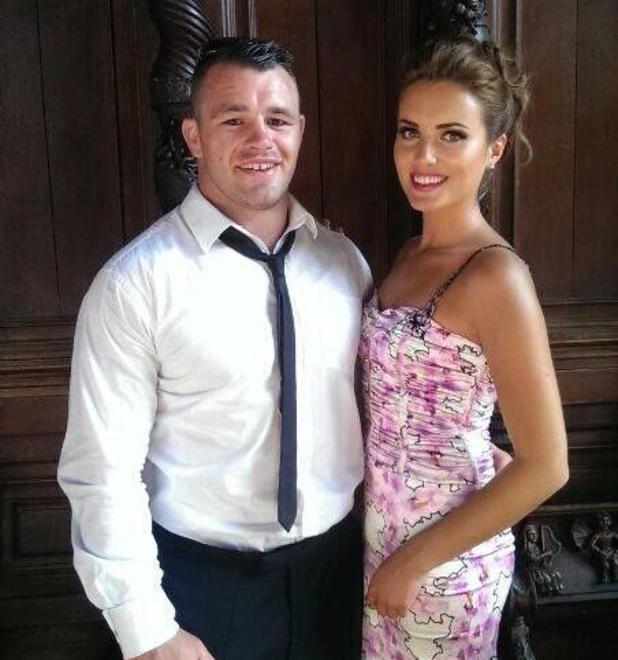 Was it hard having the 'beauty queen' stigma throughout the show and being told you were "too pretty" for high fashion?
"Yeah, it was a bit annoying because the whole time on the show they kept telling me, 'You have the perfect face for beauty campaigns' and then when we finally get a red lipstick campaign – after I got in trouble for wearing red lipstick the week before – I did an amazing picture and I got sent home! If that picture had been taken earlier in the competition, I think I could have been in with a chance of getting picture of the week because they all really loved it. That was my best picture but I think it was too little, too late at that point."
Will you be pursuing more beauty modelling now?
"I think beauty is probably my strength for my look, but in Ireland I still get high fashion work, so I enjoy doing that too. I'd like to try and push the boundaries and not just go with what is expected of me.
"I do modelling full time here [in Ireland]. I loved the atmosphere on the show of being with the cameras and being on TV, so I think I'll look into acting classes and doing a presenting course too. I think London is a great place to go for that kind of thing, so I'm looking into that as well."
Are there any types of photo shoots that you wish you'd been given on the show?
"I wanted to do something crazy like sky diving and being photographed in the air. Or something where we got to wear loads of make-up, because clearly that was what I enjoyed doing and I wouldn't have got in trouble! That's why I loved the Revlon shoot. I didn't enjoy the shoots where we had to wear absolutely no make-up. I also would have liked to do a drag queen shoot - that would have been really fun."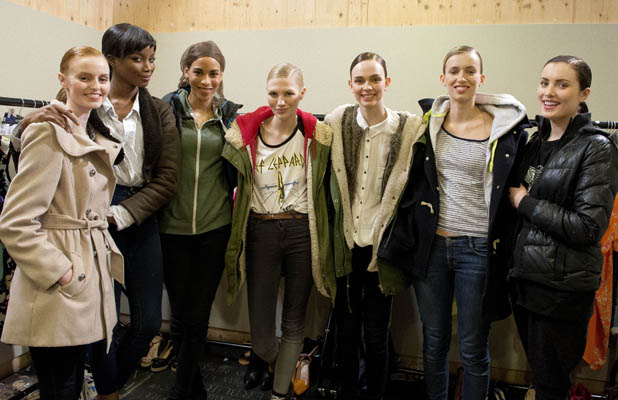 What was the charity catwalk like this week? Walking down that table with Elle sat at the end looked pretty scary!
"I didn't enjoy that. A few episodes before, we had a challenge where I had to wear some killer heels that were something like 20-ins. Yet I felt more comfortable in them than I did on this week's catwalk because I had to wear no shoes! I felt really stumpy, I didn't enjoy it. I was wearing no shoes, some bikini bottoms, a T-shirt and a visor and then I got in trouble for saying the outfit was hideous in the elimination! Dannii told me, 'Someone has spent hours making those and you should respect that', but I felt like saying they shouldn't have bothered! I should have pretended I felt amazing, but it was written all over my face that I wasn't happy, so that's probably a part of why I went home too."
How was it living with the other girls and being involved in those heated arguments - especially with Sarah and Angel?
"I was proud of how I dealt with it because I felt like I wasn't being two-faced. Whenever I had an issue with someone I just said it and brought it up with them - which probably led to a lot of the arguments - but I'd rather bring it up with someone than speak about them off camera.
"I actually haven't got a bad thing to say about any of the girls. Most of the time Angel and I used to have such a laugh. It was almost like I was the older sister and she was the annoying younger sister. Sometimes she'd really annoy me and then other times we'd love each other. But with Sarah we had nothing in common, so that got a bit awkward. It was fine in the end, there were no hard feelings and I've made a few friends for life."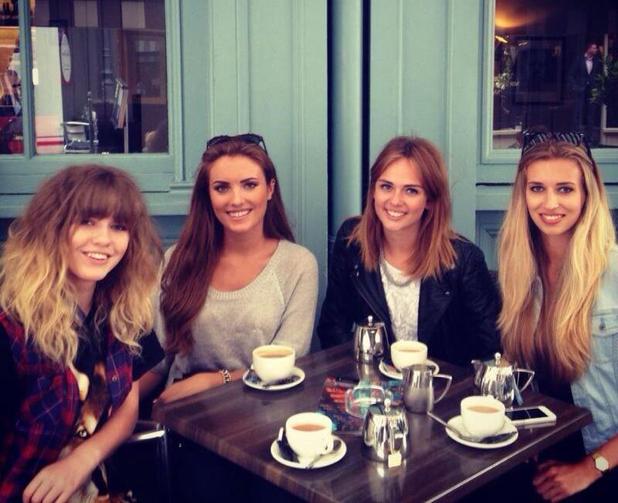 It seemed like you and Sarah got along at the start?
"I think everyone was civil to one another at the start. The main issue was that me and the other girls would love to make loads of food and have a few drinks every night. But then the dishwasher broke, so the kitchen would always be a mess and Sarah would be tutting and mopping around our feet afterwards. It was awkward because I couldn't understand where she was coming from and she couldn't understand where I was coming from, so it was a complete clash of personalities."
Who was your favourite judge to work with?
"I think Dannii was my favourite because she gave great direction on the shoots and she was really real off camera. We saw her with her son and with no make-up on and she was so friendly and warm. I wasn't expecting her to know so much about modelling because it's her first year on the show, but she has actually done a lot in her career. It was great to see that side of her. I've only ever seen her on
The X Factor
, so I hoped she would be as nice as she comes across on TV and she was even nicer. I loved Dannii and she always kind of stuck up for me at elimination."
So who do you want to see win the competition now?
"I'd love to see Sophie win, I've said that from day one. I just think she is gorgeous and she's so nice. Everyone loves Sophie."
Britain & Ireland's Next Top Model airs Thursdays at 9pm on Sky Living.
Were you surprised to see Holly sent home? Which girl is your favourite? Let us know below as the best comment from across the website each week wins £50!