I certainly felt the earth move last week when the lovely Pete Firman, star of BBC1's The Magicians, offered to show us his skills.
As you can see, Pete performed the floatation trick of levitation on me and it was quite a feeling, I can tell you!
So the key to this classic trick is... now that would be telling! Besides, if I told you, I might have to kill you! Instead, let's meet the man behind the magic...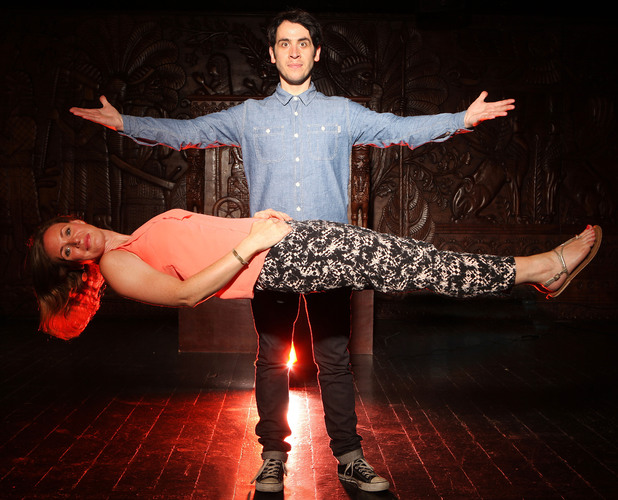 What was the first trick you ever learnt?
It was probably something from my Fisher Price magic set. Every birthday party or boxing day, I subjected my family to a four-hour magic show in our front room. At the time, I was just a little kid that wanted to be centre of attention but now I realise they must have had tons of patience to encourage and endure that.
Were they a good audience? Did they heckle?
They were all good. My dad, bless him, I'm 33 now and still, come a family gathering, he'll say, 'Show Grandma a trick,' which is very sweet. He's just proud I think.
Does performing run in the family?
No, no. Before he retired my dad was a second hand car dealer, so I guess there's a bit of banter involved in that – he's got the gift of the gab and the patter. Before I started doing magic full time I worked for him and sold cars. I was pretty good at shifting the odd motor.
You didn't use magic to turn back the mileage or anything like that then?
God, no. He'd get very upset if I smudged his reputation in such a way!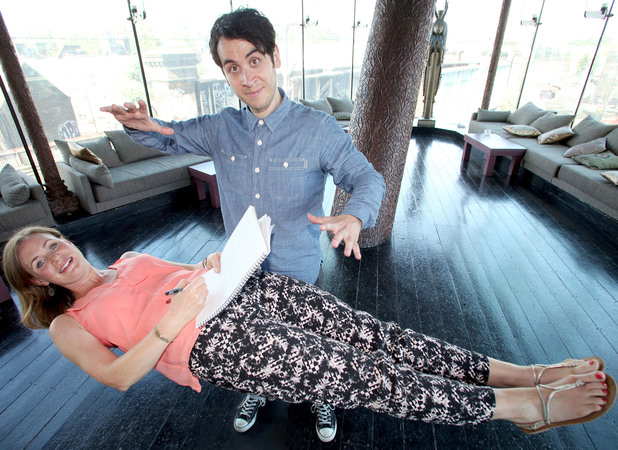 What key skills do you need to become a magician?
It's not dissimilar to learning to play an instrument in the sense that you have to put the groundwork in to get that basic, core set of skills.
How long does that take?
Well it depends. In theory, someone could go into a shop, buy a magic trick, learn it and impress people, but to have a good understanding of it and to really serve the tricks that you are doing. You have to be a bit geeky. I would rehearse card tricks and it became a little bit of an obsession to try and get it right. To become a full time pro you've got to put the hours in.
Do you still spend hours perfecting new tricks?
Well, I'm one of those lucky people whereby my job is my hobby as well, so I mess around with card tricks that I don't really do in my show for my own fun. So I keep my hand in. The thing about magic is that, in terms of tricks, there are only a handful; something can appear, something can disappear and something can float in the air. What I'm trying to do is come up with interesting variations on that. And that's what keeps me going.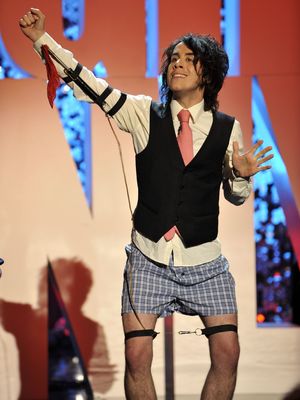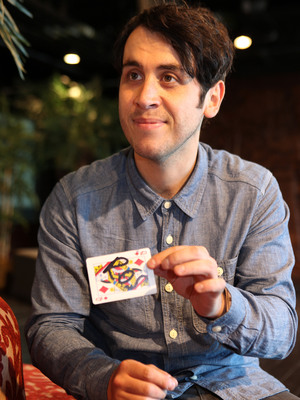 Do you think magic has a resurgence recently?
It's always hanging around. There will always be good magic shows on the magic scene, it's just whether those shows get a push and a bigger profile. But certainly at the moment there are a lot of young kids that are in to it. Street magic is very much in vogue at the moment.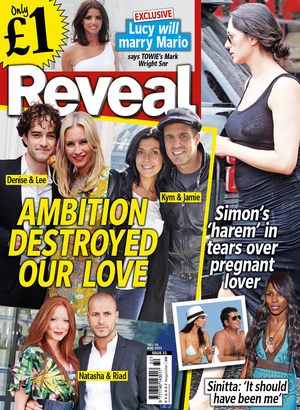 With Dynamo and the like…
Absolutely. What I forget is that cheesy perceived persona of the top hat, tuxedo and the glamorous assistant, doesn't exist for a generation. As far as the younger generation are concerned magic is a cool guy on the street doing card tricks.
What essential items are in a magician's kit?
Well you must have a pack of cards at all times! No one much cares if you've got a sparkly box with handkerchiefs coming out, so I try and do tricks with iPhones and pieces of fruit; stuff that's everyday. I think it's important that props are relatable in every day.
Who do you practice new tricks on?
I really develop my style in open mic comedy clubs. So I'll drop into a comedy club and just do five or 10 minutes of new material. The thing about those venues are that no one's going there to see magic tricks, so I realised quickly that I'm going to have to make what I'm doing funny. But no one cuts you any slack. If it's going badly you'll either get heckled or the silences feel like they last a lifetime.
It's a brave job…
Well yeah I suppose it is, but it's addictive as well, because when it is going well it's such a great feeling.
Pete Firman: Scoundrel is at The Pleasance Beyond from 31 July – 25 August. For tickets see www.edfringe.com For more information see www.petefirman.co.uk.
Follow Pete on Twitter at @petefirmanFor more from Pete, check out Reveal magazine - out now!