Britain & Ireland's Next Top Model put the girls through their paces this week with an intense fashion quiz and a shoot with some scary snakes. But despite producing a striking final photo for the judges, Saffron Williams was the next girl to be sent home.
The remaining hopefuls are more than half way through the competition, so it's no wonder the pressure is mounting and they're all out to impress. And since each of the girls are really upping their game, judges Tyson Beckford, Elle Macpherson and Dannii Minogue noticeably struggled to decide who should be eliminated in this Thursday's episode.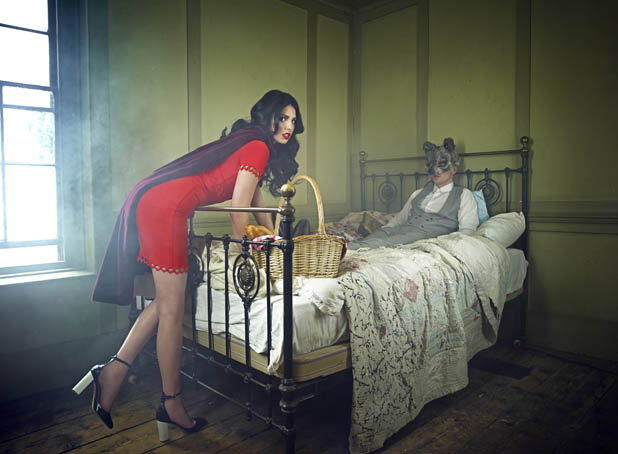 However, 19-year-old Saffron - a primary school volunteer from Batley - knew it was her time to go.
Reveal
caught up with Saffron to find out what her ultimate modelling dream would be, which girls in the competition she found most difficult to get along with and what her toughest photo shoot had been.
Commiserations, Saffron! How does it feel to leave the show?
"Obviously it was devastating when I was eliminated, but I was expecting it. I knew I'd be next to go. I felt the girls that were left were all stronger models than me. It was my time to go. I was really feeling the pressure of the competition, I was homesick and it was all getting a bit too much. I knew that the only time I'd be in the bottom four again would be to send me home."
Was it hard being in the bottom four with your closest friend Holly?
"Yeah, it was so hard. It was the most upset I'd been while in the bottom four. I knew I'd be going, but then I thought, 'If I don't go Holly's going.' That was sad."
How did you find the shoot this week with the snakes?
"When Dannii came out with the snake I was terrified because it was so big and scary and I'd never even held a snake before. But then when it came to the snake I had to shoot with, it wasn't that big and it wasn't that scary. So it was fine and I really enjoyed it. I loved the shoot. It was gross when the snake drooled on me though. It was disgusting and the stylists were a little bit upset because there was snake drool all over the dress, but at least it made it less scary!"
What was the toughest challenge you were set during the competition?
"The awkward accessories challenge with the pig! It was horrendous, there's no other way I can describe it. At the time it was funny, but then when I really thought about it I was like, 'Why couldn't I have just got the well-behaved dog or the well-behaved baby?' I had to get the pig that wouldn't walk!"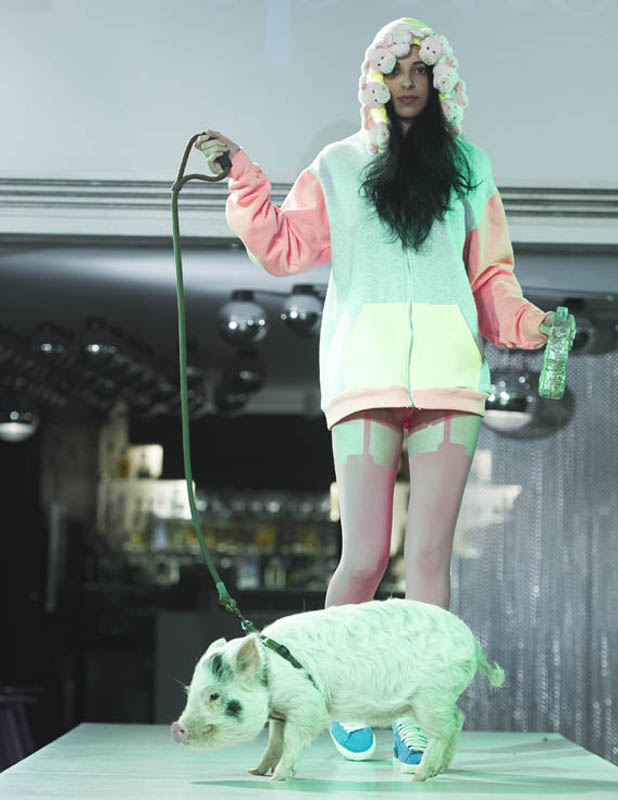 Were there any photo shoots that were particularly difficult?
"The topless shoot on the beach was scary. I was so scared all day. It was more nerve-wracking than the completely nude shoot because it was the first time I'd ever done anything like that. There was also a professional male model there, it was freezing cold on the beach and I was towards the end, so all the other girls were coming back with mostly good feedback. But then once I got on set it was a totally different story and it was really enjoyable. I wasn't as bothered about the full nude shoot. I think the topless shoot prepared us for it."
What would your dream shoot or modelling campaign be if you could choose anything?
"I think it's every model's dream to be a Victoria's Secret angel, so that would be a good one."
What about your dream man to model alongside?
"Probably Justin Timberlake. He's my favourite artist and he's so cool. Is there anyone else in the world that's cooler than Justin? I don't think so!"
How did you find the bitchiness between the girls in the house?
"It was obviously really hard. It didn't make sense because it gets to the point where you're in the house with these nine other girls and when they simply just have to walk past you, you think, 'Oh my God why did she walk past me?!' Everything annoys you because there's so much pressure. Everything rolled into one makes the personality clashes seem so much worse than they actually are. Obviously you're not going to get on with everyone in life.
"I think Holly was singled out on the photo shoot the previous week and Angel played the victim a little bit. Other than that, I think it was a case of every single emotion being taken to the extreme. We weren't only a little bit happy, we were
really
happy. But then if we were angry, we were
really
angry. Everything's more extreme than it would be in a normal situation."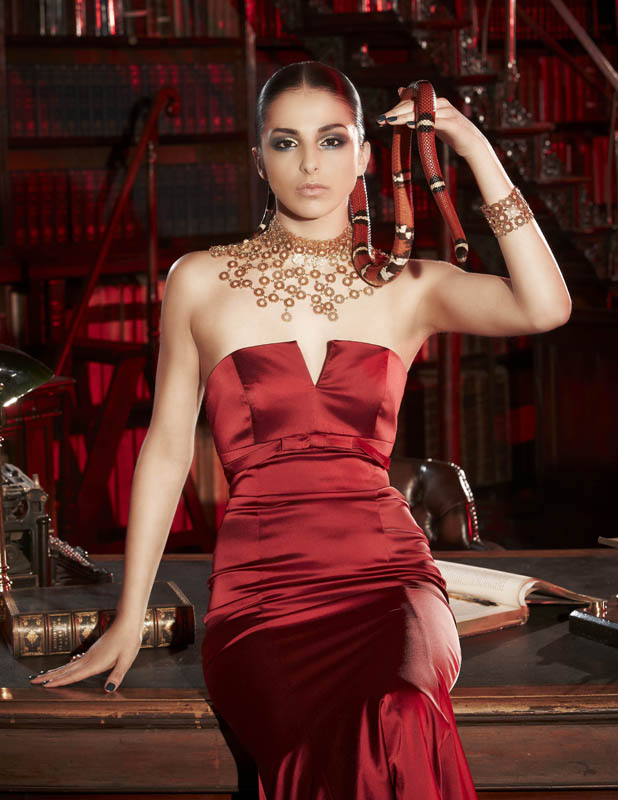 Who were the most difficult girls to get along with and why?
"Probably Lauren and Angel because Angel has a personality that I would never get on with anyway. She's a bit too much for me. And I think me and Lauren are just polar opposites.
"I got on really well with Sarah at the beginning, but I think the pressure of the competition got to us both and we didn't really speak. This week we were paired together randomly for the challenge, so at first I was really upset about it because we weren't talking, but then it was nice to resolve things and leave on a good note with her and the girls.
"My last night in the house was just with Sarah, Lauren and Angel because the other girls went out on the party bus for winning the challenge. But it ended up being alright and it was nice to leave on good terms with them."
Do you regret not cutting your hair during the makeover week?
"No, I'm glad I stuck to my guns. I was out of the competition on week 8, so what if I'd been sat at home in my real life with the short hair that I hated? I just think of it like that. I don't think I would have got further in the competition if I'd cut it because my biggest issue was my confidence and I think having no hair would have taken away my confidence."
Who was your favourite judge?
"I think probably Dannii because she was on most of the shoots with us. We got to know her more than the other judges. She was so enthusiastic and friendly – not that Tyson and Elle weren't!"
And she joined you guys for a pyjama party!
"It was such a big shock, we had no idea that was coming! It was so nice because it was such a stressful time in the house, then for her to come round for a pyjama party, it brought us all back down to earth. She made us see the bigger picture. It was really heartwarming."
Did you find it hard to be away from home?
"Yeah. It's hard enough being in the house with all the girls, but then not being able to contact your family, it was just really hard. I'm a family girl anyway; I still live with my mum and I'm really family orientated, so to be away from them for so long and have all this pressure and not be able to find comfort in them, it was tough for me. I'd do the experience all over again, I would, but it's nice to be home now."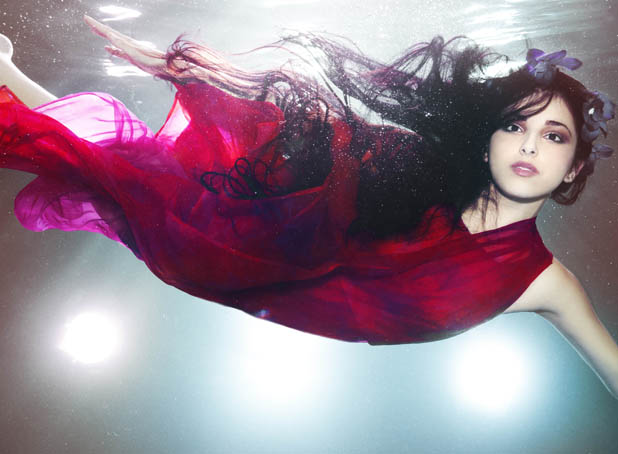 Are you going to go back to volunteering in a primary school or will you pursue modelling now?
"No, I was only volunteering before the show. If I wasn't modelling I would want to be a teacher, but I'm going to try and pursue modelling now because you can't model when you're 40! I'll go into teaching after I've tried that."
Is modelling something you've always wanted to do?
"Definitely, but it's always been the unreachable dream. I never thought I'd be able to do it. I found out about the
BINTM
audition because someone messaged me about it two days before they were taking place. I wasn't going to go at first, but then my mum said, 'You are going to that audition!' So I went and came out like, 'Oh my goodness mum, I've got no chance'. Then I got a call back! It's opened my eyes to show me that things can happen even if you don't think they will.
Would you move down to London to pursue modelling?
"Yeah I would. There's no chance I could be a model in Yorkshire!"
Who do you want to see win now that you're out of the running?
Sophie or Emma. Emma is the high fashion queen. I think she will do well even if she doesn't win, but I'd love to see her or Sophie win.
Britain & Ireland's Next Top Model airs Thursdays at 9pm on Sky Living.
Were you surprised to see Emily sent home? Which girl is your favourite? Let us know below as the best comment from across the website each week wins £50!