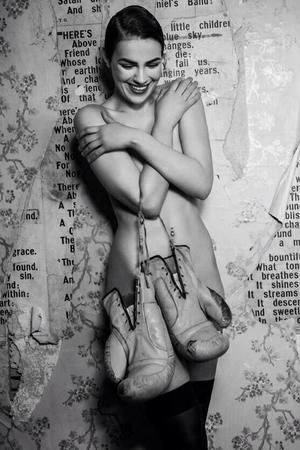 The claws came out on Britain & Ireland's Next Top Model this week. There were tears, blazing rows and even a pyjama party, but among all of the drama Emily Garner failed to impress the judges with her final fairytale photo and she was sent home.
Thursday's episode of the show (25 July) proved just how bitchy it can be in the model house. However, despite Angel Mbonu, Sarah Kennedy and Holly Carpenter being at the centre of the catfights, they still managed to deliver at the photo shoot.
Meanwhile, 18-year-old Emily struggled to take a good shot as her fairytale character, Rapunzel, and after being in the bottom four the previous week, it was finally her time to go.
The straight-talking brunette has now gone back to her life as a Toni & Guy hairdresser and an army cadet instructor, but not before opening up to
Reveal
about her time in the modelling competition and how it left her with a lot more insecurities than she'd bargained for.
Hi Emily! How does it feel to have left BINTM?
"I was pretty gutted at first, but then I adjusted back into normal life quite quickly."
Were you surprised to be sent home this week?
"Not surprised. I didn't want to leave, but I knew it was my time. I'd been in the bottom four before and when I saw who I was in there with this week, I sort of knew I was going to go."
Is there anyone you thought maybe deserved to go instead or wanted to win less than you did?
"No, I think that everyone wanted [to win] the same amount, especially at that point. Everyone was pretty much on a level playing field."
Was it getting more competitive as you left?
"Definitely. I think that the more eliminations you survive, the more you actually want to win. The longer you're with these people and away from home, the personalities tend to grind on each other a little bit. So there is that as well."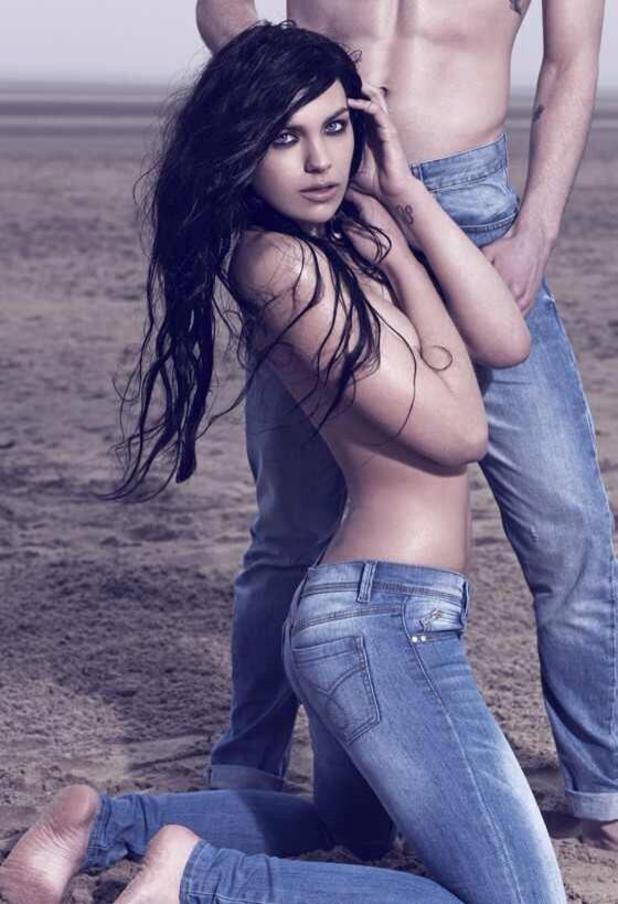 How did you find the fairytale shoot and having long hair this time?
"It was quite an interesting shoot and it was quite funny because I ended up tripping over the dress and the wig and falling up the stairs, so it wasn't very graceful! But I do think the shoot went well.
"I think it's nice to have a bit of a change sometimes because obviously with the short look I had, it was all one thing and I couldn't change it."
At the beginning of the competition you told the judges that you didn't mind shaving your hair off, but when it came to makeover day you were upset to have it cut shorter. Why was that?
"I think it was just the build up of the competition and the loss of control. Because I work at Toni & Guy, it was hearing the professional opinion that got to me a bit. Actually, since leaving the competition I have shaved my hair off!"
How hard was it having to act in an advert for milk in this week's challenge?
"It was really good working with the cow. That was quite funny. Obviously it was quite a challenge, but I really enjoyed doing something different and learning all the lines. I really enjoy that kind of thing. I like showing a bit more personality."
You really weren't a fan of the nude shoot last week. Was it the toughest thing you've had to do in the competition?
"Definitely. I just didn't feel comfortable with myself. I think if it had been at the start of the competition I would have been fine, but the longer I was in there, the more insecure I felt. I lost a lot of confidence in the house. I found myself comparing myself to the other girls and just not really feeling quite good enough.
"I think being in the house and surrounded by all the girls, I felt so insecure with everything; my looks, my shape, my body, everything. I felt like I was being judged all the time."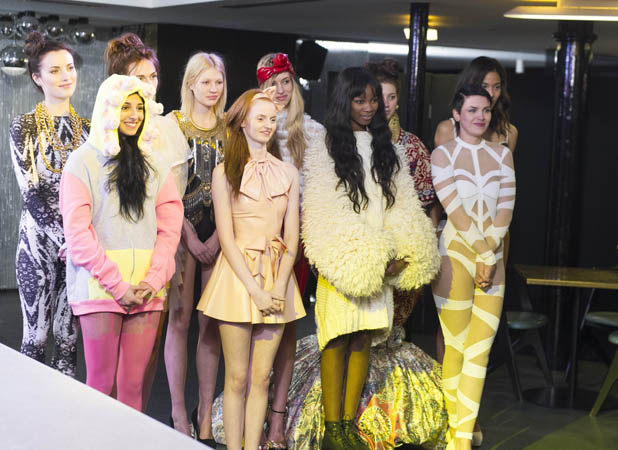 What did you make of the bitchiness in the house?
"It was quite hard to live with, especially after Laura left. I couldn't really get away from it like I normally do. Me and Laura would kind of run off in our own world and have a laugh with each other, but this week I felt more isolated because there was no way of escaping. I didn't want to get involved."
What was your take on Holly, Angel and Sarah's arguments?
"There's always been little comments made and then I think it was a case of personalities clashing. It was never really going to be resolved. The difference in the real world is that if you're on a shoot with someone you don't really like, you're only with them for the day and then you leave and you have your family and ways to distract yourself. You don't have any of that in the house."
What did you think of Elle stepping in and getting pretty strict on set?
"I think it was definitely something that should have been done because it was affecting everyone. I don't think it helped anything, but I think it needed to be done."
The topless shoot with Jourdan Dunn was hard for you too because you were concerned about what your boyfriend would say…
"Yeah, I was with someone at the time, but I'm not with him now. I guess at the time I didn't want to be disrespectful to him. It wouldn't stop me doing the shoot and I had my hair to kind of cover myself, but I was just a little bit nervous about what he would say. When I came out of the house we ended up splitting up anyway. There was a lot of reasons why we split, it was bound to happen.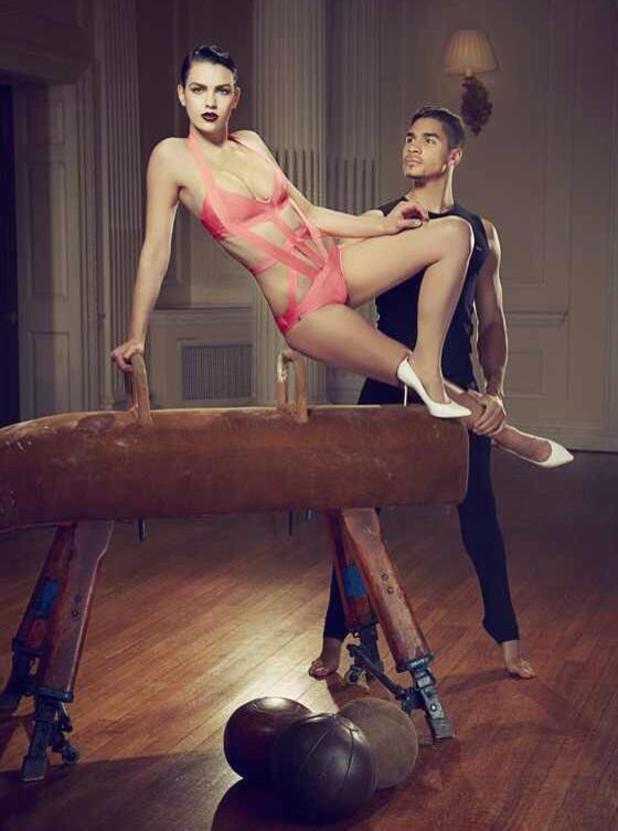 So who would be your dream man to model with?
"Gerard Butler. I think he's amazing. He's 100% my celebrity crush."
What are you up to now? Have you gone back to the army or are you working at Toni & Guy? We can't keep up!
"I'm at Toni & Guy. I was training to be in the army but I'm now an army cadet instructor. I think being in the army would have been my favourite career, more so than modelling, and that is something I've said from the start. But I can't physically do that now because I have asthma. I found that out while I was going through the selection process for BINTM. So now I've got a few different avenues I'm pursuing."
Do you want to continue with modelling at all?
"Taking part in the show in the first place was a bit of a fluke and then when it came about, I realised how much I actually wanted it. I'd always been so used to the army thing and not feeling very glamorous, but when I found modelling it was a breath of fresh air. I'd like to pursue modelling, but I don't know how realistic that is because of my height and proportions and stuff. I'd like to have hairdressing as a back-up."
How was the pyjama party with Dannii? Is she your favourite judge of the three?
"She was really bubbly and it makes it a lot less intimidating when you see someone out of the judging panel because when you're in there it's a very stressful time. So to see her in a casual environment made us a lot more relaxed around her. I didn't have a particular favourite judge. Elle was good at giving the technical side [on set], which helped a lot, and then Tyson and Dannii were really chilled, which makes you feel really comfortable on set."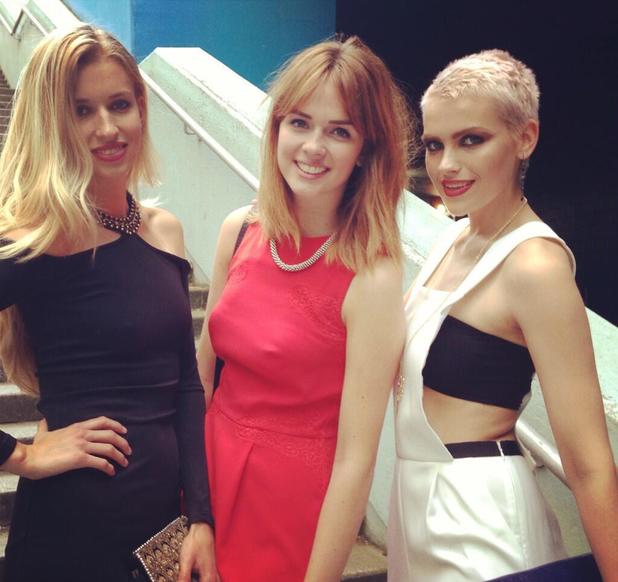 You seemed like one of the girls who got along with everyone?
"Yeah, I wasn't there to bitch and fight. I wasn't going to be trying to make people my friend like some people do. It just happened that way. I'm just a really easy person to get along with. I'm not bitchy, I'm used to having to get along with people. When we do our military stuff, we have to get on with it, no matter who we are working with and that's more of an intense life or death situation. So living in a house with a few girls, I found it easy."
Who would you like to see win now?
"I think Emma and Sophie. I wouldn't be able to say which one, but definitely those two."
Britain & Ireland's Next Top Model airs Thursdays at 9pm on Sky Living.
Were you surprised to see Emily sent home? Which girl is your favourite? Let us know below as the best comment from across the website each week wins £50!