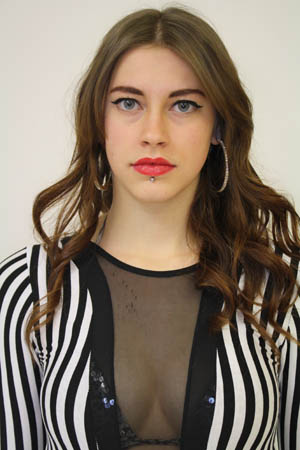 We can't get enough of Britain & Ireland's Next Top Model at the moment. Last night, the girls were made to walk down a catwalk with an array of awkward accessories - including a pig and a poodle - and then they were thrown straight into a sexy nude photo shoot!
Unfortunately though,
Laura Young
was eliminated from the competition after having been in the bottom four last week and failing to blow the judges away with her final shot.
Reveal
caught up with the 19-year-old student from Worcestershire to find out what she plans to do now that she's left
BINTM
, how shopping in Dorothy Perkins changed her life and how she'd never heard of Elle Macpherson before auditioning for the show. (Yes, you read it right!)
Commiserations Laura! How did it feel to be sent home this week?
"I was very upset to leave. I think when I first went on the show, I thought I could do better than I did, but I realised as the show went on that a lot of the girls on there are much better at modelling than me really. I thought perhaps I would be one of the more experienced girls there. I think some of the girls had agency experience and have already had paid work and stuff. It was a shock for me really.
"I've never had paid work, I've only ever done shoots where you just get photos out of it at the end and I've done one charity catwalk. So compared to some of the other girls on the show, I'm actually not that experienced."
Do you think anyone else should have been eliminated instead of you?
"A lot of my fans are saying that Saffron should have gone, but I do know that she was a favourite with the judges, so I think it probably was my time to leave."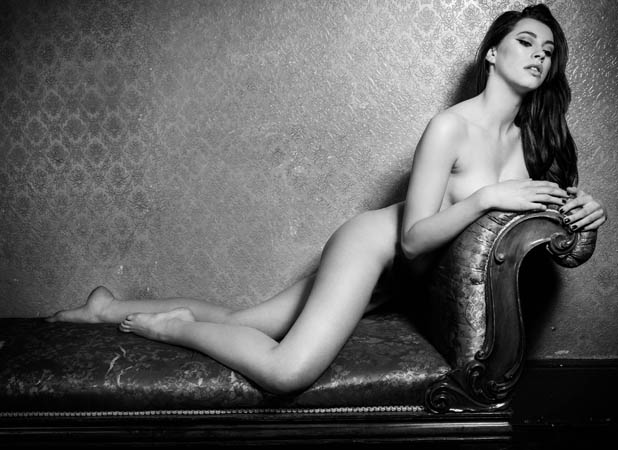 Did you think it was fair for Emily to have been in the bottom four, considering she had a particularly tough time at the shoot?
"I didn't think what they said to her was fair to be honest. But then again, that could be a biased opinion because obviously she was my best friend in the house. But in my opinion, I think they were being very unfair to her.
"To have her do as well as she did each week and then suddenly whack her in the bottom four on the week she had a photo shoot that she was really uncomfortable about, I don't think it was fair."
How did you find the nude shoot?
"I really enjoyed it actually. The only thing that stressed me out a bit was that I'm quite a bit bigger than some of the other girls, so it was a bit nerve-wracking to know that my photo would be judged alongside skinnier girls' photos."
Did your size or body shape get to you throughout the show or was it just on that shoot?
"I'm not that conscious of my body because I like the way I look. It's just that previously I've been told I should lose weight or go into plus-size modelling, which is a bit annoying. I think it's a bit stupid sizing that way. I don't think it's healthy."
We heard that you hadn't heard of Elle Macpherson before you went on the show! Is that true?
"Yeah! I don't really follow other models or know about them that well and I'd never actually watched
BINTM
before I auditioned, or even
America's Next Top Model
. I only watched cycle 8 [of
BINTM
] when I realised that I was going to be on the show. I remember in my auditions they asked me what I thought of Elle and I said: 'The magazine?' God Laura! But Elle is amazing, she's incredible."
What was the hardest thing about being on BINTM?
"I really didn't like the underwater shoot because that was my nightmare – literally! I couldn't see anything. I'm very, very shortsighted. A lot of people think that the glasses I wear are fake, but they're actually not. I couldn't wear contact lenses because it was underwater, so I couldn't see a thing and because it was so dark down there, I couldn't see the light for the camera, so I didn't know where to look.
"It's a really strange feeling. It felt like I was being compressed and I was down [in the water] further than I was and wouldn't be able to get back to the top again. I couldn't even see the surface! The dresses weren't too heavy but we were weighed down with weight belts, so that didn't help! That was definitely the hardest photo shoot. It was the one I said in the auditions that I would hate to do the most."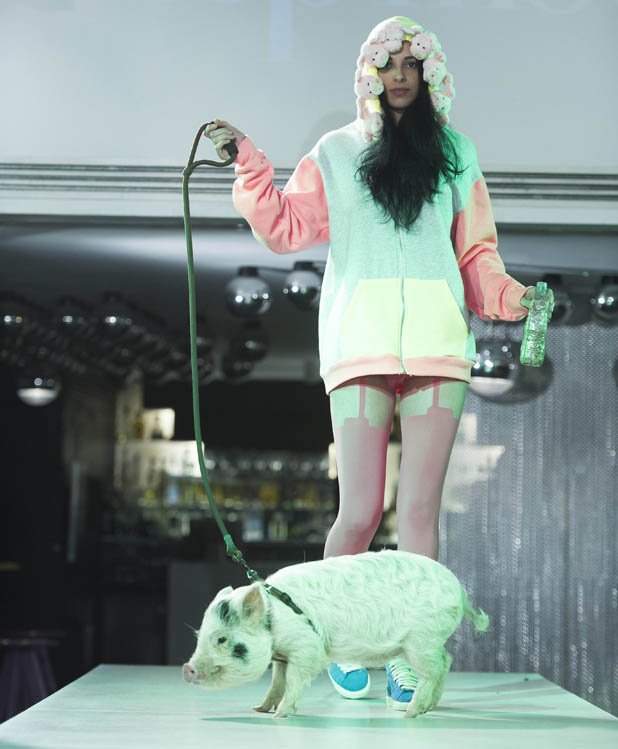 How difficult did you find the challenge this week with the bizarre accessories?
"Mine was shocking! I had a dress, which I don't really understand because I don't know how a dress can be an accessory. It was so tight at the knees that I couldn't physically walk up the steps at the beginning of the catwalk, so I had to crawl. I mean, you're crawling in front of the three people who will be judging you and three camera crews. I got to the top thinking, 'Oh my God that must have looked awful' and it showed on my face. They didn't show all of my crawling [up the steps], which I found a bit annoying, because if they'd showed all of it, people would have understood why I looked like I did. They didn't show me falling over either."
Were there any accessories that you wish you'd been given instead of the dress?
"Any of the others, just not that dress. I'd be happy if I don't see that dress again!"
So you wouldn't have minded walking down the catwalk with Saffron's pig?!
"Yep! I don't care if I'd had to drag it along behind me like Saffron did. At least the judges found it funny, whereas mine was just awkward to watch."
You've posed alongside Louis Smith and some rather hunky male models this series, but who would be your dream man be to shoot with?
"Oh there's so many! I really really like Gerard Butler and maybe Channing Tatum because his body is amazing. And I really like Eminem, I think he would be amazing. Eminem would be my favourite probably. I used to fancy him so much when I was younger, then I realised he was old enough to be my dad!"
What was it like being in the model house? It seemed to be getting pretty bitchy this week.
"That was strange for me because I don't have any sisters. I just live with my dad, my mum and my little brother. So living with thirteen other girls...I didn't really know how I was going to cope with it. I was really surprised at how well we all got on to begin with, but I think as time went on, you're with each other pretty much 24/7 and cracks begin to show. There's no helping it. We're all full of hormones and all we've got to do is eat, clean and bitch about each other. That is literally all you can do in that house. I didn't want to come across as a bitchy person. I tried so hard not to fight with some of the other girls."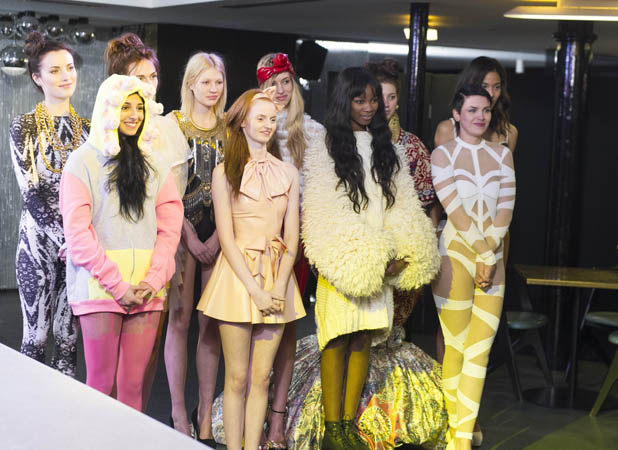 It sounded like some of you had a problem with Angel, Lauren and Sarah on last night's episode...
"I think it was probably jealousy to be honest. It was at that stage of the competition where everyone was thinking that it's getting serious and there wasn't many of us left, so we have to really try. I think the other girls started to get nervous when Sarah and Lauren kept winning photo of the week and the challenges."
Sarah has really turned it around and become a threat in the competition now hasn't she?
"Yeah, she's amazing to turn it around like that. I don't know if I could have turned it around that quickly and that well. I think she's got more confidence, which is really good because I was talking to Sarah quite a lot and she's a really lovely girl. It's changed her for the better. She needed more confidence and I'm happy that it's turned out that way for her. The show definitely gave me more confidence. Even if you've had a bad shoot, the judges will tell you what you did wrong and how you can work on it, so it was really helpful."
Will you be pursuing modelling more seriously now?
"Oh definitely. The plan is to get signed to an agency now - it's what I'm concentrating on this summer. I am going to spend next year finishing off my A levels, but I'm still going to pursue it as much as I can. It's not going to overtake my education. I need to get my A Levels so I've got something to fall back on if it doesn't work, but I definitely want to try and pursue modelling as much as I can. I think if you've managed to actually get on the show, it shows that you have the potential to be a model. I think it's a shame if the other girls on the show don't pursue it."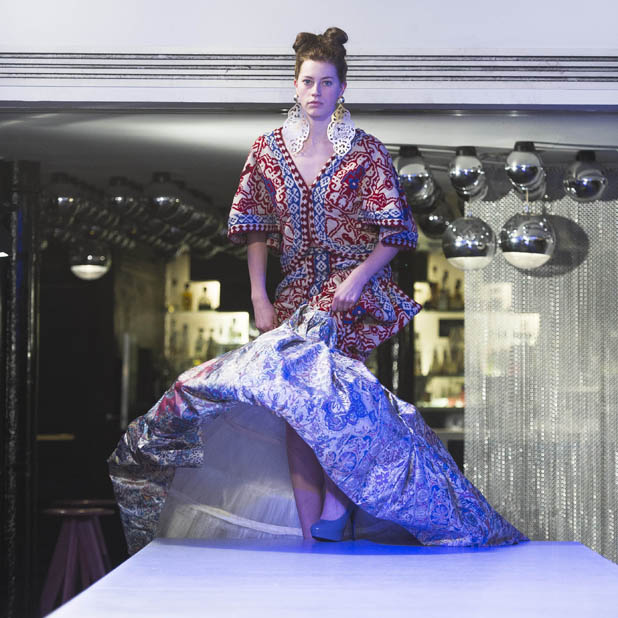 So how did you end up auditioning for the show if you hadn't seen it before?
"There's a lady who lives down the road from me who model spotted me as I was shopping aged about 16. All the previous shoots and catwalks I'd been in had been arranged by her and she convinced me to go and audition for the show. To be honest, if she'd never seen me in Dorothy Perkins shopping with my mum, I would have never been on the show and I would have never been modelling. I'm really grateful to her!"
Who was your favourite judge – now you know who Elle is?
"I can't really pick a favourite. Elle is really down to earth, Dannii makes you feel so comfortable on set – especially seeing as she was with us for both of the nude photo shoots – and Tyson is so funny. Hugely funny. They're all my favourite in different ways."
Since you're out of the running, who would you like to see win?
"I would love Emily to win obviously. I really hope she can, but if she doesn't pull it out of the bag though, I think Sarah could win it now. I think the judges really like her. Sarah or Lauren – they seem to be the favourites."
Britain & Ireland's Next Top Model airs Thursdays at 9pm on Sky Living.
Were you surprised to see Laura sent home? Which girl is your favourite? Let us know below as the best comment from across the website each week wins £50!