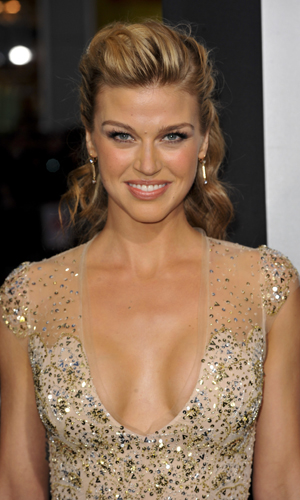 Born and raised in Ohio, American actress Adrianne Palicki has had her fair share of exciting acting roles from Superman-based drama Smallville to starring alongside Jared Padalecki and Jensen Ackles in Supernatural.
Now, the 30-year-old starlet is probably more famous for her role as Tyra Collette in the critically-acclaimed NBC drama
Friday Night Lights
, and making a big screen appearance as Lady Jaye in action movie
G.I. Joe: Retaliation
alongside Hollywood's finest, Channing Tatum and Bruce Willis.
Adrianne often finds herself playing strong, female roles within the action adventure genre, but playing Toni Walsh in
Red Dawn
last year was probably her most challenging role yet. Speaking exclusively to
Reveal
, Adrianne talks about her co-star Chris Hemsworth, getting injured while doing stunts and why she admires Cate Blanchett.
Toni is a tough and no-nonsense survivor but what exactly is the film all about? "
Red Dawn
is a movie about a group of kids that are forced to grow up quickly and face the enemy, when their small town is invaded by North Korea," explains Adrianne.
The film follows brothers Jed (Chris Hemsworth) and Matt (Josh Peck) who are forced to face a strange new world alone, as without warning, the citizens of Spokane, Washington, find themselves prisoners and their town under enemy occupation.
Determined to fight back, a group of young patriots seek refuge in the surrounding woods and train themselves into a guerrilla group of fighters. Calling themselves the Wolverines, they unite to protect one another and take back their freedom.
"My character is Toni," Adrianne continues. "She, like many other characters in the film, has lost her family. She becomes one of the leaders with Jed."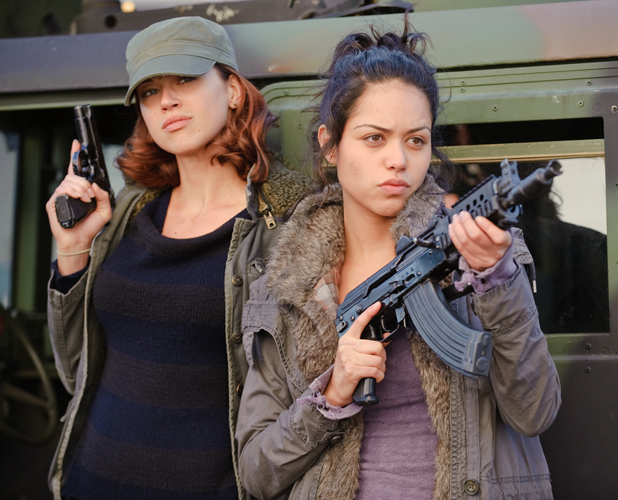 Adrianne, who plays Jed's freedom-fighting love interest, said that she had a "serious blast" making the movie. Also starring alongside the likes of Isabel Lucas (
Transformers: Revenge of the Fallen
) and Josh Hutcherson (
Hunger Games
), Adrianne said: "I loved making this movie. We had a great cast and got to do many of our own stunts.
"It was lovely getting to work with Chris and everyone on this movie. It was shot over three years ago, so it was right before everyone's career skyrocketed, so it's really awesome getting to see how great everyone is doing now."
As a thrilling re-boot of the 1984 original, Adrianne believes that this version won't disappoint fans of the cult classic. "This reboot brings a modern twist to an awesome classic," she explains. "The director, Dan Bradley, is one of the best at action and he doesn't disappoint! It's an adventure for the whole family!"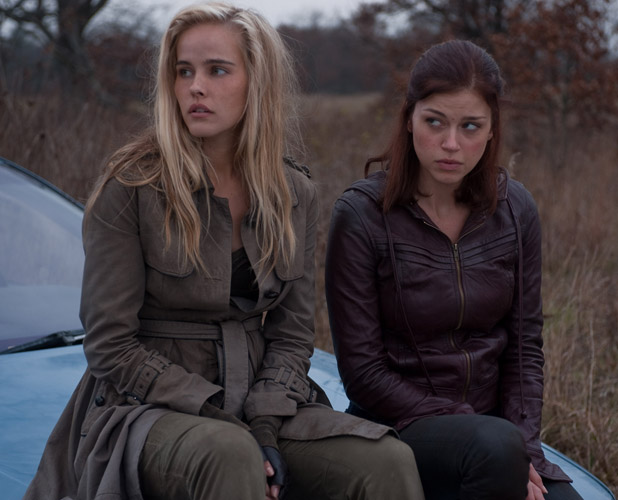 The movie is filled with intense action scenes, many of which Adrianne is at the centre of. "The most challenging thing about the movie was the stunts, but that was also the best thing. Dan wanted a cast that was willing to do as many of their own stunts as possible and we did. It was so much fun, and scary! I think all of us got hurt at some point."
Adrianne doesn't want to just stick to action films going forward. "I love doing action," she said. "I love doing stunts. I don't, however, prefer it to other things. I love it all and I love changing it up!"
"Cate Blanchett is my absolute favourite actress," she added. "The way she can tell a story, that's what made me want to do this. Personally, I've been doing quite a bit of comedy lately, so I'd like to continue on that path for a bit."
We also asked Adrianne some of our quickfire 'Getting To Know' questions...
In ten years time I'd like to...
have a major hand in writing and producing as well as acting. And I hope to be living in Austin.
My hero is…
my Dad. He's the strongest bad ass I know!
My most prized possession is…
my truck, Maybelle. I got her in Texas when I was working there. She's a 1972 Chevrolet and gorgeous.
I'm happiest when…
I'm hanging on the couch, snuggling with my boyfriend and puppy.
My guilty pleasure is…
French fries. If they're on the menu, I'm getting them!
My favourite TV show is...
That's a tough one but I would have to say
Game Of Thrones
. I mean, the thrill factor is incomparable.
Red Dawn is available on DVD on 8th July.