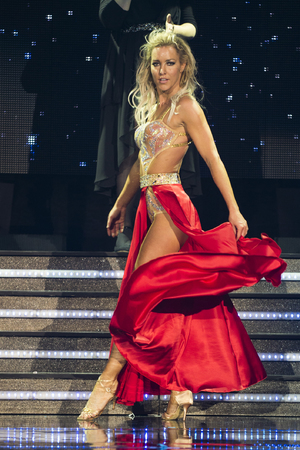 Strictly Come Dancing's resident professional, Natalie Lowe, has admitted that her dream dancing partner would be comedian, Michael McIntyre!
Natalie, 32, first appeared on
Strictly
in 2010 and got to the semi final of the competition with dancing partner Scott Maslen.
Since then she has become a regular feature on the show's lineup and is currently touring the UK with her co-stars, Artem Chigvintsev and Ian Waite on the Strictly Confidential tour, alongside 2012 contestant, Lisa Riley.
Reveal
managed to grab a quick chat with Natalie in between rehearsals to get all the gossip on the tour, what it's like working with the celebs on the television show and to clear up those rumours about
Cheryl Cole's ex boyfriend, Derek Hough
, making an appearance on the upcoming series.
Hi Natalie! How is the Strictly Confidential tour going?
"We've been working our butts off for the last two and a half weeks trying to get the show on the road. It's quite unheard of to put a show together in two and a half weeks, it's normally four weeks. So we've been at it 24/7!"
Wow, that sounds tough. Do you prefer being on tour or do you prefer performing on the live TV shows?
"They're very different. I love dancing on tour because it's up close and it's personal. Obviously the TV show gets out to the masses, but I had a lady last night backstage say 'It's so good to see you in person', because the camera can block out a lot of emotion and power. To see the show in real life, they're quite mesmerised.
"I love performing to a crowd on tour, it definitely makes me tick that little bit more. On camera you might do one or two takes, whereas on tour you only get one chance at it, which is good. It keeps you on your toes."
What can fans expect from the tour this year?
"It's so different. It's personal, it's emotional, it's funny. We're narrating our life stories throughout it, so people get a little bit of a taster of how we started and how we got to be on Strictly. Lisa (Riley) is incredible in it. We tie all of our stories together and the music is amazing because we have a live band. We've had a standing ovation at the last three shows we have had, so we're quite excited about that."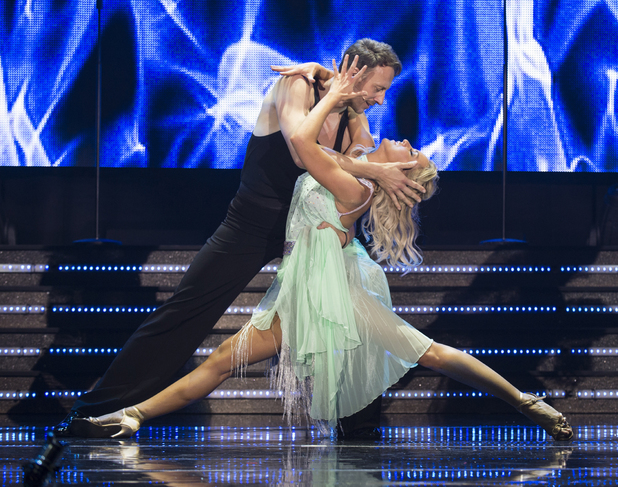 Since you've been on tour for a few years now, have you got any funny tour stories to share with us?
"I'll never forget when we were doing a really serious number and James Jordan tied mine and my dancing partner's capes together. Our capes were wrapped around our neck and we got stuck! It so ruined the moment for me, he was in so much trouble, I'll never forgive him for it!
"Oh and I fell off stage once, that was quite embarrassing. We were on a cruise and it was so rocky that when Ian Waite picked me up into a lift, he didn't realise that he'd moved and he put me down and as I started walking backwards, I literally took one step and I was gone! Someone in the audience caught me, I couldn't believe it. I found out later that he was a cricketer. It was seamless, he caught me and threw me back up on stage and we kept dancing.
"But apart from a few wardrobe malfunctions and your partners forgetting their routines, I've been quite lucky. Although last night I came out in the wrong dress for the wrong number! But you just get on with it and that is what is so exciting about live tour."
You danced with Michael Vaughan on the last series of Strictly, is there anyone that you wish you'd been paired with instead?
"No, I always wanted Michael, since the word go. I like working with sportsmen, I think they have a really good work ethic. I didn't want to be paired with Louis Smith because he wasn't tall enough for me, I always look for the tall boys. We have absolutely no say in who we get partnered up with though."
Who has been your favourite dancing partner since you made your Strictly debut?
"I think they've all brought something different to the table in a special way. Ricky (Whittle) was obviously quite naturally talented and that was fun. Scott Maslen was amazing, but he had a ridiculous work schedule, so we didn't make it as far as he was probably capable of making it. He was so much fun and crazy. Michael was obviously really hard working."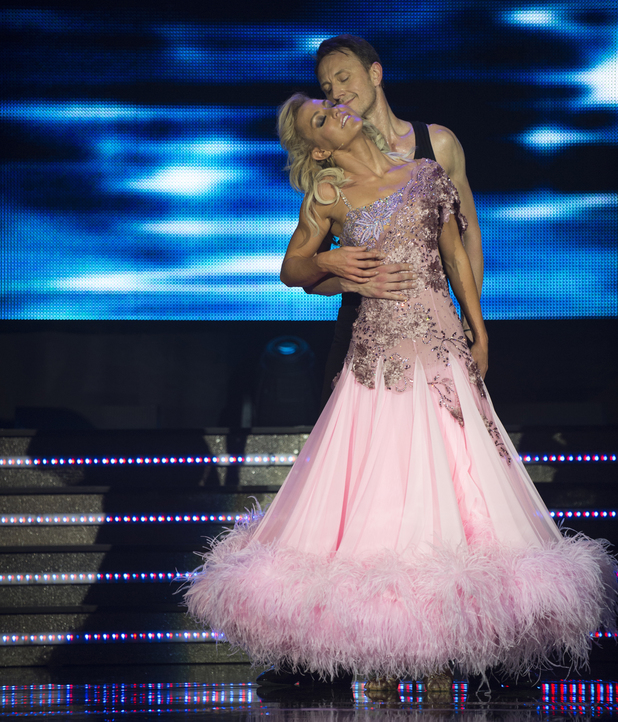 Do you get any celebs who don't pull their weight in the competition or any that can't cope with the gruelling rehearsal schedule?
"Some of the celebs are quite surprised because it's a lot harder than people imagine. We're doing ten hour days, most days. No days off. If you make the final, potentially you don't have a day off for four or five months and that's not as exciting as it's first made out to be, especially if you're an actress or something and you're not used to physically demanding jobs.
"I think in the end though, you get so caught up in it all that you don't want it to end. Once you get past that physical barrier, you don't care because you're learning so much. I recommend anyone to put their foot forward and take part in it, because it's such a rewarding thing."
There have been rumours that Derek Hough will be joining the show this year, is that true?
"No, I do the know the lineup and he might come in as a guest, but I haven't heard anything about him joining the show. It would be great if he is around but he won't be on the show as one of the professionals, no."
Who would your dream dancing partner be if you could pick anyone?
"Someone funny that doesn't take themselves too seriously and can just have a good time with it because it is a hard slog and it is tough. Maybe a comedian? Maybe David Walliams or John Bishop.
"Even Michael McIntyre, I was watching him the other night and I thought 'That guy can dance!' You've got to have personality."
Will you be going to see Natalie in the Strictly Confidential tour this year? Let us know below!