Laura Robson may have played against many of the biggest names in tennis but there's still someone she wants to tick off her checklist: Ryan Gosling!
When asked if there was any celebrity she'd like to play against, the British number one answered: "It would have to be Ryan Gosling – he looks like he would be a great tennis player."
Not to mention he'd be pretty easy on the eyes over the net!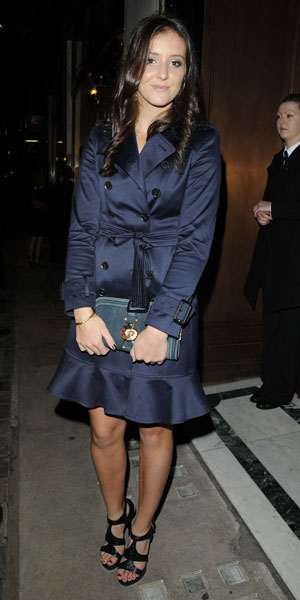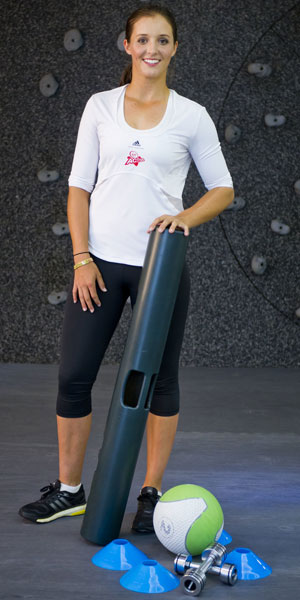 With Wimbledon just around the corner, Laura's training hard in the hopes of success in SW19. "It's really exciting to be British number 1 and Wimbledon is my favourite tournament because of the amazing home support," she says. "I'm also hoping to be seeded this year, which is something I've been working really hard towards. Training for Wimbledon is a bit different due to the on court movements on grass, especially after being on clay, which is virtually the opposite experience. It takes a couple of days to get used to it."
Of course, part of being a successful tennis player is maintaining strong fitness levels, which Laura says she does by completing plenty of gym work.
"I'm doing a mix of cardio, strength and flexibility," she says. "I also have to do rehab for any injuries and niggles I may have but for fun, I like to do Pilates and I really want to try AntiGravity Yoga at Virgin Active 200 Aldersgate with my friends.
"At the minute, my favourite song to work out to is Rudimental, 'More Than Anything' featuring Emeli Sande. It's got a great up-tempo beat that is great for running."
As a Virgin Active tennis ambassador, Laura has created her own tennis gym floor workout which replicates the movements needed for a variety of tennis shots and provides a whole body workout at the same time.
"Training for big tournaments such as Wimbledon requires additional gym floor exercises to help strengthen certain muscle groups to maximise my match potential," she says, claiming her workout is "guaranteed to work all the key muscle groups I use when I'm training."
"I can't guarantee they'll make you a tennis-pro but you'll have fun while working up a sweat!" she joked.
Fancy trying out Laura's workout yourself? Follow Virgin Active expert James Trevorrow's step-by-step guide below:

1. Side lunge into opposite side step over with single arm driver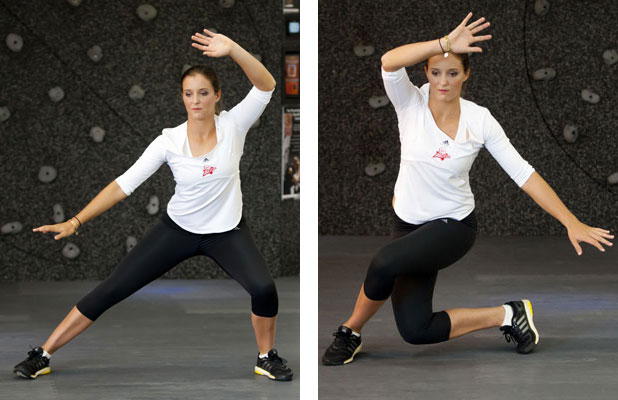 • Standing with legs shoulder-width apart, lunge out to right side while simultaneously swinging right arm over head
• Step across your left leg planting right foot firmly on the floor while simultaneously swinging left arm over your head
• Repeat movement for 30 seconds then switch legs
2. Multi-directional single leg hop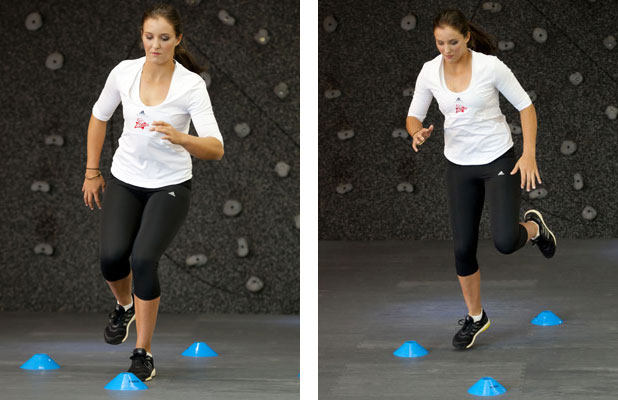 • Balance on right foot
• Hop to 12 o'clock and back to centre
• Hop to 3 o'clock and back to centre
• Hop to 9 o'clock and back to centre
• Hop to 6 o'clock and back to centre
• Repeat movement for 30 seconds then switch legs
3. ViPR – mogul step low to high swings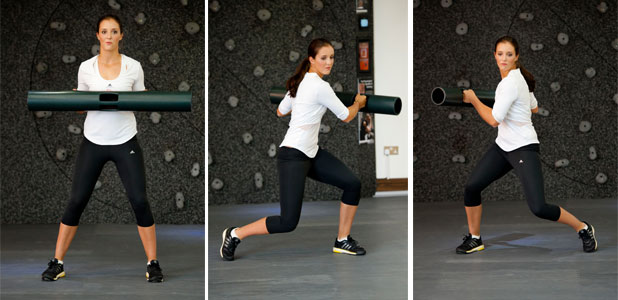 • Hold ViPR in neutral grip
• Skip to right side, as your right foot lands turn right hip and swing ViPR from low to high across your body
• Repeat technique on left side, alternate for 20 reps on each side
4. ViPR – travelling ice skaters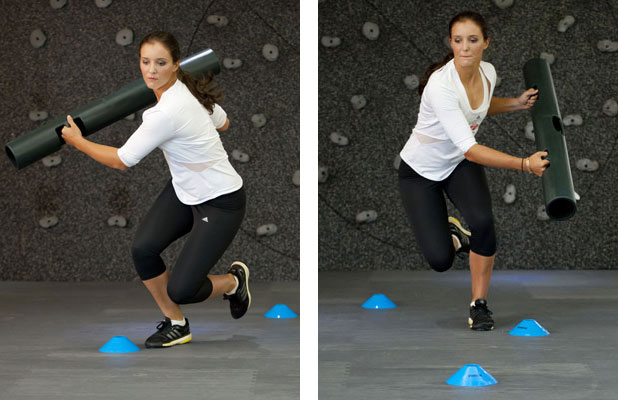 • Hold ViPR in neutral grip
• Hop from one foot to the next, travelling forwards from 2 o'clock to 10 o'clock
• Travel backwards hopping from 4 o'clock to 7 o'clock
• Hopping from each point, drive far end of the ViPR down and across body
• Repeat for 30 seconds
5. Power Plate – single leg jump with 2 footed landing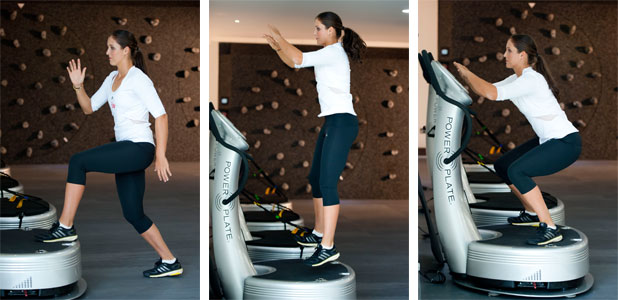 • Set Power Plate to 1 minute, low amplitude, 30-40Hz
• Place right foot onto middle of plate
• Drive force through right leg to lift body as high into the air as possible
• Land on Power Plate with both legs, bending legs to absorb impact
• Repeat with same leg for 30 seconds then switch to left leg
6. Medicine ball two-handed serving action with front lunge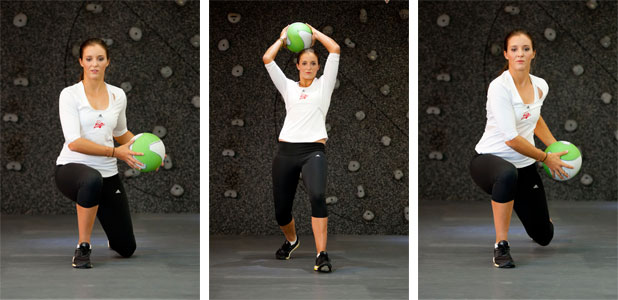 • Select a fairly heavy medicine ball
• Place right foot in front of left as if to serve a tennis ball
• To start, hold medicine ball low then bring it up behind your head, leaning backwards slightly
• Throw medicine ball forward and down, while at same time stepping through with back leg
• Keep smooth movement by going straight into a repeat rep by stepping backwards and moving medicine ball from inside hip back over your head
• Repeat on same side for 12-15 reps then switch to other side
7. 2 and 10 o'clock lunges with medicine ball single arm balance and hold

• Hold underside of medicine ball with right arm
• Lunge out to 2 o'clock while reaching out and forward with the medicine ball, balancing the ball with one hand
• Hold position for count of 2 seconds then return to standing position
• Lunge out to 10 o'clock while reaching out and forward with medicine ball, balancing the ball with one hand
• Hold position for count of 2 seconds then return to standing position
• Repeat 2 and 10 o'clock lunges changing height at which you reach out with the ball (low, medium and high)
• After 12-15 reps change hands
8. 2 and 10 o'clock cross body lunge and reverse dumbbell fly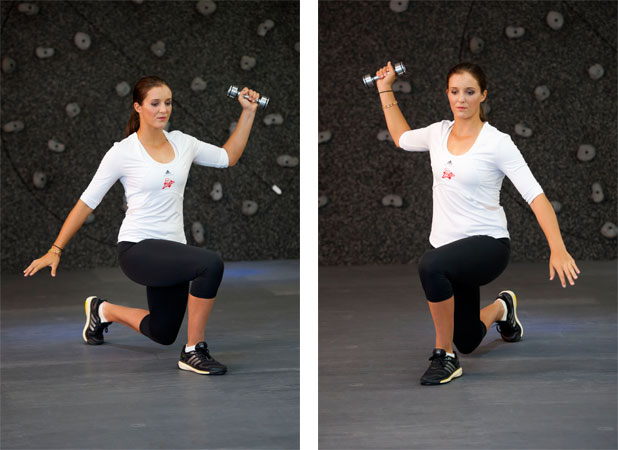 • Hold a light-medium weight dumbell with left hand
• Lunge out to 2 o'clock with right foot, bringing both arms with dumbell behind you – inside arm moving downwards and outside arm moving upwards (like a backhand slice)
• Return to standing
• Lunge out to 10 o'clock bringing both arms with dumbell behind you
• Repeat for 12-15 reps then switch legs
Visit www.virginactive.co.uk to find your nearest Virgin Active Health Club