Britain's Got Talent's 2013 final night was briefly interrupted by a woman who ran onto the stage during Richard & Adam's performance to throw eggs at the judging table.
The singing duo were in the middle of their rendition of 'The Impossible Dream' on Saturday night's (8 June) final when the woman appeared on the centre of the stage and started throwing eggs in the direction of the judging table.
A statement issued by
BGT
(
via ITV
) said: "During tonight's show an incident took place during the finale of Richard and Adam's performance. (The egg thrower) was part of the backing group for their performance and as a result of her misguided actions the police were called. However, we have decided to take no further action at this stage."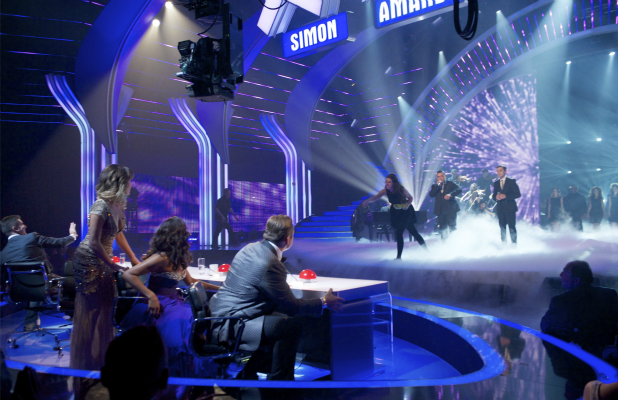 The egg thower issued a statement of her own via the show, saying: "I want to apologise to Richard and Adam for overshadowing their performance. I've never done anything like this before and in hindsight I have realised it was a silly thing to do."
Showing their professionalism,
Richard & Adam
had continued singing as if nothing had happened, while security rushed onto the stage to remove the woman.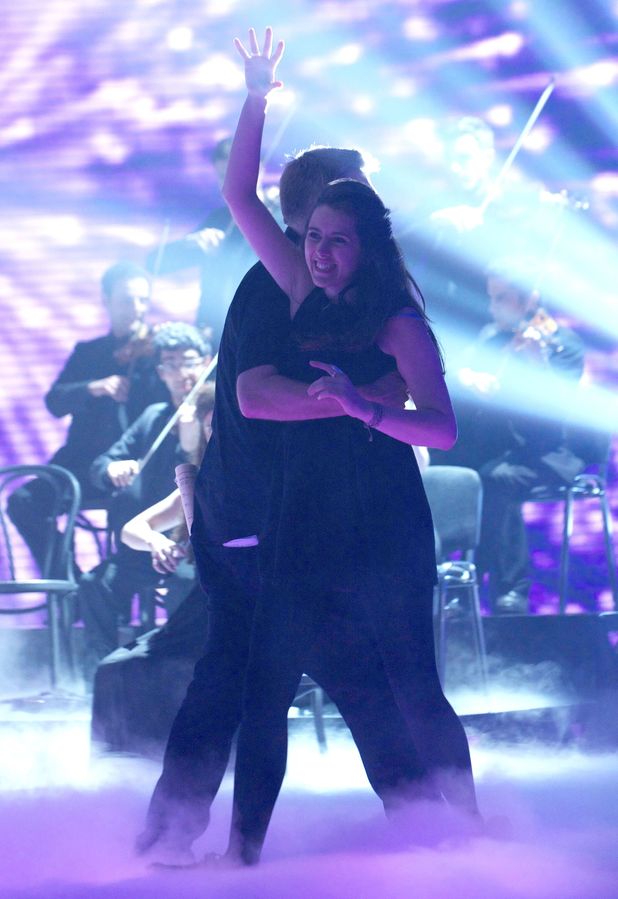 After the performance hosts Ant & Dec were quick to tell the audience that hadn't been part of the act and they would get to the bottom of it.
Simon Cowell - who had to remove his egg-stained blazer before delivering his critique - and fellow judges Alesha Dixon, David Walliams and Amanda Holden all told Richard & Adam how sorry they were about what had happened, but praised them for continuing to sing despite the interruption.
Amanda seemed particularly incensed, saying: "The only person with egg on their face is that stupid cow."
Ant agreed, saying: "You always get one idiot who tries to spoil it."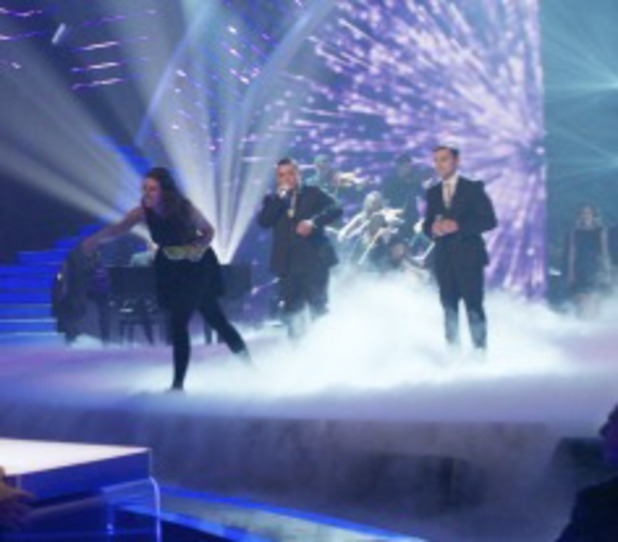 Dec tried to make light of the situation when Richard & Adam left the stage, saying, "well that was eggy", before questioning the audience if it was too soon to be making jokes.
The next performer of the night, comedian Jack Carroll, lightened the mood by quipping: "My first joke was running on stage to throw some eggs and that's been ruined!"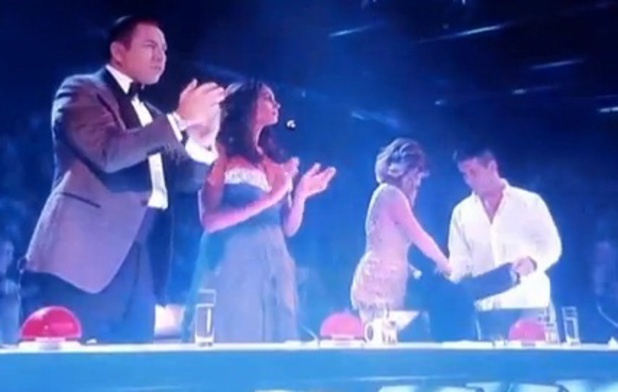 Watch the egg-throwing in the video below:
Plenty of celebrity viewers took to Twitter after the incident to voice their surprise at what happened. Some celebrity reactions on Twitter...
Phillip Schofield:
Oh dear, what a total pillock. No matter what she was doing, she only made herself look a fool, hope she enjoyed her moment of infamy. She's back into utter obscurity and the show moves on with those with real talent. Well done Richard and Adam. Very dignified composure.
Amanda Holden:
Eggs ellent show tnte!
Laura Whitmore:
Just re-watched this egg lady online! It's bloody funny.. And look how happy it made her. Eggs for everyone!!!
TOWIE's Lucy Mecklenburgh:
What the hell!! A random girl chucking eggs at Simon cowel!!! #BGT.
McFly's Tom Fletcher:
I'd have shoved an egg up her nostril if I was one of those two guys.
Piers Morgan:
My vote goes to the egg-thrower. #BGT
Danielle Lloyd:
How the hell did that women get on stage to throw eggs #random
Janet Devlin:
Can't believe someone chucked eggs at @SimonCowell ! I'm laughing but i know I shouldn't :P poor lads though :/
Matt Edmondson:
This is #bgt , not the EGGS Factor. #sorry
Read more:
> Simon Cowell hits the town with Louis Walsh and Sinitta - pictures
> X Factor 2013: first official judges pictures