Attraction have won Britain's Got Talent 2013!
The Hungarian shadow dancers were named the winners on Saturday night's (8 June) live final following a stunning performance that paid tribute to Britain and likely had viewers around the country in tears, predicted judge David Walliams.
They won the chance to perform at the Royal Variety Show and £250,000.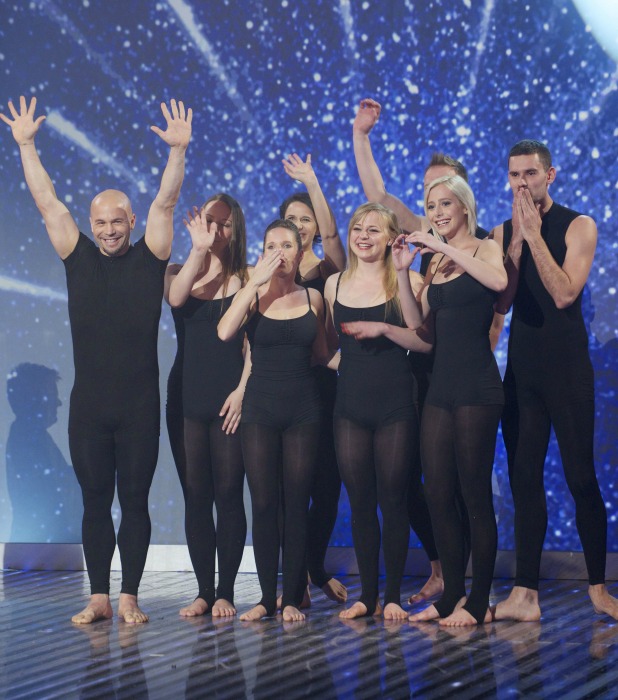 Clearly overwhelmed, the group shared their thanks with the audience before getting ready for an encore performance. They'd been the final act of the night and wowed the judges with a spectacular routine that had Amanda Holden declaring she felt proud to be British.
"Whatever language you speak, you completely understand their story," she said. "You don't have to speak English, you understand what they're trying to do."
Alesha Dixon said the first time we saw Attraction they were mind-blowing and completely original, in the semi finals nobody had a dry eye in the room, and tonight they came out and delivered a wonderfully patriotic performance.
"It's an act that can go around the world," added David Walliams. "It speaks to anybody of any age and culture."
Simon Cowell admitted he thought the result was a surprise but said: "It shows this country welcomes people from around the world and they love this act. I'm really happy for them."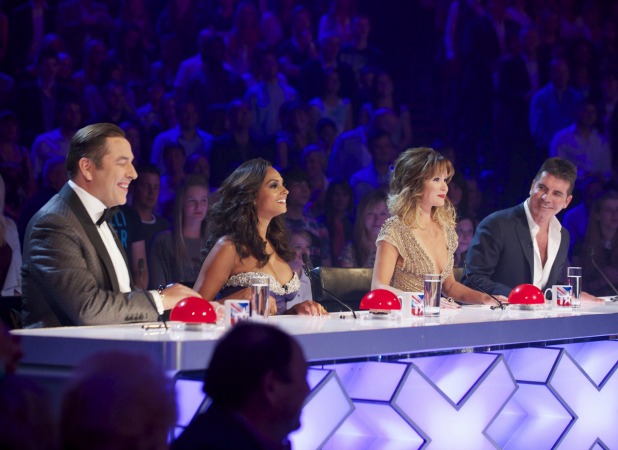 14-year-old comedian Jack Carroll finished in second place, following a routine that kicked off with jokes about rival talent competition
The Voice UK
. "I've had a great time," he said. "I've tried my best and fair enough. Cheers to everyone who voted."
Richard & Adam came in third place following a beautiful performance of 'The Impossible Dream' that was unfortunately interrupted at one point by a mystery woman who stormed the stage to throw eggs at the judges.
You can read all about that interruption here
.
Viewers were also treated to performances from Psy and, in their first live performance of new track 'Everything Has Changed', Taylor Swift and Ed Sheeran.
Here's a breakdown of each of the night's performances and the judges' comments:
Pre Skool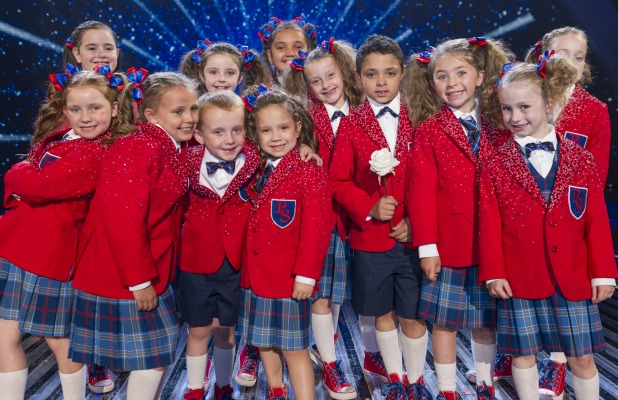 Dressed in their sweet school uniforms and hoping to bag the prize money to buy lots of sweets, chocolate and ice cream, the youngsters blazed onto the stage for a typically energetic performance to a medley of pop hits. In a cute moment, David and Simon both say it was the best performance of the night so far - which the kids loved! Alesha loves how they haven't let the pressure of the night get to them, while Amanda says she'd be so proud to have any one of them as her child, predicting their parents are going wild in the audience! Surprisingly, Simon adds that they've made him change his mind about kids. He used to want one, now he wants twelve! He also thinks they have the best personalities of any contestant on the show ever as they came out to both have fun and win.
Asanda Jezile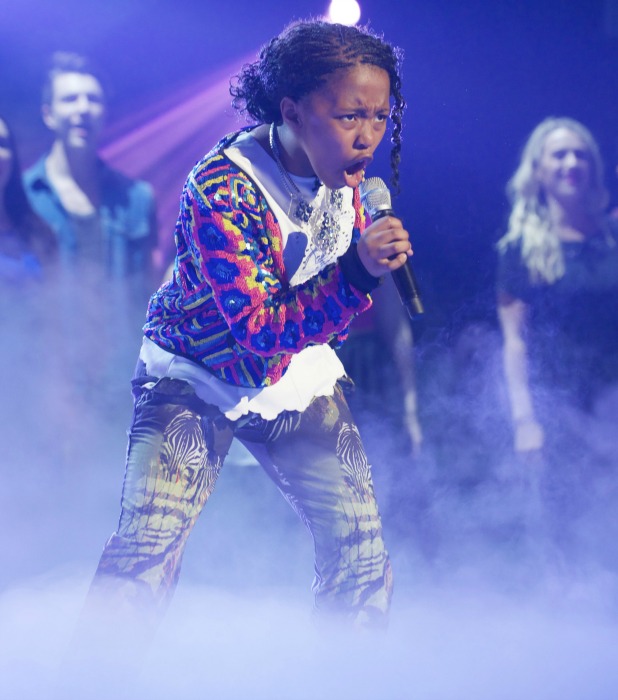 The 11-year-old singer was the night's second performer, belting out Beyonce's 'If I Were A Boy'. Alesha jokes Asanda "isn't normal and is a freak of nature" because most artists take years to get a similar stage presence, while Amanda calls her "ridiculously talented". She also thinks Asanda is like Willow Smith because of her fab attitude. Simon thinks this was Asanda's best performance "by a mile" and tells the audience that backstage Asanda is sweet and a normal girl, but then on stage she becomes a diva. David agrees, saying it's like watching a superstar play the O2. Wow!
Gabz Gardiner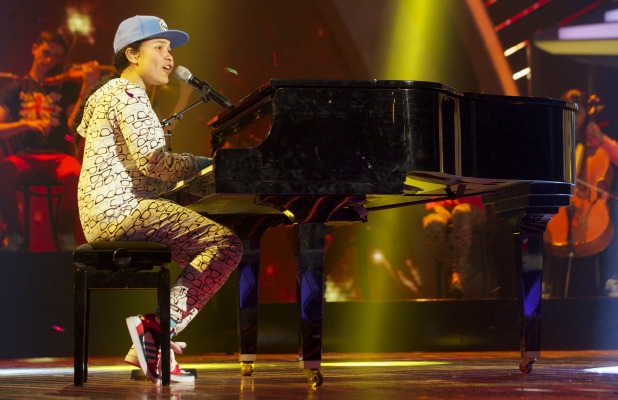 14-year-old Gabz was the third performer of the night, with another original song about love. Amanda says she doesn't only have a record contract coming her way in the future, shell also get a publishing deal because her writing is amazing. Simon agrees, saying she writes a song and everybody falls in love with it within ten seconds. It's another hit record, as far as he's concerned. Forget the music, David says it's all about the onesie! He adds it's "almost annoying" how talented Gabz is. Alesha praises the fact she's so talented and original, saying: "You're on your way, darling."
Steve Hewlett - Wild Card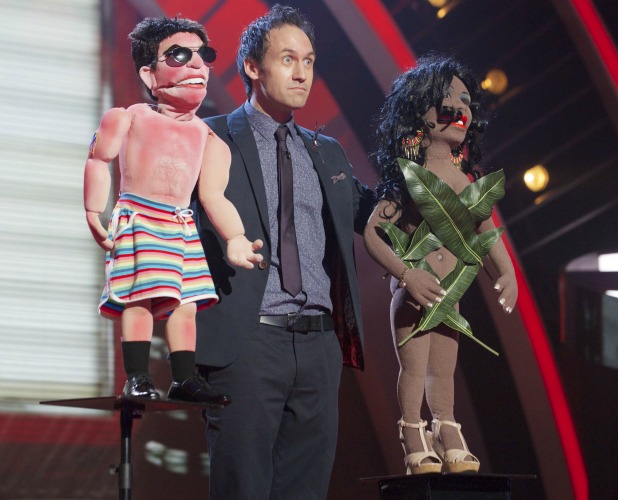 Steve admits he wasn't expecting the call from David Walliams to say he was this year's wild card - and we're quite pleased he was as we got another hilarious act poking fun at the judges. 'Dummy' Simon popped up in a life jacket and super burned from all those days lazing on his yacht.. and then who should pop up but a palm-tree bikini clad Sinitta! (The real life Sinitta was in the audience laughing!) 'Dummies' Simon and Sinitta then sang 'We Go Together' from
Grease
before sharing a kiss. Real life Simon tells Steve he wasn't sure about bringing him back as a wild card but this has changed his mind... He then brings Sinitta on stage to sit on his knee. Followed by David! David gives his whole critique while perched on a bemused Simon's lap. Alesha says she can absolutely see Steve at the Royal Variety Show, while Amanda says this was a popular Wild Card decision. "You did yourself proud tonight," she adds. "I couldn't be more delighted for you."
Jordan O'Keefe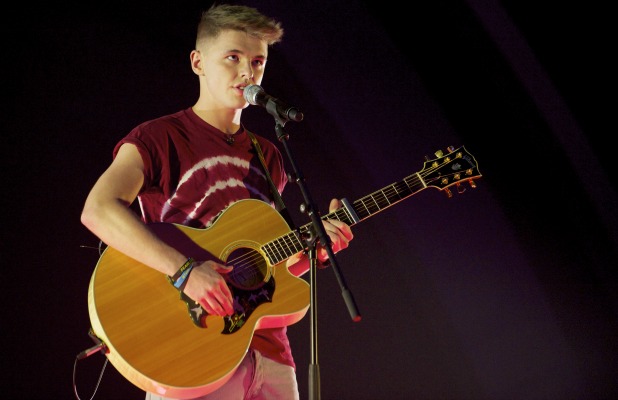 Jordan chooses to sing one of his dad's favourite songs - 'Firework' by Katy Perry. Perhaps appropriate after his dad tells us he now realises what a superstar Jordan is. David praises Jordan's low-key, acoustic performance for making the audience really listen to the words of the song. He says whatever happens tonight, with Jordan's talent, looks and stage presence, he'll be a star. Alesha says she could listen to him sing all night and she hopes he has a future in the industry. Amanda says every interpretation of a song makes her listen to it in a different way. He sings beautifully and from the heart. Simon admits he was initially unsure about the Katy Perry song, but it was a brilliant interpretation and one that has never been heard before.
Arisxandra Libantino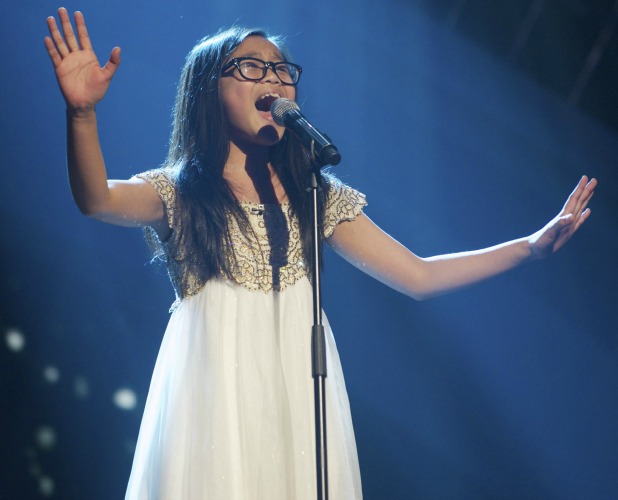 11-year-old Arisxandra belts out Christina Aguilera's track 'The Voice Within'. Alesha says it was a massive song to take on but she did it with ease and she feels relaxed watching her on stage. "You sang like an angel." Amanda says she did herself proud and she blew the roof off. "It was an electrifying and amazing performance." Simon thinks she started off a little bit tentatively but then she sorted herself out and it was full throttle ahead. He says he genuinely doesn't know who will win after so many great performances. David says she has an incredible, natural talent and it's not just her voice, it's her presence too: "It's like watching an adult perform, not a kid." He also says other children might miss the emotion in the song but she caught it spot on.
Francine Lewis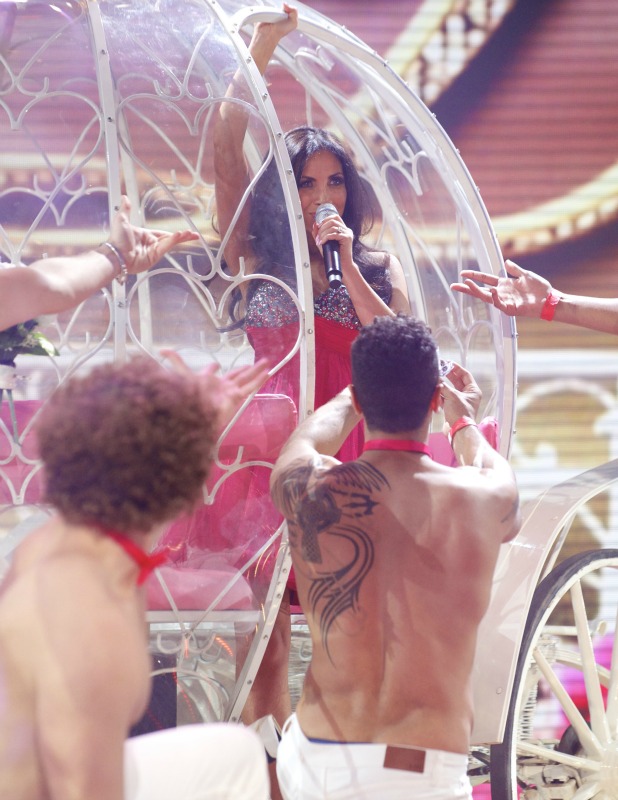 Impressionist Francine pulled in plenty of laughs as she kicked off her routine with Alan Carr, followed by Geri Halliwell and then a string of stars including Janet Street Porter and, of course, Katie Price - who tried to wow Simon with her version of 'Barbie Girl', called 'Glamour Girl', with lyrics changed to reflect her career, love of reality TV and, em, chest size. Amanda says Francine is "on the button" and it's not just the voice, but the mannerisms. She hopes Katie is watching and loved the song. Simon says her confidence has grown in the competition and it's rare he knows every voice: "I really think we're seeing a star emerging from the show." David agrees and says he likes the fact she's tested herself. He thinks she needs a spinoff show as Katie. Alesha questions if there is any impression Francine can't do.
Richard & Adam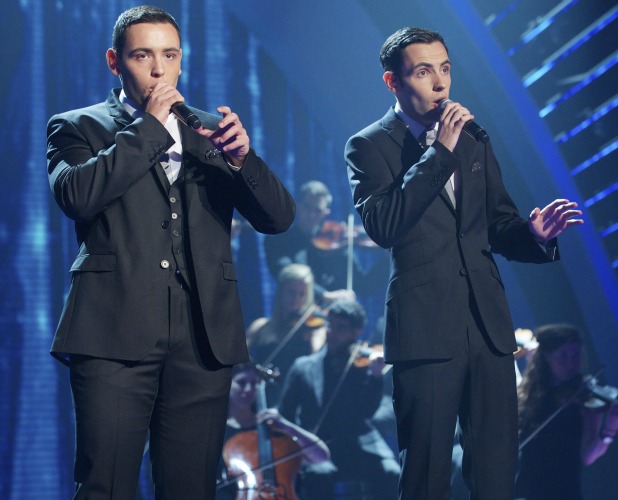 The singing duo went for 'Impossible Dream' as their final night song and it was all going so well until a
woman interrupted to throw an egg
. They continued singing regardless and were applauded by the judges afterwards for their professionalism. "That was so much better than anything I've heard from you before guys," says Simon. He doesn't think they're the best singers that sing this sort of music but he loves their determination and public appeal. He reckons they can win after that. David agrees it was a winning performance. Alesha says they are magical together and when they sing it's so moving. Amanda is equally impressed and says: "The only person with egg on their face is that stupid cow." Ant agrees, saying: "You always get one idiot who tries to spoil it."
Jack Carroll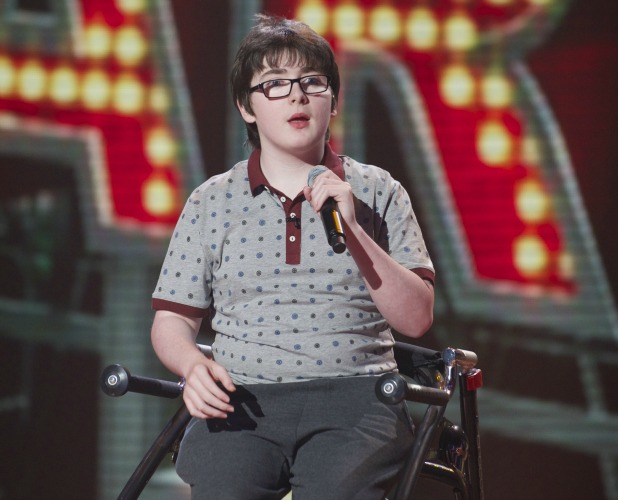 The 14-year-old comedian kicked off his routine with a joke about the egg incident, saying: "My first joke was running on to throw some eggs but that's been ruined." He then starts into a series of quips about
The Voice
which crack the judges up. David says that Jack is one of his favourite comedians ever and he really hopes he wins. "Whatever happens tonight you will go on to be a comedy superstar." Alesha simply says she loves him. Amanda says every joke was brilliant, it was well thought out and it all made her laugh. She also wants him to win! Simon says he's a very naughty boy and the only person who could turn the egg incident into something funny. Simon also loves the fact he's only 14 but his observations of the world make him seem older. "From my heart, I hope you win this competition."
Luminites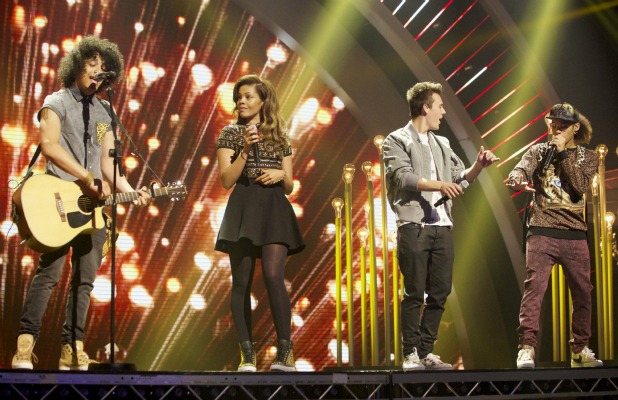 The evening's penultimate performance came from singer-songrwiters Luminites. Alesha says she loves them and they are faultless. "Every single one of you has something special to offer and collectively you are magical. So polished but also with a rawness." Amanda says it was another brilliant performance but what she loves the most is the fact they have great personalities - particularly when lots of musicians can't string a sentence together, in her opinion. Simon says it was on the money: everything was right and we don't have a band like this at the moment. He thinks it will be a hit song. David says it's a band with four stars, which makes them special. They're all also very cool, but they can back it up with fantastic talent.
Attraction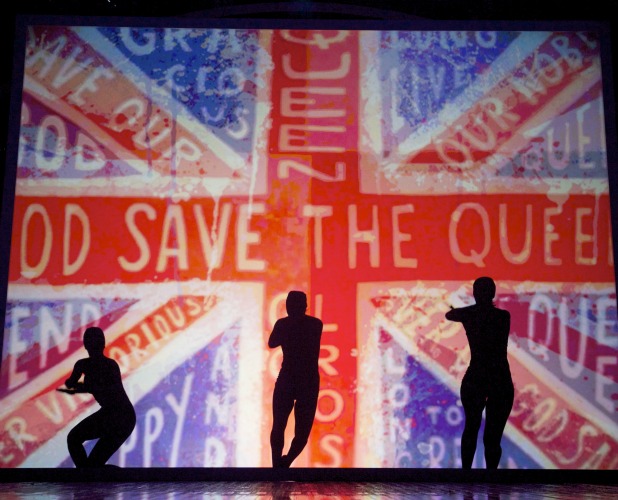 Attraction finished the night's performances with a beautiful piece dedicated to Britain. Amanda says they couldn't have done a better performance. She's already proud to be British but they made that bigger. Simon says he can't think of a better way to end the finals and for them to come from another country and pay respect to Britain in this way is fantastic. David says it was a reinvention of what they do and he predicts people will be crying around the country. Alesha says Attraction are the main attraction tonight, it was so moving and epic: "a great end to the show."
> Simon Cowell hits the town with Louis Walsh and Sinitta - pictures
> X Factor 2013: first official judges pictures