Reveal meet Victoria Fox, the author of the sizzling new bonkbuster Wicked Ambition. We say: "The perfect book for the summer: delve into the sexy, exciting world beneath the celebrity gloss."
We're pretty big fans of glamorous, thrilling and sexy novels here at
Reveal
, especially when they revolve around the oh-so-exciting world of celebrity, so it's no wonder we're loving Victoria Fox's brand new book
Wicked Ambition
.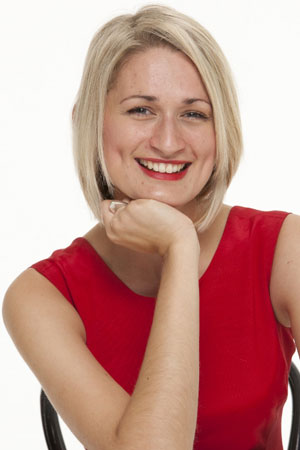 The book centres on three beautiful, successful singers - but their lives aren't as wonderful as it would appear on the surface. There's romantic entanglements, front page scandals, boyband boyfriends who aren't what they seem, obsessive fans, mini beauty queens, breakdowns, excess, glamorous locations around the world – and one deranged person intent on seeking revenge in the worst possible way. Oh, and don't forget that must-have in all bonkbusters: seriously sizzling sex.
Sex can often be written in a subtle way and we don't really see what goes on in the characters' bedrooms - but not in Victoria's world! "None of that please," she tells us. "Open the door!" And open the door she does, for some raunchy, steamy and very memorable scenarios.
"Sex scenes tell you loads about characters; they are so important for character development. I love the fact some of these famous people have a gloss on how they are presented to the outside world, but when you get in the bedroom the freaky stuff comes out! I love speculating on people's sex lives and sexuality."
And in the heady, outrageous world of the bonkbuster, anything goes. "Bonkbusters are meant to be larger than life and outrageous," she says. "Everything you could dare to imagine you can put in, which is why I find them so fun to write!"
And she's not kidding! There are plenty of outrageous moments in this book – including a storyline revolving around a member of the world's hottest boyband who is living a double life unknown to his fans… until someone he trusts betrays him and it becomes front page news.
It's pretty explosive and, as Victoria says, "it's just interesting to think what would happen if something on that scale came out in real life - it would be a big scale."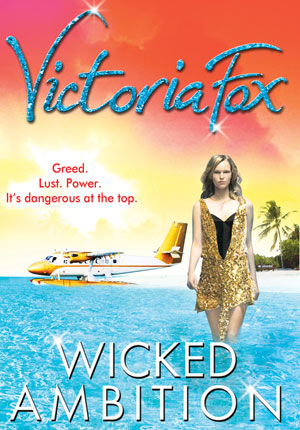 The good, bad and ugly of the music industry is at the centre of
Wicked Ambition
.
"My previous two books have been set in Hollywood with acting and I thought it would be fun to expand into the charts," says Victoria. "I love watching
X Factor
and thinking about what's going on behind the surface. There are plenty of larger than life personalities in the charts and I love imagining what their worlds must be like on a daily basis, how their relationships survive in the public eye."
"Music, revenge and thrills. That was the inspiration."
One of our heroines, Robin, is a judge on a singing show. A pop star in her own right… Hmm, could that have been loosely inspired by anyone in particular?! Likewise, Kristin is a sweet pop princess thrust into the limelight with her boyband boyfriend at a young age. Now she's looking for a more mature image… sound familiar?
But Victoria tells us: "If someone catches my attention in the public eye, I start with that as my hook and imagine what that person's life must be like. But then the character always becomes someone different."
Next up for Victoria is a Mills & Boon book which she promises is pretty "juicy", followed by another novel next summer that she's currently piecing together. "I was writing up my proposal recently and just laughing. It's going to be amazing! I already feel so passionate about it. All I'll say is it's a dangerous, tropical extravaganza!"
Exciting!
While we were chatting with Victoria, we also got a few of her top tips for any aspiring bonkbuster writers out there... so read on and happy writing!
Getting started
"So many people say they want to write books and I always say, 'Do it then!' If you want to write, then write! Even if you think it's s**t just write something and get started."
Victoria worked in publishing before becoming an author, which is when she wrote her first partial manuscript of about 30,000 words. "I just sent it off to an agent because I really wanted an answer and I'd never shown my work properly to anyone before. You can do a partial manuscript and send that off with a longer synopsis if you want an answer sooner – they may want to see the full thing, but it's worth a try."
The partial manuscript is how Victoria found an agent and although she didn't get a deal for that first book, she decided to take the plunge and quit her job to write a second one. "That was a good motivator as I only had three months of being financially okay before I was stuck," she says. "I had to get a deal in three months. Some people say they can't self discipline but money is quite a good motivator."
"I was working with books anyway, in publishing, so the last thing I felt like doing after spending the day with people's books was writing my own," she explains. "But this passion was there. I was trying to write something more serious at first but nothing was coming so I thought I'd write something fun, the sort of thing that absorbed me growing up, and the stories fell out. l was writing about what entertains you and what you'd like to read - that's the best way to start.
Of course, that's not going to be an option for everyone, but Victoria says aspiring writers can still discipline themselves to write around their job, whether it's just setting a goal of an hour a day or a chapter a week. "Sometimes if you watch
EastEnders
or something and write while doing that it is a good discipline. Find something you do every day and write as you do it."
Victoria also says that while you do need an overarching idea of where your story is starting and where it is going, don't be surprised if it veers somewhat off course in the process.
'They are big books and there is a lot going on so you do need to know where everybody is at each point and where they will end up, but you also have to keep it fluid and planning too rigidly leads you down the wrong way. The funny thing about writing is the characters and stories grow as you go along. You discover things on the way you didn't bank on. The characters take on their own personality and go in different directions and when that happens, you know you're doing it right."
Don't be afraid to take a risk
"I had a good support system around me," says Victoria, of taking the plunge and quitting her job to write books. "I was living with my boyfriend at the time and my sister lived nearby. They all understood. I wanted to be a writer since I was tiny, so it was always the risk I thought I'd have to take at some stage. I figured I had no mortgage and no dependents so now is the time to do it. You should never regret something you didn't have a stab at."
Again, quitting a job won't be the option for everyone, but the message is the same: give your writing a go!
Research can be fun!
Victoria's books revolve around the glamorous world of the rich and famous and she says that trips to LA, Las Vegas and New York have helped, but ultimately her biggest inspiration has been reading books like Jackie Collins and "devouring pop culture". The general consensus is you should write what you know, but in the bonkbuster world anything goes so have fun with your ideas! And, as Victoria says, "we all know human relationships and that's what drives these books".
Keep your audience engaged.
It's an obvious message: if you want to write successful books you have to write so someone is compelled to turn the pages. Victoria suggests short chapters can help with this. "In these books there is so much going on that sometimes people feel it's too much and can't take it all in at once, but as long as the chapters are short and you have lots of cliffhangers, people will keep going."
Don't keep checking back
Once you've started writing, just keep going - don't check back on your work after each chapter. Victoria says she doesn't read back on chapters she's written until the end. "When you're in the writing process you're in a black hole," she explains. "You haven't got to the end yet and there is no shape. When you get to the end, though, you might think that chapter three, which you hated when you wrote it, is actually doing the right thing and it works."
Don't shy away from the sex scenes!
It might make us cringe a bit thinking of our dad reading a sex scene we've created but Victoria says focusing on this is a sure-fire way for your scene to lose all spark. "If you start worrying about that you'll write in a self-conscious way and that will really show," she says. "My dad read my first book and when he told me what page he was on I'd think, 'Oh, okay, so you've read that bit then...' and it was excruciating! But never mind! Your dad doesn't have to read it!"
Victoria advises writing your sex scenes all in one go because they are a difficult thing to edit. "You have to go with it as it's all about the rhythm of the scene. You can't leave it and return half an hour later." Another bonus of sex scenes? They're good for bumping up the word count!
Don't throw away characters that don't fit
A book will change from conception to publication so it's no surprise characters you loved at the start might end up getting the chop - but always keep them in mind for a future book. Victoria tells us she wrote a partial manuscript at the start of her career that involved two characters that she loved. As the book didn't end up going anywhere, she recycled them and they became the inspiration for the Olympians we meet in
Wicked Ambition
. "If you have a really good character and they don't fit, I tend to keep them in a little bag and it's funny how their story will eventually come about. Something will come up for them."
Don't be disheartened by rejection
"I got rejected from tons of publishers with my first book," she says. "My publisher now picked it up at the last minute, and because of that it's made me super grateful. I know how hard the market is and how bloody hard it is to get a book deal, particularly a couple of years ago in the depth of the recession.
"It's about being passionate, having your eyes on the prize and if you really believe you can do it and it's what you want 100%, it will happen. It's perseverance."
Wicked Ambition by Victoria Fox is available now through MIRA books