Joan Rivers' daughter Melissa has spoken out about living with her famous mother - who has completely taken over her house!
Joan moved in with Melissa in the first series of their reality series
Joan Knows Best
but, now in its second series, there is no sign of her moving out.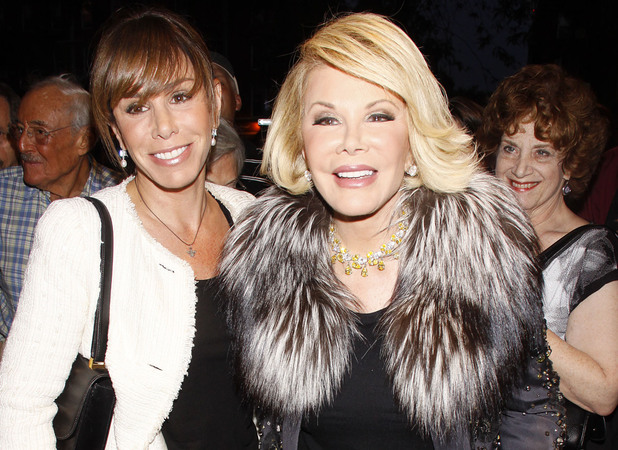 Melissa tells
Reveal
: "In her mind, she's just staying with me - not living with me!
"Why would she want to move out? It's a nice house, I have a housekeeper and a pool, people are there to drive her around. I think I'm making it too nice for her.
"She's not even trying to pretend she's looking to buy a house anymore. I kind of think she'll be here forever now. What she'd like is for me to give her my house, and then I buy a new one and move out!"
Melissa adds: "I'm getting new curtains in my living room, but I walked in the other day and my mum was going through the fabric samples with the decorator. I was like: 'Does my opinion even matter anymore?!'"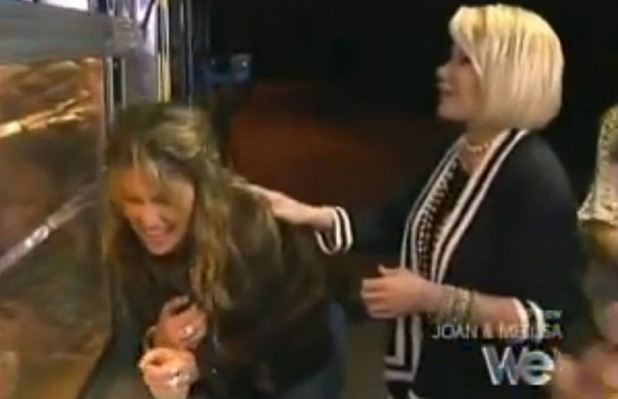 In the last series, Melissa's boyfriend Jason Zimmerman was also living in her house. But their relationship is no more.
"Jason is not in our lives any more," Melissa reveals. "I can definitely say my mum had nothing to do with it, but you will see my relationship explode in real time on the show.
"It happened very swiftly and unexpectedly while filming. My mum was a great support though."
We wanted to get to know Melissa a bit better, so asked her the following questions:
I get angry when...
people lie.
My guilty pleasure is...
French fries - but the skinny ones, not the fat ones! They have to be a little over-cooked and covered in mustard too.
My idol is...
is Victoria Beckham. I love her, her family and her style. She never looks like anything rattles her - she has four kids and always looks perfect. I have one and feel like a disheveled mess who has stuck her finger in a light socket!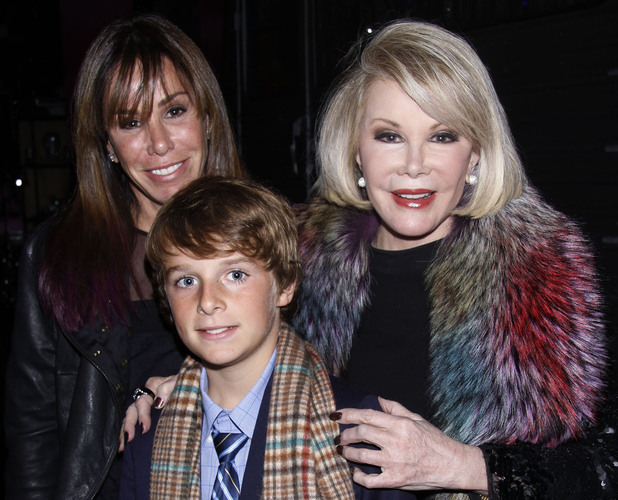 My proudest moment is...
giving birth to my son Cooper. He's 11 now, and is just a happy spirit. He loves having his grandma around and is at the age where he will go straight to her if I don't give him the answer he wants! I grounded him last week and he was working my mother like you wouldn't believe. I rowed with her over it, and she was like: "I know I shouldn't interfere, but....." They have got to stop ganging up on me!
My last meal would be...
some kind of Italian food followed by red velvet cupcakes with cream cheese frosting.
My earliest memory is...
toddling on the floor of my parents' New York apartment. They had a black and white checked floor, I remember it very distinctly.
The part of myself I least like...
is that I've become debilitatingly insecure. I question everything, all the decisions I make.
The best bit of advice I've ever been given is...
from my mother. She told me: "This too shall pass". Winston Churchill said it, and my father used to live by it. Loosely paraphrased, it's: "When you find yourself in hell, keep walking."
Joan and Melissa: Joan Knows Best, Sunday's at 10.30pm, on E! Entertainment Television
Read more:
Barking mad: I own the most spoilt dog in Britain
Read more:
Helen Flanagan's parents go Down Under - pics!