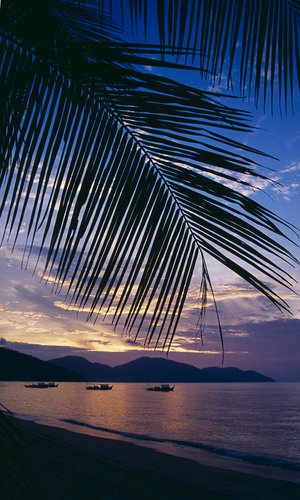 When Prince William and Kate Middleton travelled to Malaysia earlier this year, it wasn't just K-Midd's gorgeous wardrobe we were eyeing up – it was also the luscious surroundings.
Located over in South Eastern Asia, Malaysia is a haven of sandy beaches and rainforests - and, because we quite like to copy anything the Duchess of Cambridge does, we decided to check it out for ourselves!
While Will and Kate chose to visit Kuala Lumpur and Borneo, we headed to the tropical island of Penang - but just because we weren't following in the exact footsteps of our favourite royals didn't mean we weren't looking for some serious VIP treatment!
Where we stayed
Hard Rock Hotel Penang, one of 18 Hard Rock Hotels worldwide, is located along the beautiful sandy beaches and glistening blue ocean of Batu Ferringhi. We were greeted at the door by smiling faces, a VIP check-in (at Kings Club Suite and above), and a refreshing fruit cocktail, before slipping on a bikini and being whisked straight off to the hotel's spa for some serious relaxation (which can be booked in advance). Talk about making us feel like Beyonce!
From the second you arrive you're hooked into the world of rock stars and glam, from the banging music in the lobby to the names of meeting rooms (Graceland, Abbey Road etc.) and, of course, the memorabilia scattered everywhere. Also check out the rock star touches in your room. We had Bruce Springsteen song lyrics on our shower wall for some sing-a-long fun, and every night a different song lyric left beside our bed.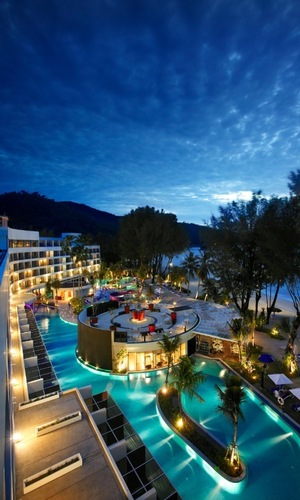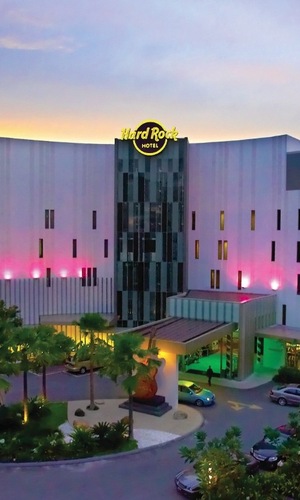 Aspiring to be both family and fun orientated, it offers a wide range of rooms and suites to suit everyone, from those with families to the bona fide A-lister who can afford the gorgeous and luxurious King's Suite, which has a private pool and its very own entrance away from the prying eyes of the public.
Our particular favourite, however, was the Lagoon Deluxe Room which is right beside the pool. And we mean right beside the pool. All you do is open your patio doors and dive in! Just make sure you keep the curtains closed when you're getting changed! Who knows what paps could be lurking in the bushes trying to catch a glimpse of you relaxing in private…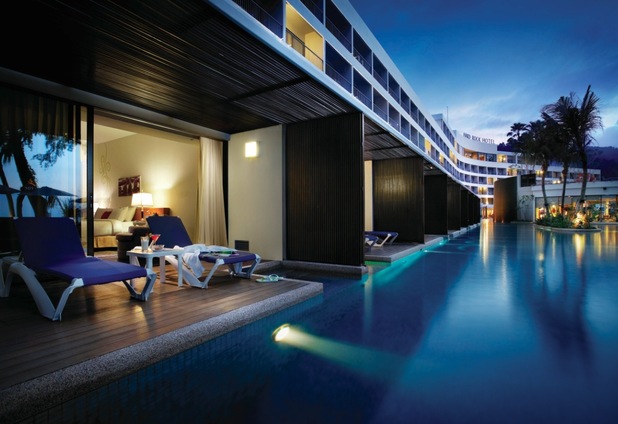 What to do:
If you want some pampering, book a treatment at the hotel's Rock Spa. Positioned between the pool and public beach, the spa is an outdoor haven of pure relaxation. From the second you step in, you're engulfed by the scent of lavender and instantly feel calm.
Open between 9am and 9pm every day, it offers a range of treatments including mani/pedis, facials and massages. We opted for the 90-minute rhythm sticks massage in a private cabana just beside the ocean (as wannabe celebrities, we need our privacy) so we could hear the waves on the beach as we sank into blissful calm. You can book on the day but best to do it in advance via email or dialling from your room.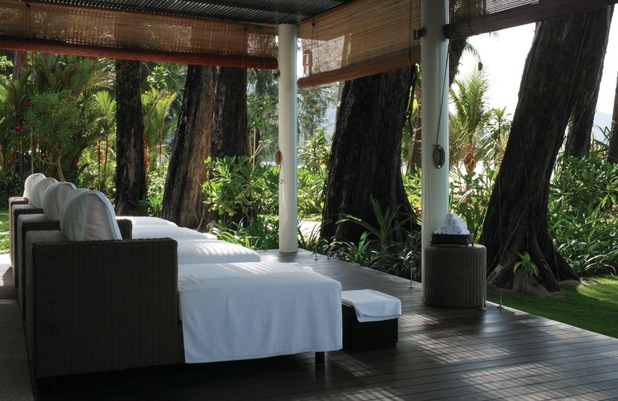 Alternatively just lounge about in the sunshine! Along with the public beach on its doorstep, the hotel boasts the largest free-form swimming pool in Penang, with water slides - although you'll have to battle the kids for a spot (clearly, they don't know who we are!) - a swim-up bar and even underwater music playing if you're brave enough to get your hair wet!
Be a true rock star and hire a private cabana on the beach by either emailing the reservations department before you arrive (get your assistant to do it) or doing it on the day, subject to weather and availability. It works out at just £16 for the day or £4 per hour, and comes with bonus amenities, not to mention panoramic views of the beach and pool.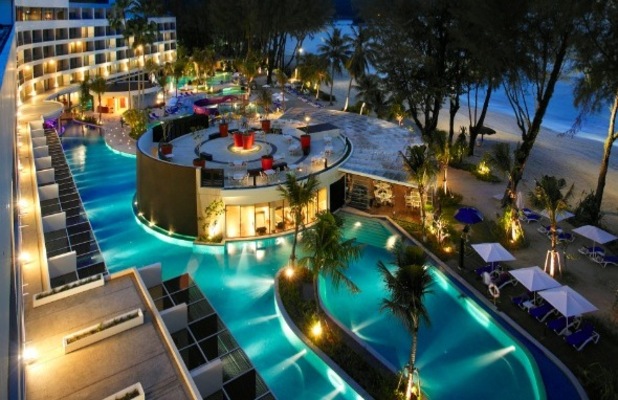 More energetic guests can hit up the hotel gym, which overlooks the pool, or try some of the water sports on the beach. There's also Saturday morning yoga sessions if you want to embrace your inner Gwyneth or Jennifer Aniston. And don't worry about the kids, dedicated children and teen clubs mean they'll always be fully occupied.
If you want to explore the area but have left the limo at home, taxis are available at reception or you can hire a car from the airport – but be warned, some of the one-way streets in George Town can be tricky to navigate.
Feeling spiritual? Head to the Kek Lok Si temple up in the hills and enjoy the panoramic views of Penang by climbing to the top for some quiet reflection time. Those interested in history can visit one of the local museums. Learn how a simple barber became one of the island's richest men at the Yeop Chor Le social history gallery, take a stroll through Little India to experience the Indian side of Penang culture or enjoy a heritage tour of George Town in a trishaw.
An absolute must is a trip to Penang National Park for a hike through the rainforest. It's totally free (you just have to register at the front desk so they don't lose you!) and you can choose from a variety of hikes depending on your level of fitness. We went for a pretty moderate one (after all, we couldn't risk the paps catching us sweaty and red faced) that led us to the self-explanatory Monkey Beach, passing many beautiful nature spots and stretches of isolated beach.
Don't fancy hiking all the way back to the start once you finish your walk? Luckily there's a boat service that will take you back in just five minutes thanks to a picturesque sail around the jungle. It's also a great vantage point for spotting all the monkeys lazing on the beach! You can also skip the hike entirely and take a boat trip to some of the best beaches. It lasts around four hours and costs vary depending on boat.
Of course, after a long day of sight seeing there's only one thing any girl wants to do: shop! We'd definitely recommend a trip to the Batu Ferringhi night market which sells everything from local trinkets to fake designer bags and jewellery. A visit to the Hard Rock Shop is also a must to stock up on some rocker merchandise.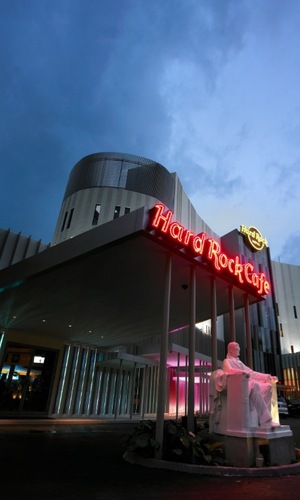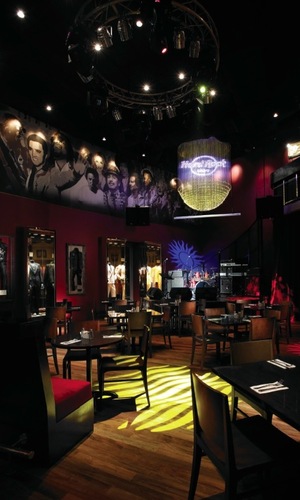 Finally, if there's one thing celebrities know how to do, it's party! The hotel has its own Hard Rock Café right next door, just one of 140 around the world. Interesting fact: the first one was right here in the UK in London! So expect traditional American food, cocktails, live music and dancing. And if you're feeling knackered you can even watch the live bands on stage from the comfort of your very own room thanks to a dedicated channel.
All rooms come equipped with standard Wi-Fi, music and satellite channels, as well as a very cool initiative called Sound Of Your Stay. On arrival, guests get a code to download one of three music playlists representing the hotel's personality and created by some of the world's leading musicians like Fall Out Boy's Pete Wentz and Sara Bareilles.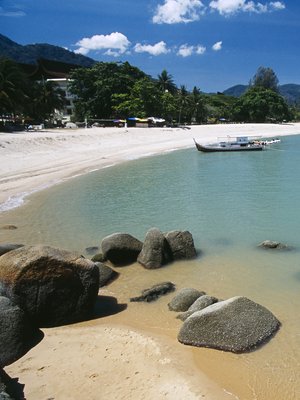 What to eat:
If you're a foodie then you're in luck: Penang is known for exotic dishes that mix Malay, Chinese and Indian influences. Our personal favourite was the Nyonya cuisine, which combines Chinese ingredients and cooking methods with Malay and Indonesian spices. Try the Penang Laksa for a truly local taste, or visit one of the local hawker stalls for some fresh snacks. The hotel's Starz Diner also does a full selection of local treats but don't worry, if you're not feeling adventurous there's also a full selection of homely favourites including trusty burgers and chips. It's worth visiting the hotel's Pizzeria at some stage too. Located between the pool and beach, it's the perfect place for a casual dinner and watching the sun go down. Inspired by Italian cooking, if you still want to keep with local tastes we'd recommend the tandoori chicken and beef satay pizzas. Delish!
How to get there:
We flew Singapore Airlines from London to Penang, with a stopover in Singapore. On arrival at the airport the 102 bus service goes to the hotel in around two hours, while a taxi will take around 45 minutes. Guests can also call ahead and arrange a complimentary bus service from Penang International Airport to Hard Rock.
Visit the Hard Rock Hotel Penang website for full rates and availability
> Reveal Travel: Head to the island paradise of Jersey
> Reveal Travel: Go island hopping in Brittany!