Rapping duo Bars and Melody were sent straight through to the live shows of Britain's Got Talent on Saturday when head judge Simon Cowell pressed his golden buzzer.
Bars and Melody, abbreviated as BAM, impressed all four judges. Made up of rapper
Leondre Devries
and vocalist Charlie Lenehan, the boys' performance brought a tear to Alesha's eye and earned them the coveted pass straight through to the live semi-final thanks to Simon.
"I think that record could be a hit, I really do," said the music mogul. "I really, really like you two."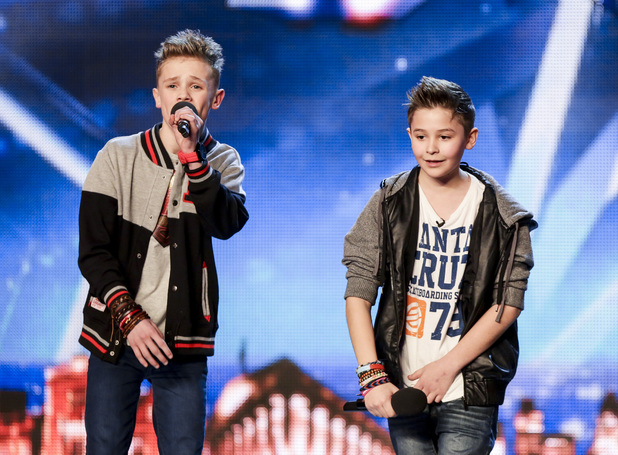 BAM performed a version of 'Hope' by Twista and Faith Evans with their own lyrics, which was inspired by Leondre's personal experience of being bullied in school. Now, the school boys are hoping to win the ITV talent show and are setting their sights on superstardom as big as One Direction.
"Auditioning was just amazing," 13-year-old Leondre tells
Reveal
. "On the scale of how many people were there, it was just nothing like I've ever experienced. It was crazy watching it back with Charlie on Saturday. It's like looking at something that's not yourself!"
Simon was the last remaining judge to press his golden buzzer, and for BAM it was a dream come true.
"It was mental getting the golden buzzer," says Charlie. "Simon is truthful, so if he said to us that we weren't good, then we would have gone away and worked on what we needed to. But for him to say that he liked us and that we were good is just amazing."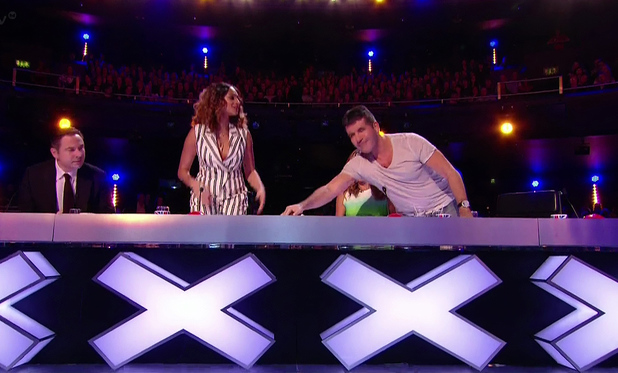 "It's like something that would never happen to people like us, but it has and it just feels amazing," adds Leondre. "Simon's straight to the point and when he said he liked us, it really meant a lot to me because I knew he meant it. To think how successful we could be with Simon's help is a dream come true."
The boys didn't seem nervous auditioning in front of all four judges either. "I love Alesha, I love Amanda and David is the funniest man on earth," Leondre continues. "It's just crazy for them all to say that they liked us. They're four of the most inspirational people in Britain I think."
Just two days since their audition aired, the boys have already racked up quite a following. They were trending on Twitter straight after their performance and already have more than 55,000 Twitter followers, as well more than one million YouTube views.
But what will the boys do for their big semi-final performance? "It's going to be a big surprise," says Charlie. "We can't give too much away. It's going to be similar to our audition but it's going to be a proper production. It's going to be really good."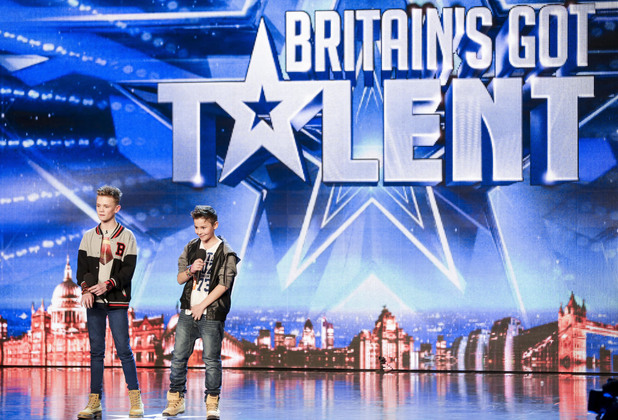 Leondre also explains that the duo have plenty more inspirational songs up their sleeves: "I've written songs for my friends who have been through really hard times. For example, children who don't feel content with themselves. I just tell them that they're beautiful and it puts a smile on their face."
He continues: "I got into music because my mother and father were DJs. They got into the garage scene and from a young age, I've always like garage and MCs. That's inspired me and influenced the way I rap and the way I write as well."
With the backing of all four judges, thousands of fans, and tons of support from their family and friends, BAM are destined for success. "I love our fans," declares Leondre. "I love you bambinos! I just want to tour the world, that's my main dream. To see the world and experience it!"
Charlie adds: "It'd be great to follow the success of people that have become big from the show. Even on
The X Factor
, it'd be great to be as big as One Direction."
Britain's Got Talent returns Saturday 17 May at 7.30pm on ITV.
Got an iPad or iPhone? Reveal Mag has been especially designed to fit!
Watch BAM's audition below: