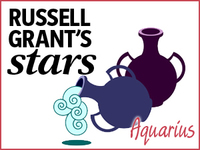 Russell Grant's Daily Horoscopes for Monday 29 July 2013



AQUARIUS 21 January to 19 February
Spending quiet time at home will keep anxiety at bay. You're tired of worrying about things you can't control. Being home allows you to avoid nervous, panicky types. Take this opportunity to pull down the blinds, switch off your mobile and cook some comfort food.
Preparing a big pot of soup or a delicious cake will remind you of what is truly important in life. Invite your favourite friend over to share this bounty. Give yourself a gold star for being smart enough to appreciate your blessings.
> Read more lifestyle and TV news from Reveal
> Read more celebrity and showbiz from Reveal here