Russell Grant's Daily Horoscopes Wednesday 10 July 2013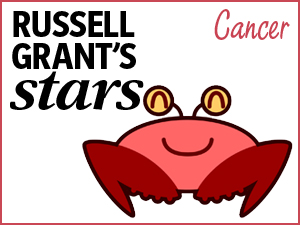 CANCER 22 June – 23 July
Your earning capacity is very strong. If you have your own business, this would be a good time to raise prices for your services or expand your product line to include more expensive items. Most people won't balk at the opportunity to do business with you. That's because you have a talent for understanding people's needs, even when they can't articulate them. Do you work for a company? Put in an application for a raise, promotion, or both.
LEO 24 July – 23 August
Your warmth and confidence opens doors. People are receptive to your particular brand of charm, so be sure and take advantage of the situation. If you need entry to an exclusive club or organisation, you will get it. Others who have been trying for years to gain admission will be incredulous. They don't realise the power of your personality. Fortunately, you are generous with the rewards this membership brings, so you won't be the target of jealousy. Nicely done.
VIRGO 24 August – 23 September
You'll be able to make a great deal of progress if left to your own devices. If there's anything you hate, it's having a micromanager meddling with your methods. You know how to prioritise jobs and get them done with a minimum of fuss. Many people don't realise just how productive you really are, because you rarely broadcast your accomplishments. Maybe it's time to show off a little bit, just as a way to land an upcoming promotion. Be your own advocate.
LIBRA 24 September – 23 October
Friends play a very important role in your life. Make time for social pursuits, even if you're busy with family and work responsibilities. Your nearest and dearest will make you laugh away problems that have been weighing on your mind. In truth, you can handle just about any situation thrown at you. Have more confidence in your abilities. Your friends certainly do. If you're invited on a group holiday, be sure to accept. There's happiness in numbers.
SCORPIO 24 October – 22 November
You'll be put in charge of an important work project. Be as resourceful as possible with materials. Being able to deliver a project on time and under budget will impress the powers that be. If you have your own business, pay careful attention to the place's appearance. Warm lighting, comfortable furnishings and tasteful artwork can make a huge difference to your bottom line. Even if your work space isn't open to the public, it's important to cultivate an air of professional success.
SAGITTARIUS 23 November – 21 December
You're longing for some intellectual stimulation. Taking a class in an unusual subject will be a lot more fun than you expected. You may discover a hidden talent for working with tools. If you're already handy, you will decide to work with a strange medium that draws lots of attention. Don't be afraid to apply new techniques to old formulas. If you play your cards right, you could become the pioneer of a whole new art form. You're a born adventurer.
CAPRICORN 22 December – 20 January
A big investment opportunity is coming your way. You've got great instincts when it comes to this kind of deal and may decide to back a venture involving entertainment, child care, or gambling. Any endeavour that involves an element of fun is good. Even a small investment will pay off handsomely. If you're in a relationship, you'll long to have some private time with your amour. Leave work early for the sake of romance. All work and no play makes tired and tetchy.
AQUARIUS 21 January – 19 February
You're looking for a partner who is strong, dynamic and warm. Fortunately, you know how to nurture these qualities. If you're single, you will meet someone special at a local hangout. Playing hard to get is sure to arouse a newcomer's interest. Make eye contact, hang back and wait to be approached. Do you already have a lover? Schedule a romantic outing. The two of you will enjoy a change of scenery. Being able to focus solely on each other will ignite your mutual passion.
PISCES 20 February – 20 March
You take great pride in a job well done and with good reason. Fortunately, your colleagues and friends appreciate your contributions. Don't brush off their praise; let it sink into your bones. If you're unemployed, you could find a job where you will feel wanted and needed. That's worth its weight in gold. Although the pay scale might be small, you will be able to negotiate a bigger salary than the one you are initially offered, or at the very least additional perks.
ARIES 21 March – 20 April
This is a wonderful time to express your creative side. Whether you enjoy tinkering with machinery, making furniture, or crafting jewellery is immaterial. The important thing is to let your imagination take over. People appreciate your unique, edgy style. It's even possible you will get a chance to sell your work in a local boutique. For now, focus on having fun. It isn't healthy to pour all of your energy into work. The more varied your life, the happier you are.
TAURUS 21 April – 21 May
Home is where your heart is. Entertaining friends and neighbours gives you a big lift. You enjoy being able to feed and nurture the ones you love in a familiar environment. If your place is too small or cluttered to accommodate visitors, do some rearranging. Clear a gathering space so you can sit easily around a table with one or two of your favourite people. It's amazing what you can do when you clear out the clutter and cut down on bulky furniture.
GEMINI 22 May – 21 June
Make a presentation in grand style. Appearance is just as important as content. Whether you prefer to dress the part of a sophisticated professional or a glamorous celebrity is up to you. The important thing is to put together an outfit that will cause others to sit up and take notice. It will also help to include colourful graphs, charts and photographs in your work. Actually people hate slogging through pages and pages of text. Add some visual relief.
> Read more lifestyle and TV news from Reveal
> Read more celebrity and showbiz from Reveal here