Russell Grant's Daily Horoscopes for Saturday 6 July 2013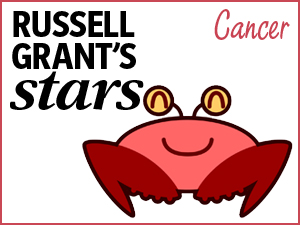 CANCER 22 June – 23 July
It feels like the whole world is conspiring against you. Don't be so forthcoming about your plans. Pursuing an objective in secret will give you a thrill. It will also keep you out of the path of pessimists. If there's anything you hate, it's having a negative person heap scorn on your goals. You can realise a dream, provided you're willing to protect it like a bear guards its cubs. When you do cross the finish line, it will be with a sense of defiance.
LEO 24 July – 23 August
Putting a plan into action makes you excited about the future. You're tired of accepting second best. Working to make your community a better place will take hard work and organisation. Fortunately, you're good at setting priorities. Someone who gets bogged down in petty details should be corrected as soon as possible. You don't want this well-intentioned perfectionist gumming up the works. Put them in charge of a detail-oriented task that will allow them to work apart from the group.
VIRGO 24 August – 23 September
Have an honest talk with your boss. There are many things wrong with the organisation that must be changed. How you deal with these problems will determine whether they get solved. By heaping scorn on the powers that be, you will incur their wrath. The last thing you need is to make an enemy out of an authority figure. Play the part of a concerned team player, rather than an outraged martyr. In time, your suggestions will be implemented and you'll see lots of improvement.
LIBRA 24 September – 23 October
You're ready to strike in a new direction. Doing the same thing day after day has dulled your senses. Getting a change of scenery will be refreshing. Plan a trip to a place that has always captivated your imagination. You'll soon begin painting, writing, dancing, or playing music again. It's even possible you will try your hand at an unfamiliar creative medium. You're on the brink of a tremendous breakthrough. Someone with your intellect needs plenty of stimulation to stay engaged with the world.
SCORPIO 24 October – 22 November
It's important to learn what your financial statements mean. Learning what all the charges and percentages mean will be very empowering. You may decide you're better served putting your savings into a different kind of account. The most successful people know how to make money work for them, instead of the other way around. It's time to join their ranks. Fortunately, you have a natural gift for being resourceful. Putting this talent to use will pave the way for a comfortable future.
SAGITTARIUS 23 November – 21 December
You'll have to put up a fight to get your way. As a general rule, you take an easy-going approach to life. This can sometimes cause you to lose important battles. Dig in your heels and push back against a bully who is always using intimidation tactics. By showing you aren't afraid of their terrible temper you will open the door for a healthier relationship. You have so many good ideas; it's time to put them to good use.
CAPRICORN 22 December – 20 January
You can do the work of three people. Take care not to overstep your boundaries. A colleague who is threatened by your talent won't appreciate your contributions. Keep your nose out of their affairs. If they make mistakes, it will be up to your boss to correct them. Channel your restless energy into pursuits and pastimes to help you burn off excess energy. Working out will ease your anxieties. It will also give you a toned, healthy physique that is most attractive.
AQUARIUS 21 January – 19 February
A romantic rival is vying for your attention. It's important not to take your lover for granted. Take this opportunity to arrange a special surprise for your partner. Give careful thought to the sorts of gifts and activities they enjoy. You might have to endure a trip to the opera or a sports arena, but so be it. If you're single, you might have a hard time finding someone who shares your eccentric tastes. That's why it's important to join clubs devoted to your interests.
PISCES 20 February – 20 March
Doing battle with the family is never easy. You really don't want to let bossy relatives push you around anymore. You deserve to be treated with kindness and care, even if your priorities are different from theirs. If you've been living under someone else's roof, it would be a good time to get a place of your own. Paying your own bills is the fastest way to earn respect. Are you already financially independent? Then you have to be tougher about setting boundaries.
ARIES 21 March – 20 April
Take care not to jump to conclusions. A lurid story will reach your ears and make you see red. Unfortunately, you're not getting all the facts. Be patient and don't repeat this gossip to anyone else. In time, you'll realise this whole tale is being generated by someone with malicious motives. A relative or neighbour's inconsiderate behaviour isn't helping matters. Stop burying your resentment and express your frustration. A cold standoff will ensue, but the frost will soon melt.
TAURUS 21 April – 21 May
You'll have to work harder to achieve the success you want. Whether this means getting an advanced degree, switching jobs, or putting in more hours is irrelevant. The important thing is to move towards your goal as quickly as possible. You've always been a practical person who is more comfortable doing things than contemplating the future. Sometimes, though, your aversion to change can trip you up. Stop clinging to what is familiar and venture into the unknown. You won't be sorry.
GEMINI 22 May – 21 June
Don't hesitate to speak your mind, even if it causes an argument. Lately, everybody has been deferring to an imposing figure. This has created a toxic environment. By speaking the truth to those in power, people will rally to your side. The tyrant who has been setting the rules will try to punish you. When it becomes evident you have too much support to be ignored, improvements will be made. You'll soon become a hero. It's even possible that you could take the helm of a new company or organisation.