Russell Grant's Daily Horoscopes for Saturday 22 June 2013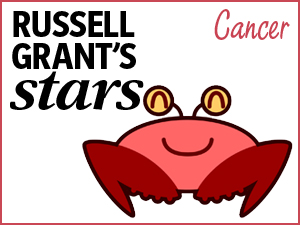 CANCER 22 June – 23 July
It feels like you're invisible. No matter how hard you work, your efforts continue to be unappreciated. Scaling back your efforts will cause people to sit up and take notice. Too often, colleagues and relatives take for granted that the copier is always filled and the refrigerator is constantly stocked. Only when the cupboards are bare do they realise there is an actual person who has been performing this work. At that point, you will be able to command more respect.
LEO 24 July – 23 August
It's hard to find a peer group when you possess such extraordinary tastes and skills. Fortunately, the Internet is a great resource for people with distinctive sensibilities. Go ahead and join an online group that is dedicated to your favourite subject or activity. You will meet some really interesting people who can talk on your level. There's even a chance you'll end up meeting some of these friends at a yearly gathering. Don't be afraid to venture beyond familiar surroundings.
VIRGO 24 August – 23 September
You don't want to get a reputation for being pushy. If a client or customer is sitting on the fence, make a persuasive sales pitch and then give them time to think things through. You can always check in with them after a few days, but do so in a casual, friendly manner. The hard sell will only make people anxious. Conversely, a gentle approach will be met with great appreciation and cause these would be clients to recommend you to friends, family and neighbours.
LIBRA 24 September – 23 October
Although you want to find a place where you can put your knowledge to use, these opportunities will be few and far between. It will be necessary to take a job in an unrelated industry, just to make ends meet. Don't look at this as a permanent situation. The market will get better, but you must be patient. In the meantime, look for opportunities to expand your skill set. You never know when a task you learned at one job will prove helpful in another.
SCORPIO 24 October – 22 November
You're anxious to make a grand transformation, but having trouble pulling it off. Mundane matters like bills, chores and family responsibilities stop you breaking out of a routine. Too many people are counting on you and that's what worries you. Before you throw up your hands in despair, take a longer term view. Take your cues from a friend or older relative who is always growing, changing and learning, they can teach you a thing or two about how to manage your life.
SAGITTARIUS 23 November – 21 December
Your best friend, business partner, or lover is twisting your arm. You don't appreciate the pressure they are trying to exert. Instead of yielding to their demands, you want to bolt for greener pastures. Life seems so much simpler when you are on your own. Before you obey this rebellious impulse, think how your behaviour will affect your relationship. It's better to work through this situation and strike a compromise. If you abandon ship now, you'll never be able to win your friend's trust again.
CAPRICORN 22 December – 20 January
Beware of burning the candle at both ends. Working too long and too hard will take a toll on your health. You need to cut back your hours at the office. You have responsibilities outside of work. Nervous symptoms will ease when you spend more time with friends and family. If you've grown estranged from certain people in your life, now is the time to extend an olive branch. People can't feel valued unless you devote time and attention to them.
AQUARIUS 21 January – 19 February
Flexing your muscles and bragging about your accomplishments won't win someone's heart. In fact, it could drive them away. You're better off adopting a more laid back attitude. Leave all the grandstanding to insecure romantic rivals. Are you already in a relationship? Don't be discouraged if your amour seems a little standoffish. You may need to put the romance back with a little wining and dining. The soft, gentle approach will work wonders.
PISCES 20 February – 20 March
It feels like someone has insulted your family, which makes you really angry. Normally, you're pretty laid back. You can't stand it when someone criticises your loved ones. Before you let fly decide whether these comments are really so bad. It's possible an outsider was just remarking on how different your background is from their own. There's nothing wrong with that. This contrast could actually be helpful. It's often useful to associate with people who have a radically different outlook.
ARIES 21 March – 20 April
It's difficult to communicate your true feelings because you're afraid of seeming foolish. Just because you're not as sophisticated as other members of the team doesn't mean your emotions are invalid. Actually, you are the only one who is considering the psychological impact of a bad decision. If there's anything you hate, it's seeing innocent victims suffer as the result of corporate ineptitude. Don't waste your breath on an indifferent bureaucrat, go straight to the top.
TAURUS 21 April – 21 May
No matter how much wealth you accumulate, you won't be happy. You're the type who needs the warmth and security of friends to thrive. The more you focus on your relationships, the happier you will be. Your craving for expensive luxuries will wane, too. If you have a little extra cash, put it in the bank. Invite friends over for a home cooked meal. The emotional void you feel can't be filled with a shopping excursion. It can only be closed with love.
GEMINI 22 May – 21 June
The more desperate you appear, the harder it will be to change someone's mind. Your best strategy for bringing someone to your side is to make a strategic retreat. Even then, you might not be able to get an extension, reprieve, or refund. If an exception is made for you, great resentment will ensue. You're better off following the rules and commiserating with everyone else who has to deal with such tight constraints. Treat this as an opportunity to make friends.