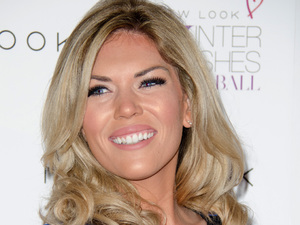 TOWIE's Frankie Essex is blogging every episode of I'm A Celebrity... Get Me Out Of Here! exclusively for Reveal. She'll be giving her frank opinion on her brother Joey Essex and his fellow campmates as they tackle Bush Tucker Trials and live together in the Australian jungle...
Episode aired: Friday 6 December
The end is creeping closer now but I am disappointed we won't get a chance to see Joey get crowned King of the Jungle. Last night was still a great episode, though, despite Joey losing out and coming 4th.
The camp were really missing Alfonso and Rebecca in camp - more so than anyone else who has left before. Maybe it's because the end is nearing. Amy was especially upset, even though she didn't seem particularly close to either of them. Lucy looked a bit put out when Amy said the beans were disgusting, but hey they're beans so whoever cooks them they're hardly going to be gourmet, are they? Lucy is holding her tongue in there so she says - and I think to be honest she is - but I would have more respect for her if she just exploded and said what she thought. All this bitching behind people's back is just wrong.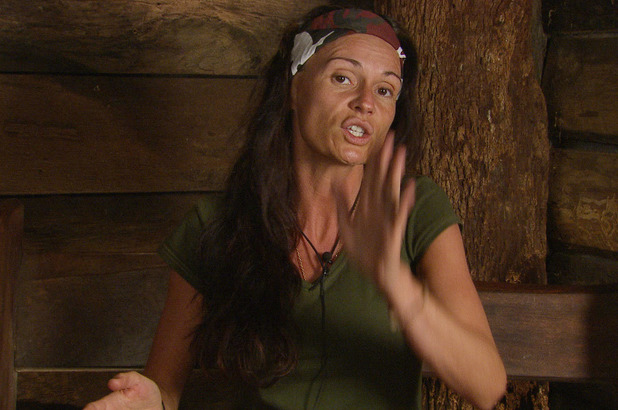 The group trial was the infamous Celebrity Cyclone. All five campmates were dressed in super hero outfits and had to take a deep breath and basically hang on for dear life as water and balls were flung at them from every direction. David was first off, landed on his star quickly and then it was Lucy's turn who didn't do it quite as quickly but not as bad as Amy who got swept nearly the whole way back down! This is such a fun trial - Joey looked like he was having the time of his life! When Kian finally got to the top, huge waves of water and balls came flowing down and knocked everyone to the bottom. Kian was such a gentleman as he helped Amy and Lucy back to their spots, Joey came down and helped Amy as well and then Joey and Kian arm in arm got back up to the top. Five stars for camp!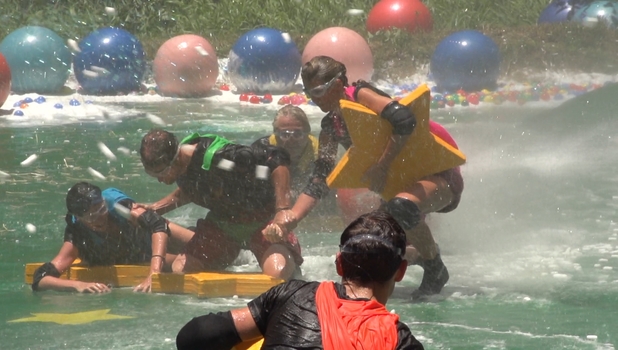 Then it was Lucy vs Amy time agai, which was just boring. Lucy is too uptight and Amy is too young and devoid of responsibility. If I was in there and hungry and there were spare beans going I'd be eating them too. Amy got a bit of time away from camp with David at Dingo Dollar Challenge where they had a painstaking task of picking up coins with tongs and putting them through slots in three boxes. Yawn. We need more exciting challenges than this! After Amy apparently nearly bored David to tears (yeh because he's so interesting himself, isn't he?), they got their dollars and headed to Kiosk Keith for the day's question. How much weight had the celebrities who had been evicted lost collectively? The group went for seven stone but the right answer was 10 stone. I am shocked. Dec said three of them each lost two stone which is madness. Maybe I should try this rice and beans thing!?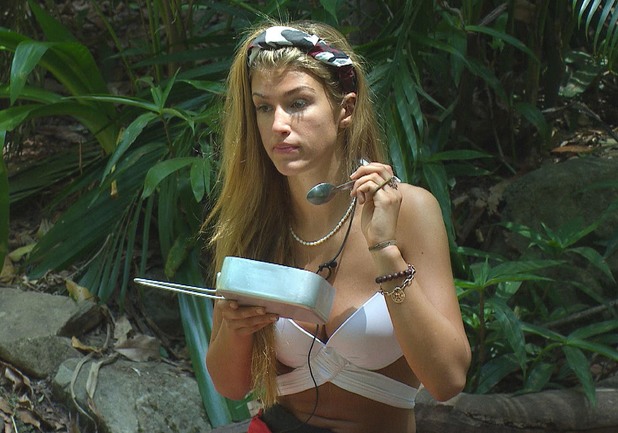 Now Amy, Amy, Amy - a bit of a telling off now from me. She still had stuff she wasn't allowed to have in camp which wasn't doing her any favours. How on earth has she smuggled all this stuff in?! All those bikinis and extra make-up... She must have had an extra bag! Doesn't say much for the people who work on the show who checked everyone's stuff when they went in, does it? She wasn't happy to hand it all in and only really did it because everyone told her to. It was very naughty and I would have been p*ssed off if I was there so I fully agree with what everyone was saying. Kian is very clever though, he will say what he thinks but only in a roundabout way - like he said "people will think Amy's selfish" rather than "I think Amy's selfish". He's very diplomatic with what he says. Clever boy.
Next up was a great reward and challenge for everyone. Finding phone numbers in camp to call from the phone box to speak to their loved ones. The only number that wasn't found was Kian's and he tried to hide it, but you could tell he was upset about it. But then again he actually saw his wife Jodi not long ago, so he's had it better than everyone else anyways. Amy was crying her eyes out when she spoke to her Mum. And Joey got to speak to Dad. His little face lit up - him and Dad are so close.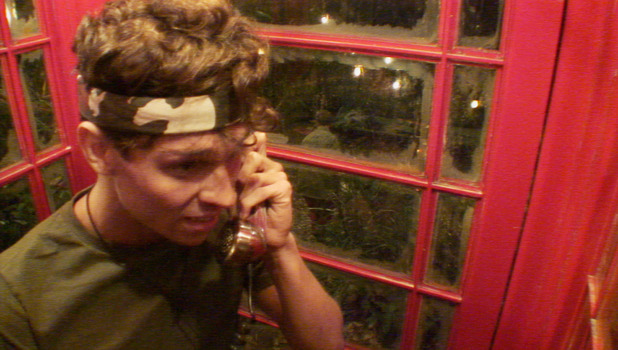 Dinner time in camp and the celebrities were rewarded with bonito fish, veg and potatoes for their five star win earlier on. Joey cooked the whole meal by himself and I'm so proud of him! Kian was right, he really has learned so much in there. Maybe we WILL let him cook Christmas dinner after all this year... Well, as long as it doesn't end up being octopus or anything gross like that!
But then came the worst part of the night by far. Ant and Dec revealed Joey and Amy were both to leave camp. Oh my god, I could not believe it. Shocked is not the word. It was sick - and not good sick. I really thought it would be between him and Kian in the final. I cannot believe Lucy has stayed in over my baby brother after all her bitching and whining - so unfair! I had a lot of tweets last night from people who were so shocked he had gone. Although regardless of where he came he did so well, he did the most trials, he has by far been the most entertaining and probably learned the most out of everyone. He told Ant and Dec he learned more in the jungle that he has in the last three years! He is my King of the Jungle and I am so proud of him and so is Dad and I know Mum will be beaming down on him with delight at how well he's done and how much he's grown. I'm backing Kian to win now. If Lucy wins I'm calling Ofcom I swear! What YOU sayin'?
I'm A Celebrity... Get Me Out Of Here! continues tonight (Saturday 7 December) at 9.45pm on ITV.
Full
I'm A Celebrity
lineup below:
Copyright: ITV