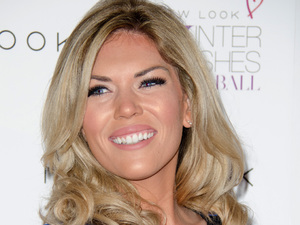 TOWIE's Frankie Essex is blogging every episode of I'm A Celebrity... Get Me Out Of Here! exclusively for Reveal. She'll be giving her frank opinion on her brother Joey Essex and his fellow campmates as they tackle Bush Tucker Trials and live together in the Australian jungle...
Episode aired: Thursday 5 December
I had loads of my family round for dinner last night and afterwards we all settled down to watch the show and see what our Joey has been up to.
The camp had to organise jobs because, after Steve's departure, there was one less person in camp. David and Alfonso were sorting out a schedule and were deciding when to do the dunny, but then Joey appeared and said he'd already done it. Instead of everyone being grateful, they acted as if he had ruined their routine. Come on, who wants to empty a big pot of poo? Just be happy that Joey's done it, he's only trying to help!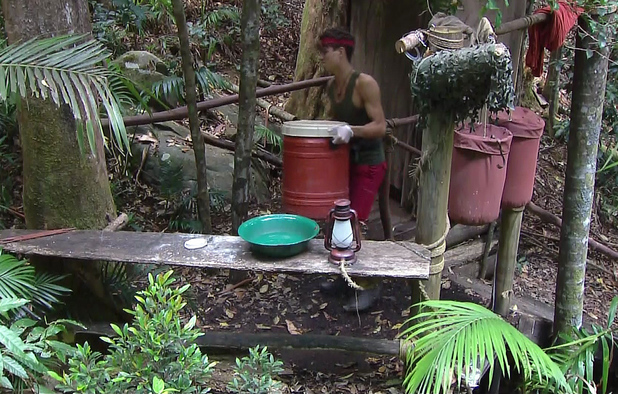 Amy put herself forward for the Bush Tucker Trial after finally being allowed to do one by the rest of the camp. To be honest, I think she was glad to get out for a bit. The camp seemed a bit suspicious of how Amy manages to look so good all the time, and David commented on how she always comes back looking "camera ready". The camp also wondered what was in Amy's rucksack, which she calls Betsy, especially following the whole contraband issue with her make-up earlier this week.
Amy is just naturally pretty. We don't all look like that with no make-up on or without our hair done, but she does - she's lucky! Amy's trial was called 'Surf and Turf' and she had to take a key and crawl through a tank, going past spiders and snakes, and then dive into water to unlock a coloured box. She had to go back and forth for every key.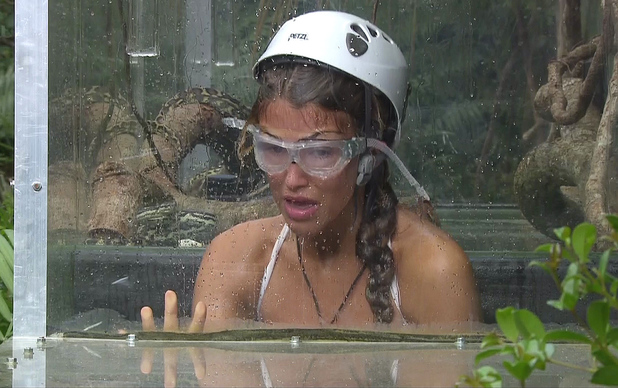 Bless her, she was talking away to herself a lot, but I thought she did so well. She was really scared and running out of breath, but she carried on going right till the very end. She ended up with six out of seven stars, which is great. David still had a moan about her though, saying she took centre stage when she got back, but doesn't everyone when they come back from a trial? They really need to give Amy a break, it's getting on my nerves now.
Joey and Alfonso had to do the daily Dingo Dollar Challenge and were dressed up as cockroaches. Joey looked so funny in his costume! The pair had to dig through slime to find eggs with numbers inside. They then had to put them together to make an equation.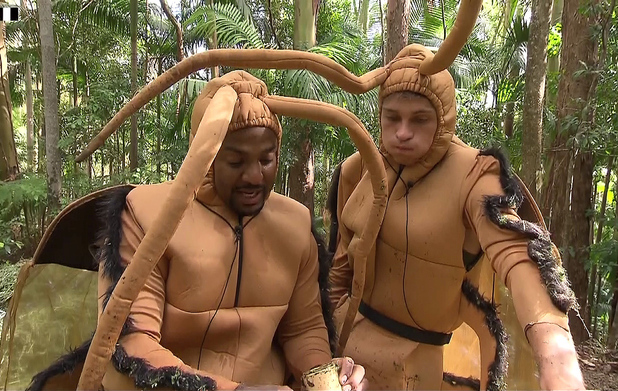 After winning, they headed down to Kiosk Keith for the day's question which asked, 'what percentage of men think their women look better with make-up on all the time?' The camp went for the lower percentage, which was still more than half the men surveyed, and got it wrong. What sort of men are they surveying? Definitely not my sort of man! Anyway, it was another day and another treat lost, and Alfonso was not a happy bunny.
There was another fun game for the camp later on, as they had to do a series of challenges in which they would compete against the likes of Dermot O'Leary, Ashley Roberts and Peter Andre. Lucy lost her challenge because she couldn't hula hoop and she even said she didn't care as she would be out soon. I think she's just trying to get votes though. I'm really not a fan of Lucy and I don't like her attitude either. Rebecca was the only other one who lost, but all the others went off for a few hours to enjoy a hot tub party!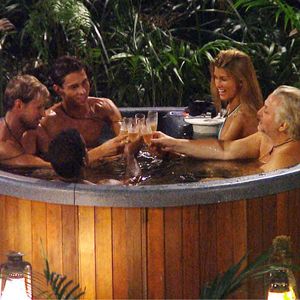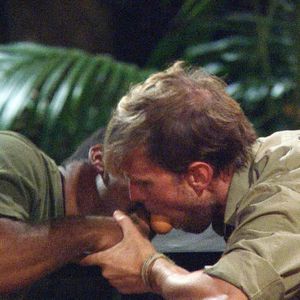 Kian and Alfonso also did a small challenge to win chocolate dipped strawberries for the winners. They basically had to pick up six eggs between both of their mouths and move them into an egg box. It was so funny and Kian couldn't stop laughing at first when their lips got a bit too close! Alfonso even said that if he was going to have his first gay experience, it might as well have been with Kian and for a win!
Everyone really enjoyed themselves in the hot tub as they sipped on champagne. Back in camp, Lucy was saying that she doesn't like "egotisitcal" people and said she'd hate to be like that. I really don't know who she thinks she is, does she think she's been nice and lovely the whole time?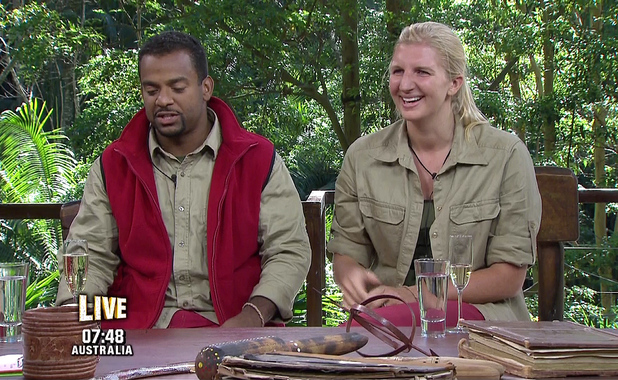 Joey was in charge of cooking the dinner last night, which was octopus. He did drop it on the floor but Lucy was like, "oh well, five second rule!" David said it was the best meal he's had in camp. Go Joey! I totally think my brother should release a cookbook called 'Joey's Reem Jungle Delights'.
It was then announced to camp that both Alfonso and Rebecca would be leaving after the public vote. Alfonso was crying tears of joy at the thought of seeing his family and Rebecca seemed ready to go. I do think the right people went, even if other people annoy me more, they are giving us entertainment I guess.
I'm A Celebrity... Get Me Out Of Here! continues tonight (Friday 6 December) at 9pm on ITV.
Got an iPad or iPhone? Reveal Mag has been especially designed to fit!
Full
I'm A Celebrity
lineup below:
Copyright: ITV