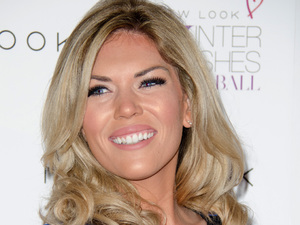 TOWIE's Frankie Essex is blogging every episode of I'm A Celebrity... Get Me Out Of Here! exclusively for Reveal. She'll be giving her frank opinion on her brother Joey Essex and his fellow campmates as they tackle Bush Tucker Trials and live together in the Australian jungle...
Episode aired Tuesday 3 December
The best thing about last night's show was Alfonso teaching the whole camp the Carlton dance from
The Fresh Prince of Bel-Air
! It was 'totes amaze', as we say here in Essex! I loved it!
Joey couldn't get the hang of it could he? Bless him though, he ended up retreating to his hammock. Every now and then he stood up to have a look at what was going on, did a few little moves and then collapsed again with defeat. It was funny to watch. Vincent was really good, but then again, he is a professional dancer. Rebecca really got into it too, she was totally loving Alfonso's dance lesson.
Along with Matthew in his white bikini, Alfonso teaching the Carlton dance has been my main highlight of this year's show! I have to say, Lucy is coming across as really boring. She sat with a face like thunder the whole time, saying it was cringeworthy and that she wasn't getting involved. I think she really is a moany cow. Why is everyone dancing and having fun embarrassing?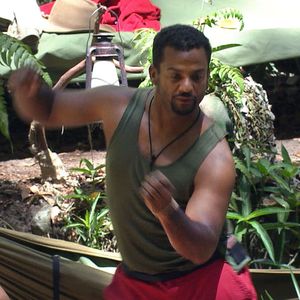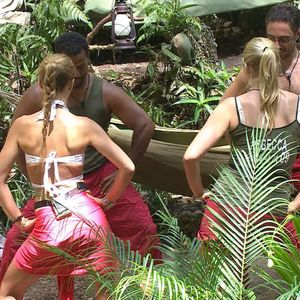 We had a bit of light relief last night, not only with the dancing but with Steve's Bushtucker Trial. He seemed really excited to be doing it, so much that he fell into the lake before the trial had even started! It was hilarious. Dec finds it hard to keep a straight face at the best of times but last night he couldn't help but to burst out laughing with Ant. They were cracking up. That whole scene actually reminded me a bit of
Total Wipeout
!
Steve only managed three stars out of 10, but to be fair it was a hard task. He only had ten minutes to dash back and forth across the rocks with the stars. I think it's fairly impossible to get all 10 stars unless you are an athlete or a gymnast who is really good at balancing.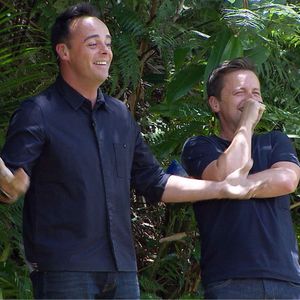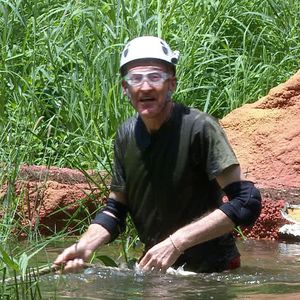 When it was time for the Dingo Dollar Challenge, Joey and Rebecca headed down to try their luck. It was quite a painstaking task with the giant jigsaw but Joey loved doing the counting and took full authority on that one. Although when he sat down, he was amazed by the stick insect and kept on asking if it was real or made of wood. Joey has always been fascinated by nature like that.
Even though they got the dollars, the group got the question wrong, which asked if adults have more fun at 26 or 68. It was clearly a trick question - 26 was too obvious - but they chose the obvious answer and got it wrong. That meant there was no chocolate brownies for anyone!
It was eel for dinner with the three stars that Steve got. Not everyone was especially pleased about it, but Joey certainly was. You have to remember that Joey worked at Billingsgate Fish Market with our Dad, so he's tried loads of fish and really likes it. In fact, Joey isn't very fussy about food at all. Lucy said her meal tasted like a battery and that it didn't seem cooked. Well everyone else's was cooked! She needs to stop moaning, she's not exactly a ray of sunshine is she?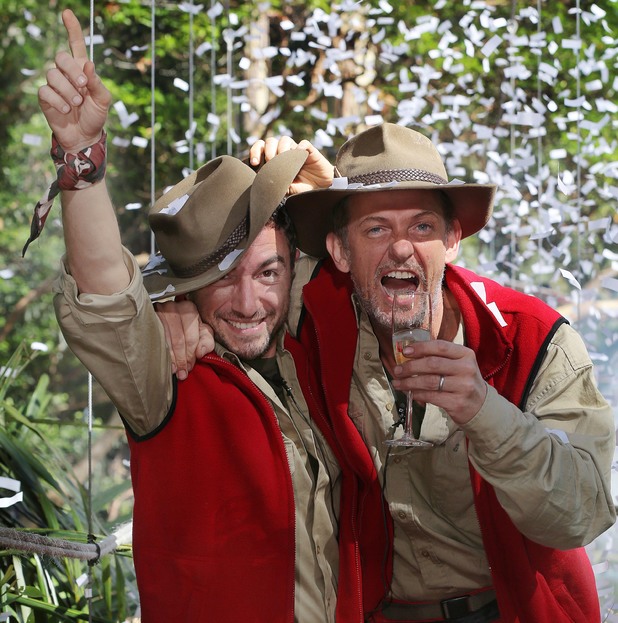 Then it was time for the camp to learn that not one, but two campmates would be leaving, and those two were Matthew and Vincent. To be fair Vincent annoyed me when he first came in but recently he hasn't had much screen time, so I'm not surprised that the public voted him out.
Matthew has been entertaining, annoying and fun to watch, but again his screen time has dwindled somewhat the last few days. Vincent told Ant and Dec that he wanted Joey to win and Matthew wants Kian to win. I do think that Joey and Kian will be the final two, but I think Joey will clinch it.
I'm A Celebrity... Get Me Out Of Here! continues tonight (Wednesday 4 December) at 8.30pm on ITV.
Full
I'm A Celebrity
lineup below:
Copyright: ITV