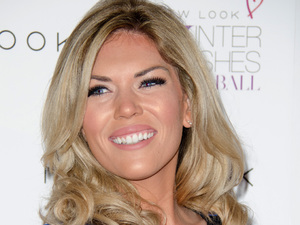 TOWIE's Frankie Essex is blogging every episode of I'm A Celebrity... Get Me Out Of Here! exclusively for Reveal. She'll be giving her frank opinion on her brother Joey Essex and his fellow campmates as they tackle Bush Tucker Trials and live together in the Australian jungle...
Episode aired Thursday 28 Novmeber
So the show started yesterday with a lot of the camp woken up by Vincent Simone's snoring! It didn't upset our Joey though, he was practically dancing around and rapping to a song he had made up! Love it! It was a nice bit of light relief before Lucy Pargeter took on her Bush Tucker Trial and before quite a few fireworks began to go off!
Lucy made her way down to the Bush Tucker Trial clearing with loads of support from the rest of the camp. She was feeling the pressure after everyone else had done so well but she seemed excited to be able to give it a go. Lucy had ten minutes in a limo to find stars among lots of disgusting things such as guts, cockroaches and rats! She gave a few little screams, but overall she handled it really well and got 10 out of 12 stars - well done Lucy!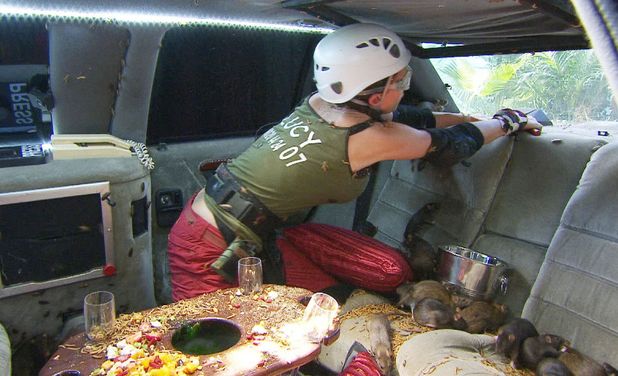 It was a hot day in camp yesterday and the campmates were all sweltering. There is a canopy above the camp which can be pulled down when there is heavy rain to shelter everyone. The campmates wanted it pulled down to give them a bit of shade as it was so hot, but they were told it wasn't going to happen. Matthew Wright decided he wanted to start his own revolution and told the rest of the camp not to speak until they get the canopy down. The thing is, Matthew was the only one that seemed bothered!
Lucy arrived back in camp after her trial and instead of keeping up the silence, Kian Egan asked her how her challenge went, much to Matthew's annoyance! Things got a little heated and Matthew called Kian a "scab", adding that he was undermining the strike, but Matthew was the only one who wanted to do it! I think camp life is really getting to Matthew now. I agree with Kian and I think he was in the right. When someone gets back from a trial it's important for them to be able to talk about it and be congratulated on it. You could tell that Alfonso Ribeiro wasn't impressed with Matthew and as he rightly said, there are bits of shade in camp, just not on people's beds.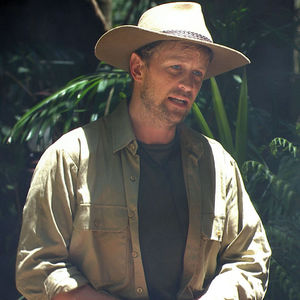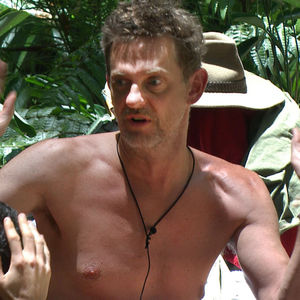 Vincent and Annabel Giles then headed down to do the Dingo Challenge to see if they could win a treat for camp. They had to get some large fake flies into a fake spider's web to bring the dollars down, all with Vincent dressed as his worst nightmare – a giant spider! It was good comedy value with Vincent dressed up, but I thought the challenge was actually quite boring. It took Annabel ages to figure out how to move Vincent back and forth but eventually they did it, and headed down to get the question for camp. The pair decided they would rather have chocolate biscuits as opposed to tea bags and I thought this was a good choice. I love a good cup of tea but I don't know how many people drink it without milk, and besides, I'm sure everyone would really appreciate a bit of chocolate. The camp lost the challenge though, so they missed out on the treat anyway.
Back up in the treehouse, we saw Joey and Amy Willerton having fun and playing games. Annabel called them "kids", which I think was a bit rude. Yes, they are young but Joey has won the most meals for camp and acts like a total gentleman in there. Amy then sneakily gave Joey a piece of chewing gum which she had smuggled into camp! David Emanuel was immediately summoned to the Bush Telegraph and told unless the contraband items were surrendered, then they would only be getting seven out of the 10 meals that Lucy won in her trial. Amy gave up her chewing gum, but she wasn't too happy about it! Vincent then said that the only place he would be able to smuggle anything would be in his pants but there isn't ant extra room in there! He's quite funny. David also gave up his torch. I was a bit baffled as to why he bought a torch into the jungle in the first place. Slowly, other campmates began to give up their stuff including soap and hand gel too.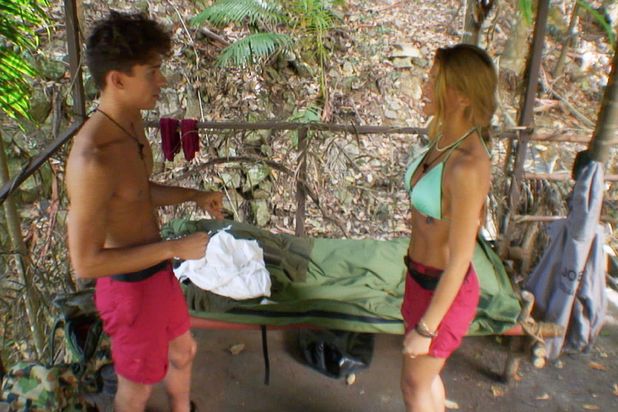 It soon came to dinner time and the camp got a great meal with the ten stars. Kian took charge of the cooking and Matthew blurted out that the night before, the food was very overdone and horrible, so he agreed with cooking the meat medium-rare. Alfonso wasn't very happy with Matthew's comments, saying he doesn't think before he speaks. I like that Matthew has an opinion but he just doesn't seem to care if he hurts people's feelings along the way. All he had to say to Kian was, 'yes medium rare sounds good', with no sarcastic comments, but he couldn't manage it. Why didn't he cook his own food if he was that bothered because I don't see him volunteering? Alfonso said that he was close to erupting over Matthew's behaviour, and I can't wait for fireworks between thoee two! It's been building for a while now and it's all getting very tense in the camp, so watch this space!
Finally, Ant and Dec arrived in camp to announce that the voting had not been for a trial but for two people to become Camp Saviours. The Camp Saviours decide which five campmates get immunity from the first public vote. That privilege was awarded to Kian and Joey, who have to do a trial. I think that was a good choice by the public! Now, I just wonder who they are going to choose to save.
I'm A Celebrity... Get Me Out Of Here! continues on Friday 29 November at 9pm on ITV.
Full
I'm A Celebrity
lineup below:
Copyright: ITV