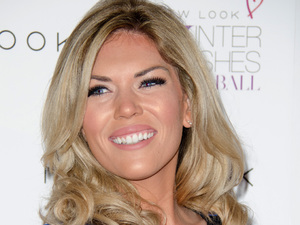 TOWIE's Frankie Essex is blogging every episode of I'm A Celebrity... Get Me Out Of Here! exclusively for Reveal. She'll be giving her frank opinion on her brother Joey Essex and his fellow campmates as they tackle Bush Tucker Trials and live together in the Australian jungle...
Episode aired Wednesday 27 Novmeber
After a night off for the football (snoozefest),
I'm A Celebrity
was back with a bang and finally the drama has begun!
Amy Willerton is tired. She's very, very tired, as she has said over and over again. Lucy Pargeter and Steve Davis were basically taking the mickey out of her asking why she only sleeps for three hours on the outside world and how she could possibly be so busy. Amy told them that she replies to her emails in the evening and Lucy was like, "from who?" Amy didn't really clock on, bless her. I imagine she gets more than three hours sleep though! Maybe not when she's doing Miss Universe and has to fly everywhere, but I think it's a bit of an exaggeration!
Later, when Amy got upset, Rebecca Adlington gave her a big hug, and was soon followed by Joey and Alfonso Ribeiro, who gave her some words of comfort. I'm not really sure why she was crying, when no one has really said or done anything to her. But I think Steve is probably right when he said that they are all in the public eye and are used to being the centre of attention. Amy is young and we have to remember that it must be hard for her. She may travel for work but in the real world, she'd still be able to call people she knows. In the jungle, she's completely on her own.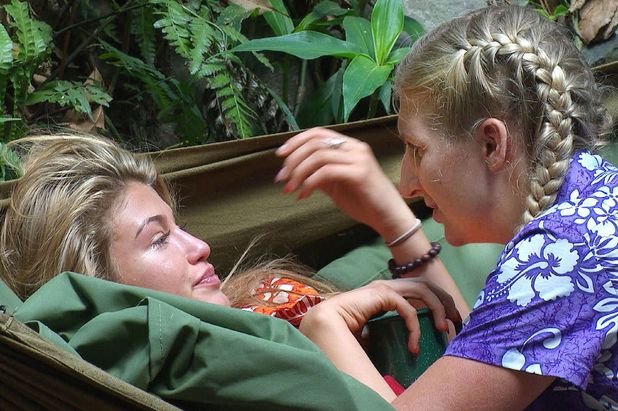 There was no Bush Tucker Trial for Joey last night and he felt good about it, so it was time for Kian to show us what he's made of. Kian wasn't bothered by anything in the cave, except for when the spiders were biting his leg and he was almost having a chat with the rats! This was another claustrophobic trial and I can imagine how I would have been panicking in there because it was in such a confined space. With time to spare, Kian made it out with all nine stars. Although he did very well, sometimes it's better when someone struggles because we all love the screams and drama, and watching the campmates go hungry always brings on the arguments.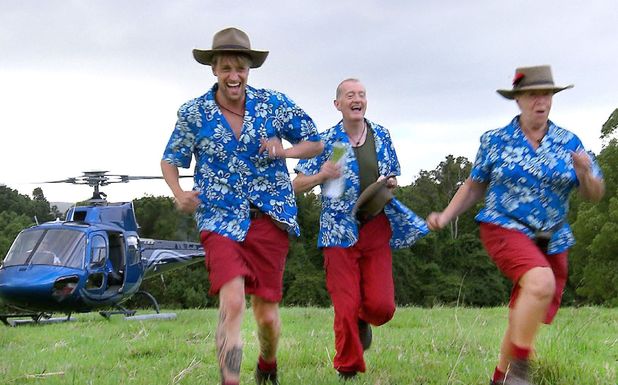 For the Halfway Holiday challenge, Steve was convinced that his team was going to win over David Emanuel's. I do like Steve, his humour is very dry and he's not boring as everyone used to think he was. It was a quiz style game and when you got a question right you had to pick a suitcase to see if it contained a ticket to luxury or some other nasty surprise! The blue team galloped to victory and Laila 'Mo' Morse, Steve and Kian headed off to the waiting helicopter. After taking in the views they landed at the most beautiful villa I have ever seen with an amazing infinity pool. If that was me the best two things would be the hot shower and being able to use a proper toilet! The trio settled down in their dressing gowns to a delightful meal and a chin wag, and yes, they had a bit of a gloat too!
Meanwhile, back in camp Matthew Wright began his cooking tutorials with everyone, making sure that the Emu steak was cooked properly. Joey had no idea an Emu was a bird either! Then after dinner they all headed down for a night of terror on the bus. As the cockroaches began to fall, Annabel Giles was screaming the place down like no one's business! Matthew calmed her down and then it was Rebecca's turn to get teary eyed at the snakes. The last challenge was to spend 30 minutes with hundreds of rats. I thought everyone did really well, but I also think it was quite an easy task for 12 stars.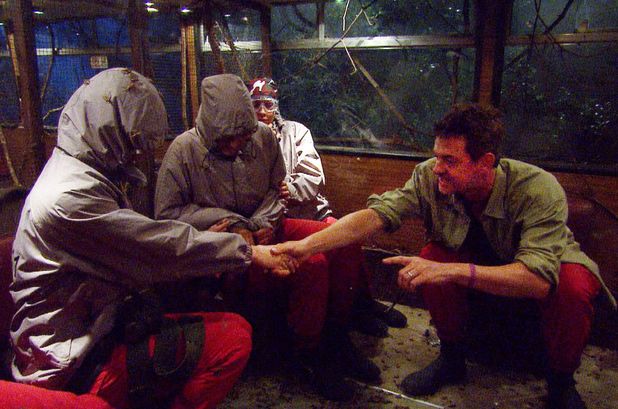 There was a bit of comedy from Vincent Simone last night when he fell out of his hammock! It was so funny. But things got pretty emotional back at the luxury villa as Kian, Mo and Steve were surprised by a visit from their family. There wasn't a dry eye in the house was there? Even I welled up when Kian turned around and saw his wife Jodi Albert and then tears started running down his face. Forget the food and the hot showers, that was easily the best thing about winning the luxury night. As they headed back to camp they told everyone about the amazing surprise they had and everyone was ecstatic for them.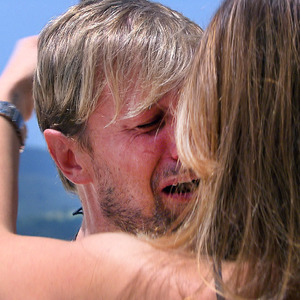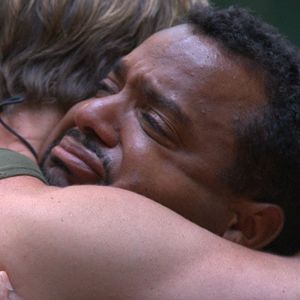 But the tears started again when they were told they all had messages from their loved ones. Dad sent his love and support to Joey – Joey will take things like a man but I know he would have been welling up inside! We are all so proud of him. What got me was Alfonso being told that his baby smiled for the first time yesterday. It must be so hard to be away from your child, let alone a newborn baby.
Lucy is up for the next Bush Tucker Trial called 'Limo Scream', and I think she may have been chosen because of her little digs towards Amy. I think she'll do quite well though, but we'll soon find out!
I'm A Celebrity... Get Me Out Of Here! continues on Thursday 28 November at 9pm on ITV.
Full
I'm A Celebrity
lineup:
Copyright: ITV