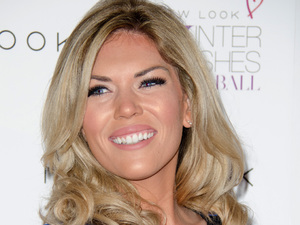 TOWIE's Frankie Essex is blogging every episode of I'm A Celebrity... Get Me Out Of Here! exclusively for Reveal. She'll be giving her frank opinion on her brother Joey Essex and his fellow campmates as they tackle Bush Tucker Trials and live together in the Australian jungle...
Episode 1, aired 17 NovemberFinding out Joey was going into the jungle...
I was so excited to see my little brother on the show last night.
When Joey told me he was going into the jungle, it was actually filmed for
TOWIE
but the scene didn't make the final edit. It was quite emotional; he was crying, our cousin Chloe Sims was in tears, and so was our nan. I then ended up in tears because everyone was crying!
Last night, I actually ended up watching the show on repeat because I came back late from dinner, but as soon as I got home me and my boyfriend got settled, and I made a cup of tea and tuned in to the show.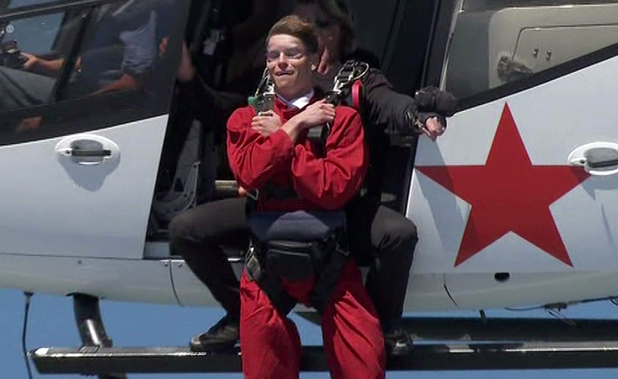 I remember speaking to Joey before he left and he said that they change it every year and he didn't reckon he would be jumping out of a plane. I joked that it would be helicopters, which would be even worse. We were joking about it and Joey seriously thought that he wouldn't have to do anything like that. You could see last night that he really wasn't prepared for the jump. It was so emotional watching him and I was crying my eyes out! I was so proud of him and overwhelmed with it all, that's my little brother I'm watching.
A mother figure for Joey...
He came across brilliantly and he's settled in so well. As soon as I found out that Laila Morse was going in, I knew he would be okay and that she'd look after him. She's from the East End and so is our family. We're kind of cut from the same cloth and even though she's older and Joey is just 23, they'll have stuff to talk about. My mum and my nan's family were all brought up in the East End, so it's little things liked that which will make them bond.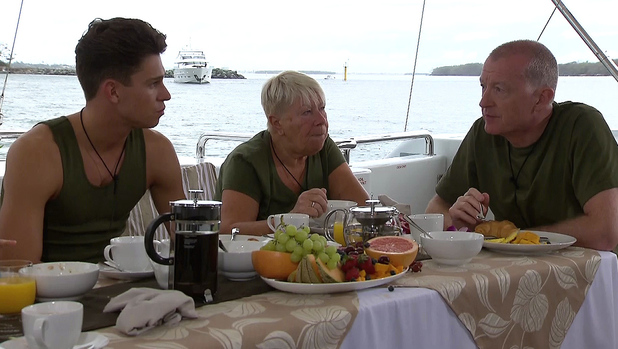 I laughed so much when Joey greeted Laila saying: "You alright Mo?" Laila will be be a maternal figure to Joey, but he'll look after her too. When they were running down the beach and Joey was holding her hand, I was thinking, "Yes, that's my boy!"
Joey finding romance in the jungle...
There could be romance on the cards for Joey and Amy. There's something about her, and I think Amy and Joey might kick it off. I actually know Amy and I thought she wasn't going to be fun and might actually have been quite boring, but watching the show last night I'm not too sure. At first I think Amy gives off a bit of a front, but when you see her in the camp with no make-up on and in her gear, then I think she might show her real self - but I don't know what that is.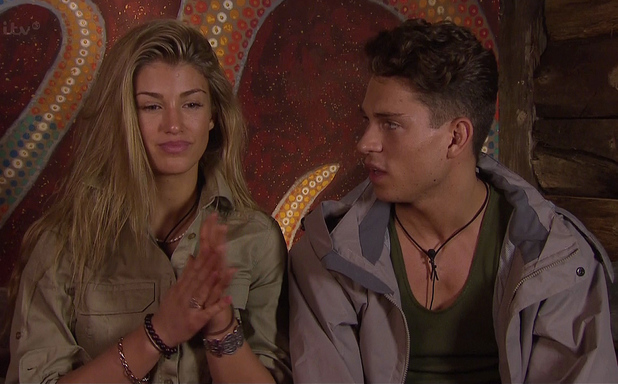 I've got this feeling that she's going to be a down to earth girl. I've met her a couple of times, and some people might think she plays the young pretty girl image. In my eyes, there's more to her than that. I do think that with her personality, she'll be quite deep and Joey is quite a deep person. If there won't be a romance, there'll definitely be a big friendship. Joey will look after Amy, he likes that role of looking after people.
Taking part in trials...
Joey's so lucky that he got lizards in his task because I'm telling you, he would have p***ed himself if he got spiders! The lizards aren't even scary and Joey used to love them when he was younger, he used to pick up frogs and everything. I don't know what's happened to him!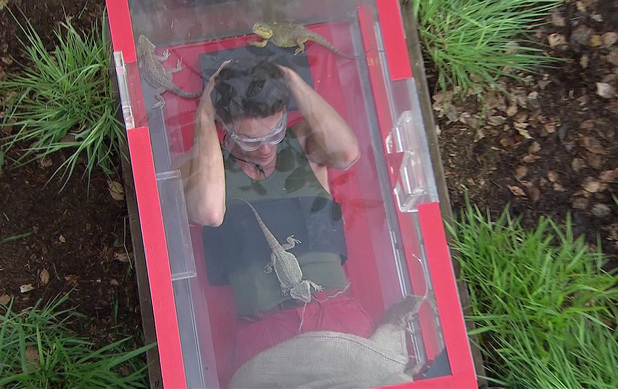 Joey will be doing tonight's task against Matthew and I don't know how he is going to get on. I reckon Joey will do better than Matthew and I think he'll take one for the team, although I don't think he'll complete it all. The thought of him having to eat stuff will make him sick but he knows he has to do it for the team. He also doesn't like letting people down, but there's one thing for sure, he'll take his time during the trial! He'll ask every single question like 'Will it kill me? What will it do to me? Will I die?' He'll try and get out of it, but he obviously can't.
Support for Joey...
Twitter has gone mad with support from
TOWIE
co-stars and celebrities like Phillip Schofield and Holly Willoughby. When Ant and Dec said nice things about Joey, I was really grateful to them for saying that. Joey is coming across really well and his campmates seem to love him too. I'd definitely get defensive if anything bad is said about him though. Everyone loves Joey, and I just hope everyone loves him for who he is. I want him to win for himself and for Essex. He's going to do it for my dad as well, to make my dad proud.
Here's what I think of Joey's campmates so far:
Amy Willerton: I've met her before but from watching the show I think she's a nice girl. She seems quite down to earth, I like her. It seems like she's willing to give it a go.
Laila Morse: I love, love her and I think she's brilliant. She reminds me of my nan - she can have a laugh but she'll still look after you. You just want to cuddle her.
Lucy Pargeter: I don't know whether she's annoying or funny. I'm just not sure how to take her right now. She annoyed me when she said she didn't care about the competition because why is she in it then? She gave Joey a meal last night but she just laid in the tank, so I couldn't work out if she was scared or not.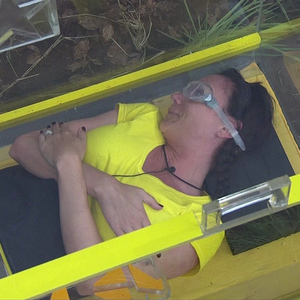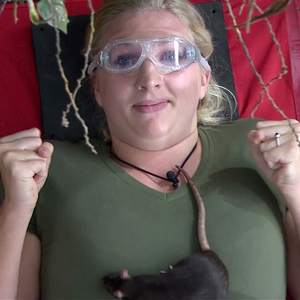 Rebecca Adlington: I think she's brilliant and she actually reminds me of myself! You think she's strong but maybe she's not really and she's just an ordinary girl. I think she's also quite impatient, which is like me, but I think people might get annoyed with her personality, though.
Matthew Wright: He is so annoying! I just can't work him out. I think he could be like Helen Flanagan, in the sense that he acts really squeamish but then he'll completely smash a trial! I wonder if he's pretending to be scared. It doesn't seem real, it's like a delayed reaction.
Alfonso Ribeiro: I love him. He's so cute and really funny. When he cried I could tell that he's a really nice man. He's got a heart and he was taken aback by the task, he probably never thought he could do something like that. I was proud of him last night, he seems like a really nice guy and I think he'll go far in the competition.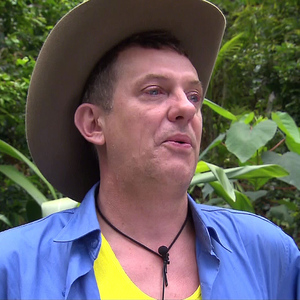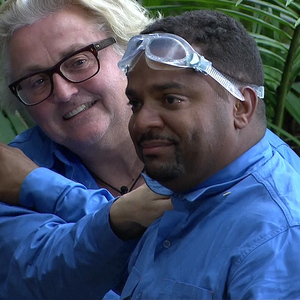 Steve Davis: I like Steve and he'll look out for Joey and take him right under his wing. Joey is really close to our dad and I think he has respect for Steve already. Laila and Steve are the mummy and daddy in the jungle for Joey.
Kian Egan: He's lovely but we haven't seen much of him yet. He done quite well in his task and it was his idea to give the red team a meal, so that was really nice. I think he'll do well and complete trials at ease. He's a strong member for the team.
David Emanuel: I love him, I think he's brilliant. You can tell that he has never been in that situation before but he's taking it in a really good way. It was so funny when he was trying to find somewhere to hang up his coat when they were stranded on the island! That's something I would do – I'd try to make it like home! David seems like a really nice guy and just really friendly.
I'm A Celebrity... Get Me Out Of Here! continues tonight at 9pm on ITV.
Check out the full 2013 lineup for
I'm A Celebrity
in pictures below!
Copyright: ITV