These monkeys are just adorable! Wild Japanese macaques were recently pictured attempting to keep warm in freezing temperatures - and one fluffy fellow couldn't resist trying to catch snowflakes on their tongue.
We've all tried that before! But probably not in minus five degree Celsius like these guys, who were spotted sat in a hot pool of water trying to keep warm. How cold does that look?!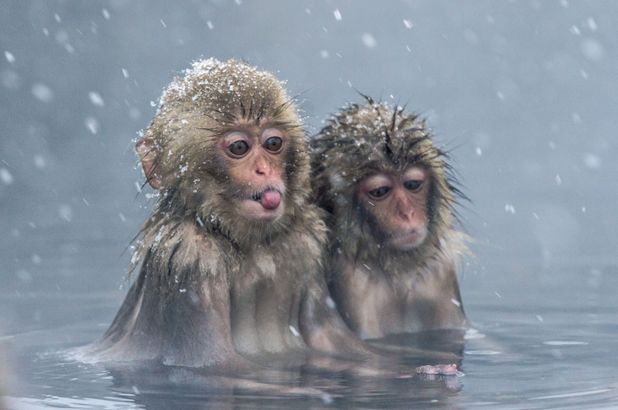 Based in the Jigokundani Monkey Park in Yamanouchi, Japan, the macaques spend their winters hopping from the hot springs during the day, and return to the surrounding forest at night.
This duo were not the only "snow monkeys", as locals call them, enjoying the hot springs - around 80 macaques were also in the water bathing, playing and even fighting for the best spots. Like one massive pool party!
Some brave monkeys decided to leave the warmth of the water and cool themselves down. But as this fellow showed, taking on the freezing snowstorm is no walk in the park...
The young monkey who risked climbing onto the rocks curled up his toes and opened his mouth in surprise. Get back in the water!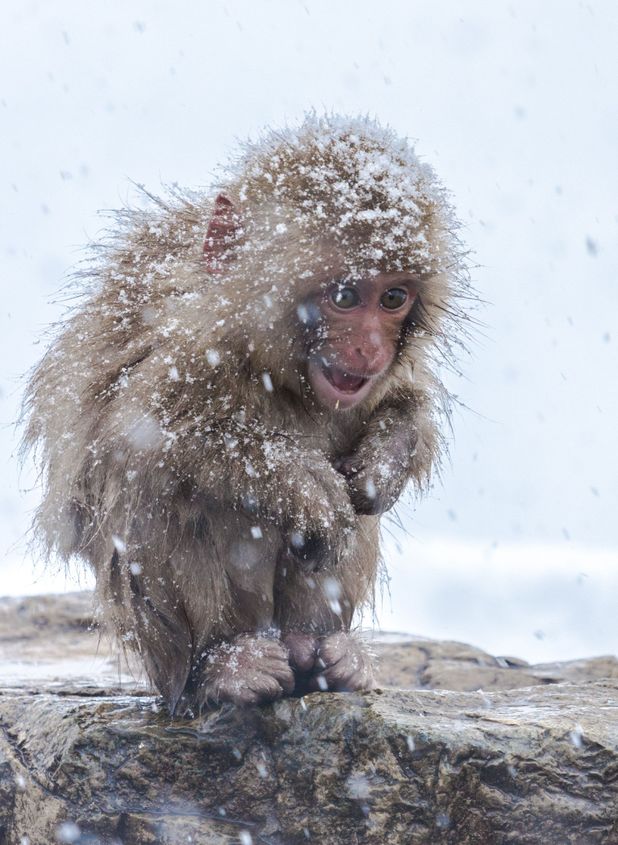 Julia Wimmerlin, the photographer who was lucky enough to spend time with these cuties up close, explained a bit about their fascinating behaviour.
She said: "Snow Monkeys go to the valley during the winter, foraging elsewhere in the national park during the warmer months.
"The monkeys descend from the steep cliffs and forest to sit in the warm waters of the onsen or hot springs, and return to the security of the forests in the evenings."
Julia added: "I was there for three to four hours for two days. Some macaques never got out of water during all my stay there, the others would go out and sit on snow obviously freezing.
"Their expressions change consistently and these 'sad' moments must have come from the fact that a snowflake sat on its nose or he felt like he had to move while being comfortable and warm."
Yep, we'd look sad about that too!
For exclusive competitions and amazing prizes visit Reveal's Facebook page NOW!