It's Fluffy Friday! This week a celebration is in order, preferably with cake, because a critically-endangered Western lowland gorilla has been born!
22-year-old Effie gave birth to the healthy baby boy in the early hours on Wednesday 25 November, and as you'd expect from a newborn gorilla, the new arrival is seriously cute.
After an eight and a half month gestation period, the teeny primate was delivered safely and in no time the cutie was wrapped up in his mum's arms! Looks very cosy to us.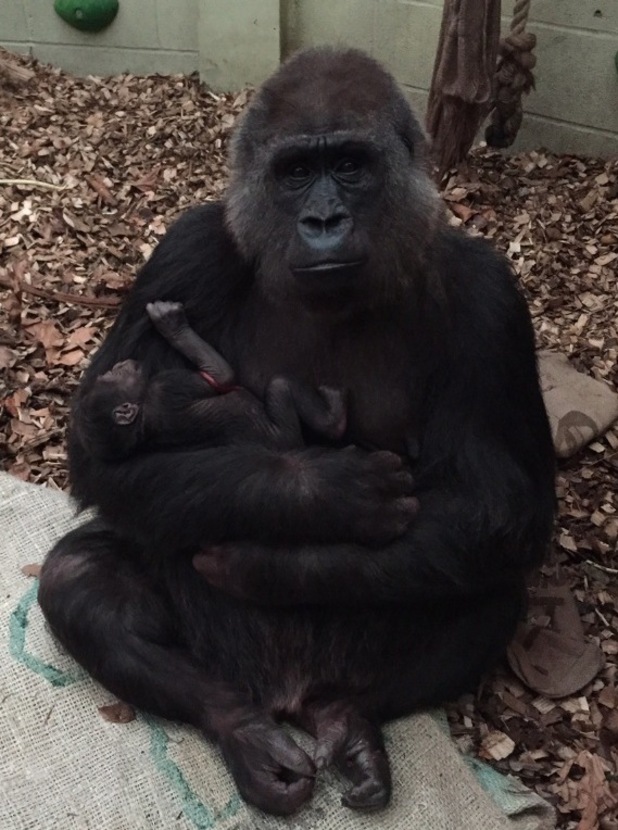 Glynn Hennessy, who has the enviable role of Gorilla Keeper at
ZSL London Zoo
, said: "Effie and the baby, who we have been able to tell is a boy, are both looking well so far.
"Effie is keeping the infant close, and as she is a new mum, we're keeping a close eye on both of them too."
The gorilla's arrival gives new hope to the critically-endangered population, which according to the World Wildlife Foundation has declined by 60 per cent in the last 25 years due to poaching and disease.
Glynn explained that the zoo plays a vital role in increasing the numbers of the species, saying: "Classed as critically endangered in the wild, the survival of Western-lowland gorillas is threatened by habitat loss and hunting, and zoos play an important role in supporting wild conservation efforts."
This is the second infant to be born to Kumbuka, the ZSL London Zoo's silverback male.
Although it's probably tempting to coo over the baby gorilla all day long, keepers will leave Effie space to bond with the infant, and allow the rest of the troop to familiarise themselves with the new arrival.
We can't wait to see more snaps of the proud mother and her new baby, any guesses on the name?!
For exclusive competitions and amazing prizes visit Reveal's Facebook page NOW!