Small, furry and related to a much larger animal! Meet the four rock hyraxes born at Chester Zoo
It's Fluffy Friday, so here's an adorable fluffy brood to celebrate the start of the weekend!
The tiny quartet arrived on 25 July after a seven month gestation, weighing just a few ounces. Now they're a bit bigger and make an adorable looking bunch, sitting very sensibly for the camera.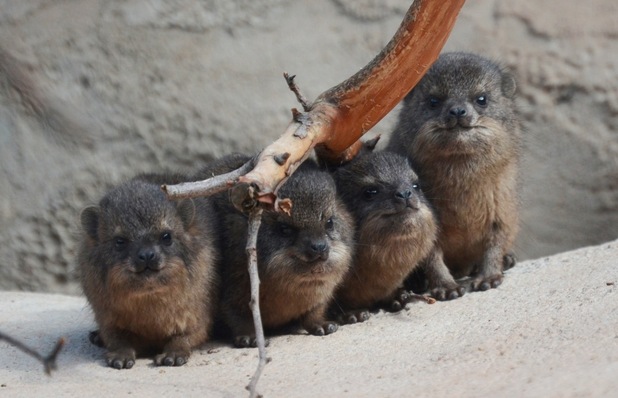 Despite being small, this species actually has an incredible genetic link to the elephant. Didn't see that coming did you?
Nick Davis, assistant curator of mammals at the zoo, explained the relation saying: "It's quite an oddity but rock hyraxes and elephants share a number of common features.
"For example a small mammal would typically go through a short gestation period but the rock hyrax is different, with pregnancies lasting over seven months (245 days) highlighting a connection to their much larger relatives.
"There are also other physical similarities between the two species, such as the shape of their feet and their continually growing incisors, which are reminiscent of an elephant's tusks." Ohh, well that makes sense. Was anyone else looking for a tiny elephant's trunk?
The species mainly lives in Africa and the Arabian peninsula where it is known natively as 'rock rabbit'. As their name suggests, these fluffy guys occupy a not-so-fluffy habitats, dominated by rocks and large boulders, including mountain cliffs. This is where their moist and rubber-like soles come in very handy to gain a good grip and clamber around steep slopes. Very clever!
Here's a clip of the adorable newborns hopping off a stick, enjoying a feed and chasing after their (probably exhausted) mum!
For exclusive competitions and amazing prizes visit Reveal's Facebook page NOW!